---
Antiplatelet Therapy in Patients With Coronary Artery Disease and Acute Ischemic Stroke/Transient Ischemic Attack
Experts will discuss reducing ischemic and bleeding risk with antiplatelet therapy in patients with CAD, and explain the evidence for DAPT in acute ischemic stroke/TIA and the need for its early use in appropriate individuals
---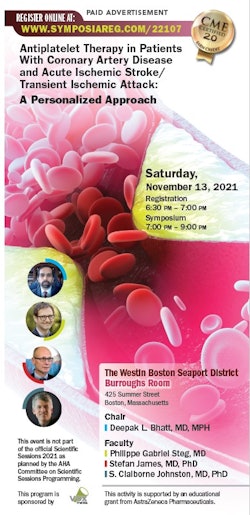 This educational initiative will focus on current insights into use of antiplatelet therapy in individuals with high-risk coronary artery disease (CAD) or who have experienced an acute ischemic stroke/transient ischemic attack (TIA). Strategies with antiplatelet therapy to mitigate bleeding risk after percutaneous coronary intervention (PCI) without increasing the risk of ischemic outcomes will be identified. Settings will also be described where extended duration of dual antiplatelet therapy (DAPT) may provide net clinical benefit. In addition to clinical trial results and updated FDA labeling, current meta-analyses will be interpreted, enabling attendees to have a clearer understanding of the duration of DAPT—benefits and risks associated with short-term DAPT followed by P2Y12 inhibitor therapy, as well as with extended DAPT. Decision-making regarding the use of DAPT is also a critical component of management of patients experiencing an acute ischemic stroke or TIA. Clinicians need to recognize patients eligible for the addition of either clopidogrel or ticagrelor to aspirin (ASA) based on clinical trial evidence, and that timely initiation of DAPT is critical for reduction in risk of recurrent stroke. A common guiding principle for use of antiplatelet therapy in patients with CAD or acute ischemic stroke/TIA is a personalized approach. Therefore, in this program, experts in the use of antiplatelet therapy in CAD and acute ischemic stroke/TIA will describe best uses of antiplatelet therapy to optimize clinical outcomes in these settings.
Saturday, November 13, 2021
7:30 pm to 9:00 pm Eastern Standard Time and OnDemand
Presenters:
Deepak L. Bhatt, MD, MPH (Chair)
Professor of Medicine
Harvard Medical School, Boston, Massachusetts
Karen L. Furie, MD, MPH
Professor of Clinical Neuroscience
Chair of Neurology
The Warren Alpert Medical School of Brown University, Providence, Rhode Island
S. Claiborne Johnston, MD, PhD
Special Assistant to the President and Provost
Professor of Neurology
Dell Medical School, The University of Texas at Austin, Austin, Texas
Philippe Gabriel Steg, MD
Professor of Cardiology
Université Paris–Diderot
Département de Cardiologie
Hôpital Bichat, Paris, France
This activity is supported by an educational grant from AstraZeneca Pharmaceuticals.
This event is not part of the official Scientific Sessions as planned by the AHA Committee on Scientific Sessions Programming.
The American Heart Association (AHA) does not endorse any commercial products or programs. The links provided within this site are for convenience only, and are not an endorsement of either the linked-to entity, product or service.  AHA makes no warranties of any kind, express or implied, with regard to its third-party vendor websites.