---
Moving past the status quo to overcome CVD and health disparities
Q&A with Michelle A. Albert, MD, MPH, FACC, FAHA
---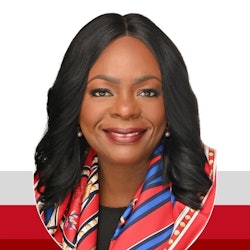 The week prior to Scientific Sessions 2022, Scientific Sessions Daily News interviewed Michelle A. Albert, MD, MPH, FACC, FAHA, about advancing health care for global populations. As the American Heart Association president for 2022-23, Dr. Albert is the AHA's top science volunteer. She also presides over the association's Science Advisory & Coordinating Committee. Dr. Albert's work in increasing awareness of health inequities in CVD and its influence on prevention and treatment is the topic of today's Lewis A. Conner Presidential Address.
You have an extensive background in bringing awareness to adversity and health disparities in cardiology. In studying the social determinants of health, and how an understanding of these can transform the health care of global populations, do you feel this is making a difference in preventive strategies for patient heart health?
Dr. Albert: If you look at 2017 ACC/AHA guidelines, which I was a part of, there's a section about social determinants of health and what to do for the different cardiovascular disease risk factors. To the best of my knowledge, it is the first ACC/AHA guideline to include a section with recommendations about social determinants of health. In general, the medical community is more currently sensitized about social determinants of health given the events of the past two years. More peer-reviewed articles are appearing in our medical journals about social determinants and health. AHA journals have an overarching health equity editorial board. The term adversity is beginning to be used to refer to adults and cardiovascular health. Traditionally, adverse childhood experiences have been studied in the pediatric and psychology arenas but not so much in adult cardiology. Hopefully, this momentum can continue and translate into consequential meaningfulness for the health of our patients and populations. On a cautionary note, though, there is also increasing push back related to the implications of this sensitization.
Can you give me some examples of health disparities in cardiac care (patient and health care professional) and how these need to be corrected?
Dr. Albert: Some examples include cardiovascular procedures — including heart bypass, angioplasty and stenting and cardiac defibrillators — which are less likely performed or implanted, though, when indicated in Black patients compared to white patients. For example, we published research in Circulation showing that Massachusetts Health Care Reform did not improve disparities in the receipt of bypass surgery or angioplasty by race and ethnicity or socioeconomic status.
Addressing health inequities requires action at multiple levels across sectors, including increased awareness and solutions addressing structural racism at the undergraduate and graduate medical levels, policy interventions, implicit bias training including assessment of the impact of that training and cultural competency training to name a few items. 
Additionally, we need to listen to our patients' concerns closely and have empathy. When my patients come to my clinic, the very first thing they tell me is that they know I will listen to them and their concerns as others have told them so. They know that I care about them and meet them where they are to address their specific needs and not only what I believe needs to be addressed. 
Your work has been described as following a "non-traditional" path. In what way do you believe that to be true?
Dr. Albert: On a very personal level, for a large part of my career, I have felt pretty isolated socially and academically. My interest in working on psychosocial stressors and adversity are not usually natural content for late-breaking cardiovascular science or cardiovascular clinical conference. Traditionally, when I attended non-epidemiology focused scientific conferences from the time since I was a fellow, race, ethnicity and psychosocial factors were generally not content for late-breaking clinical trials/science. Well, we know that therapies from these trials do not equitably get to everyone, especially persons from racially or ethnically underserved groups as well as socioeconomically disadvantaged people. So, there exists great need to diversify principal investigators and participants in clinical trials, along with performing implementation work that addresses psychosocial barriers alongside community organizations. I had to learn early in my career how to reach across the aisle to work with investigators and be mentored by persons from other disciplines outside of cardiology, such as sociology, psychiatry, public health and psychology. I realize now how this latter experience superbly prepared me for my ongoing career.
In terms of taking a non-traditional approach, this has been my work for the last 20 years and not just the last two to three years that people have been talking about social determinants of health. My early work studied biomarkers of CVD and social determinants. For example, our team published the first large paper about the relationship of discrimination with cancer and cardiovascular mortality. One challenge is that today everyone feels that they are an expert on social determinants of health. Moreover, it is still tougher to receive grants and get papers published that focus on social factors. I believe that I can speak to this issue well as I have experience in doing molecular and genetic biomarker research, epidemiology, clinical trials and psychosocial research. I have a lot of respect for my colleagues in the PhD arena who have struggled to get their empirical work about social factors and health published in medical journals.
What's on the horizon for you to tackle in terms of health disparities and heart health?
Dr. Albert: I am looking for ways that I can continue to push myself toward implementation science solutions to help address health inequities. Also, I hope to grow into roles that challenge me to push myself and the envelope in new ways.
What do you hope your Presidential Address will inspire?
Dr. Albert: I hope my address will encourage people to make a difference wherever they are and not continue to think of things like economic or other times of toxic adversity as insurmountable. It is always important to act locally with an eye toward a global reach. Our global reach includes mentoring and sponsoring persons from diverse international backgrounds.