---
AHA/TCT alliance drives new programming
As part of an educational collaboration between Scientific Sessions and the Cardiovascular Research Foundation's TCT Conference, #AHA22 is featuring TCT at AHA programming to advance research in CVD and interventional therapies.
---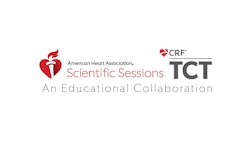 During Sessions, the educational collaboration will be on full display as CRF presents several sessions focused on health technology and innovation as well as a joint Late-Breaking Clinical Science session, featuring late-breaking science abstracts selected by leaders of both organizations. TCT's science faculty will share its live highlights from the AHAtv studio, which will be available live and on-site in Chicago as well as online in the virtual Scientific Sessions platform. 
"With the tremendous synergy and significant expertise among our clinicians, surgeons, interventionalists and specialists, our new alliance will lead the way in the next generation of scientific education programs through innovative learning experiences," said AHA Chief Science and Medical Officer Mariell Jessup, MD, FAHA.
Here are the TCT @ AHA sessions:
Interventional Theater | Case Presentations and Discussion: Revascularization Guidelines to Practice
Saturday, Nov. 5 | 11 a.m.-12:30 p.m. | Case Theater, Science & Technology Hall
Structural Case Theater |  State-of-the-Art Cases in Structural Interventions
Saturday, Nov. 5 | 1-2:00 p.m. | Case Theater, Science & Technology Hall
What's New in the Management of Uncontrolled/Resistant Hypertension
Sunday, Nov. 6 | 9:30-10:30 a.m. | Case Theater, Science & Technology Hall
Predicting the Future of MedTech: Transformative Concepts and Technological Trends
Sunday, Nov. 6 | 9:30-10:30 a.m. | Health Innovation Pavilion, Heart Hub, Science and Technology Hall
State-of-the-Art Updates on the Management of CLTISunday, Nov. 6 | 11:30 a.m .-1 p.m. | Case Theater, Science & Technology Hall
Late-Breaking Science: Drugs and Strategies in ACS and Revascularization
Sunday, Nov. 6 | 5-6 p.m. | Main Event II