---
Nanette K. Wenger's vision to advance women's heart health becomes reality
---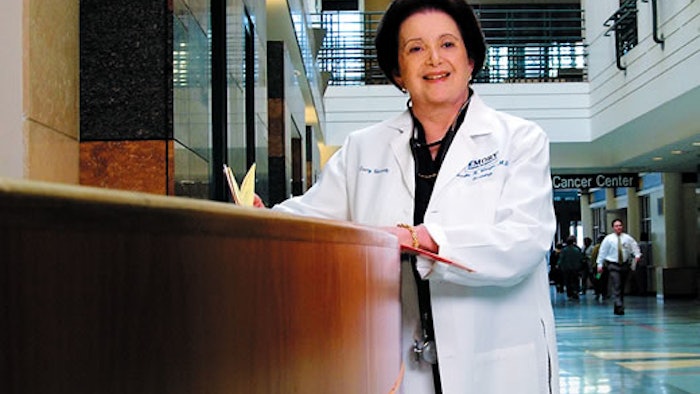 It was the golden age of cardiology — but a period in which insight about heart disease in women was still scarce — when Nanette Wenger entered Harvard Medical School in 1954.
Wenger, MD, among the esteemed guests in the Fireside Chat during the Opening Session at 9-10 a.m. Friday, was excited about the field as well as the prospect of transforming knowledge from the lab to clinical care — particularly as it impacted women's heart health. 
"I was always interested in science, and I was a people person, so the marriage of science and people led me to medicine," said Dr. Wenger, professor of medicine in the Division of Cardiology at the Emory University School of Medicine in Atlanta, Georgia. "At that time, it was the dawn of effective cardiac surgery and the development of cardiac testing and medications."
In the dawn of her medical career, Dr. Wenger was guided by her acclaimed professors, Paul Dudley White, MD, and Louis Wolff, MD — credited with defining Wolff-Parkinson-White syndrome — as well as Sam Levine, MD, and Herrman Blumgart, MD.
Subsequent mentors included Charles Friedberg, MD, and J. Willis Hurst, MD.
"They were leaders in cardiovascular medicine," said Dr. Wenger, who's also a consultant to the Emory Heart and Vascular Center and founding consultant at Emory Women's Heart Center. "They were like pied pipers. I had no information on how to treat my women cardiac patients who were sick and symptomatic. I was challenged by this."
Decades later, Dr. Wenger is widely known as a pioneer in advancing heart disease in women.
She's also a leader among her colleagues and mentor to many young professionals. She has co-authored over 1,600 scientific and review articles and book chapters and contributed to several American College of Cardiology/American Heart Association clinical practice guidelines.
She's chaired several notable initiatives, including the U.S. National Heart, Lung, and Blood Institute Conference on Cardiovascular Health and Disease in Women and the World Health Organization Expert Committee on Rehabilitation After Cardiovascular Disease. She co-chaired the Guideline Panel on Cardiac Rehabilitation for the U.S. Agency for Health Care Policy and Research.
In 1984, while awareness of heart disease in women still remained scant, Dr. Wenger chaired a National Institutes of Health workshop on cardiovascular health in women. It would take nine long years for the conference to occur and her landmark review article on the issue to be published.
"Getting more scientists enrolled in my vision to continue this journey is what makes me the most proud," said Dr. Wenger, referring to elevating awareness of heart disease in women and spurring others to act.
"I'm known for being persistent," she said. "After 1993, I was able to recruit a large number of clinical scientists and get under way with studying women and heart disease. But much remains to be learned as noted in my recent manuscript, 'Why Are We Not There Yet?'"
For her unprecedented contributions — in a field dominated by men — Dr. Wenger was recently honored as The Hill's "Century of the Woman." The tribute recognizes women who have made a difference in the last 100 years.
Dr. Wenger, who said she wishes changes had come even earlier, remains dedicated to studying underserved populations. She's researching heart disease among elderly people and working to increase career opportunities for women cardiologists, while continuing to train medical students, residents and other young professionals.
Dr. Wenger even sees a positive during the pandemic — a focus on science.
"I'm so excited by watching clinical trials and science — the concept of evidence-based medicine and care — that COVID-19 has brought to public parlance," Dr. Wenger said. "It just makes me glow."