---
Never missing a beat
Eugene Braunwald to reflect on advances in cardiology in Fireside Chat
---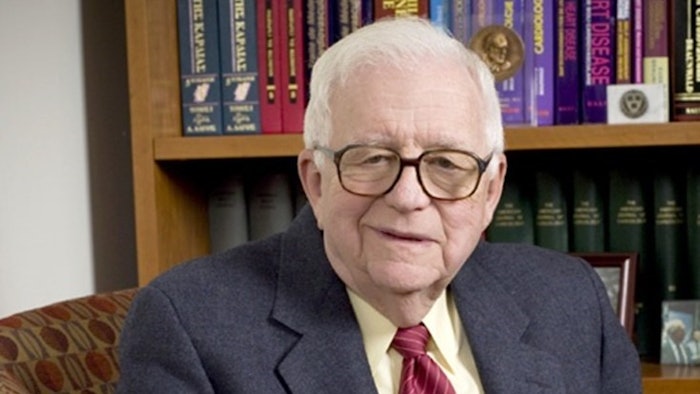 The upcoming 12th edition of the classic textbook "Heart Disease" captures more than 70 years of quality hands-on patient care and research in cardiology — it mirrors the illustrious career of its founding editor.
Eugene Braunwald, MD, a renowned clinician, researcher and administrator, said his contribution to the book is his proudest professional accomplishment.
"I've witnessed very positive changes during my career," said Dr. Braunwald, who is among the featured panelists in the Fireside Chat during the Opening Session at 9-10 a.m. Friday.
Known for his pioneering work in cardiology, Dr. Braunwald prepared for the Fireside Chat by reflecting on the field of cardiology and its momentous advances.
The distinguished Hersey Professor of Medicine at Harvard Medical School and founding chair of the TIMI Study Group at Brigham and Women's Hospital in Boston said heart disease was the "dreaded killer" when he was in medical school.
 "You could die of a heart attack, quite suddenly, out of the clear blue sky," he said. "When I was a medical student, there was a 30% mortality rate in the first six weeks of a heart attack. It was 15% after the first year. Combined, that was a 45% mortality rate in a year. Now, that's down to 8% to 10%."
Dr. Braunwald is the former chief of cardiology and clinical director of the National Heart, Lung, and Blood Institute and founding chair of medicine at the University of California San Diego.
He was also chair of the Department of Medicine at the Brigham and Women's Hospital for 24 years and chief academic officer of Partners HealthCare System.
Dr. Braunwald's interest in cardiology began in his second year at New York University School of Medicine. His early research focused on assessing ventricular function, and he was the first to measure both left ventricular ejection fraction and left ventricular pressure changes over time in patients.
He and his colleagues documented the first neurohumoral defect in human heart failure, defined the pathophysiology of hypertrophic cardiomyopathy and demonstrated salvage of ischemic myocardium following coronary occlusion. 
For the past 32 years, Dr. Braunwald and his colleagues at the TIMI Study Group have demonstrated improved outcomes with having a patent coronary artery, which led to the widely accepted "open artery hypothesis." This underscored the benefit of preventing adverse remodeling of the infarcted ventricle with ACE inhibition.
In the PROVE-IT TIMI 22 Trial, he and his team demonstrated the benefit of more intensive reduction of LDL cholesterol in high risk coronary artery disease patients, which changed practice guidelines and favorably affected the lives of millions.
Dr. Braunwald, who described early heart disease treatments as "primitive" based on what physicians and researchers didn't know, said a new set of challenges erodes heart health. Diabetes and obesity top the list, he said, but even smoking continues to be a problem.
Sadly, he said, racial and socioeconomic differences continue to make preventive heart health measures difficult to deploy in communities around the world.
"Our major job is to make sure everybody has the advantage of a diagnosis and knows their risk factors," Dr. Braunwald said. "We don't want people to have to have a heart attack before they learn the importance of lowering their cholesterol and blood pressure."
During the pandemic, Dr. Braunwald's work-from-home routine has focused on clinical trials research. Each day, he infuses two hours of his passion — listening to classical music — into his work.