---
Advances may lead to more powerful therapies for arrhythmia
New technologies mean new ways to tackle old problems.
---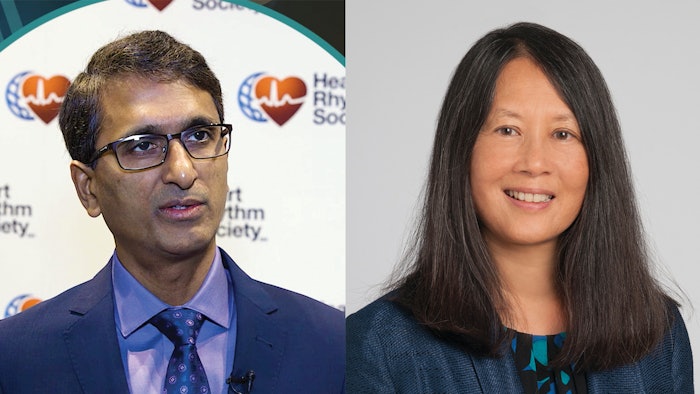 Substantial advances and novel technologies in arrhythmia treatment and management — some of which are already in practice — could change the future of implantable device therapy, said Mina Chung, MD, FAHA.
"Physiologic pacing has been moving and is being adopted rapidly with studies coming out demonstrating the feasibility and safety of conduction system pacing," said Dr. Chung, cardiac pacing and electrophysiology specialist in the Department of Cardiovascular Medicine, Heart and Vascular Institute at the Cleveland Clinic in Ohio. "And hybrid ablation for atrial fibrillation (AFib) and inappropriate sinus tachycardia both show some hopeful results for difficult cases." 
These and other advances will be discussed during Sunday's session "Novel Technologies for Arrhythmia Therapy."
Other approaches advancing include leadless pacemaker and defibrillator devices with multiple component devices that aim to "overcome the Achilles' heel leads of device therapies," Dr. Chung said.
"Similarly, novel ablation technologies directed toward ventricular tachycardia and AFib are always anticipated and include pulse field ablation and radiation approaches," she said. "Autonomic influences on arrhythmias are also being targeted with devices and show some promise."
Pugal Vijayaraman, MD, system director of electro.physiology services at the Geisinger Heart Institute in Wilkes Barre, Pennsylvania, will explore advances in His bundle pacing (HBP) and left bundle branch pacing (LBBP) as alternatives to right ventricular failure and biventricular pacing.
Noting that biventricular pacing is a powerful therapy to treat heart failure and has reduced mortality and heart failure hospitalization in patients with electromechanical dyssynchrony, Dr. Vijayaraman said it may also be associated with failure to implant, non-response to therapy and anatomical challenges due to the presence of unwanted/unacceptable diaphragmatic stimulation.
"Recently, physiologic pacing using HBP or LBBP have been used to achieve normalization of conduction, thereby correcting underlying electromagnetical dyssynchrony in patients with left bundle branch block or right ventricular pacing," he said. "This has been accomplished by placing traditional pacing leads precisely in the region of the conduction system and reversing the abnormal conduction.
"This approach has been shown to be beneficial with high success rates in patients with heart failure, and both left bundle branch block and right bundle branch block."
Dr. Vijayaraman also points to new approaches using a combination of physiologic pacing and left ventricular (coronary sinus) pacing to achieve greater resynchronization in patients with intraventricular conduction delays and mixed conduction disease. He said they have been backed up by promising results in early, small, observational studies with larger, randomized clinical trials underway.
"These new approaches will provide additional and alternative options to treat patients with heart failure using physiologic pacing in patients who fail traditional biventricular pacing," he said. "Or even as a first-line approach in many patients with preserved synchrony who require ventricular pacing."
In addition, a potential new technology to treat arrhythmias by ablation is on the horizon using a new technique called pulsed-field ablation.
"It uses high voltage for a fraction of a second to precisely and selectively target heart muscle without affecting surrounding structures by means of electroporation and cell death," Dr. Vijayaraman said. "This is a very exciting technology, and many trials are nearing completion. This will have a huge impact in the management of atrial fibrillation making ablation procedures even safer."