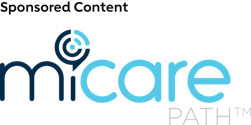 Company Details
Services:
Healthcare Technology, Mobile Health, Virtual Care
www.micarepath.com
In an industry that has seen an increase in demand since the beginning of the pandemic with no signs of slowing down, MiCare Path believes quality healthcare and patient-physician touchpoints should not be limited to in-office availability or a patient's zip code. MiCare Path is on a mission to deliver the efficient healthcare of the future, today.
Building a closer connection with an ever-growing patient population, MiCare Path is a reimbursable integrated mobile health (mHealth)* platform delivering improved outcomes with data-driven decisions, personalized patient education and care paths promoting clinical efficiencies for a better patient experience.
MiCare Path is providing peace of mind for providers, patients and payers through remote and intelligent healthcare solutions focused on behavioral change-driven clinical pathways, actionable data and insights, and ultimately improved healthcare outcomes through real-time connectivity between physicians and patients, beyond the office visit.
MiCare Path is redefining technology's place within the specialty care market through its user-friendly remote patient monitoring (RPM) and remote therapeutic monitoring (RTM) solutions. In collaboration with more than 75 global healthcare thought leading providers, MiCare Path is delivering a unique approach to digital innovation rooted in the science of behavioral change to increase patient compliance and engagement while delivering more comprehensive specialty care.
Over time, MiCare Path anticipates that this will foster the creation of further innovative and scalable solutions. After all, the current trajectory towards greater success has been made possible by the participating patients, the providers and health systems, and their success stories. These stories range from successful blood pressure and glucose reduction to discovering previously undetected heart conditions and bone microfractures. Remote management in these cases contributed to life-saving interventions, emergency room visit reductions, and elevating reach through highly personalized care for patients. Recently, MiCare Path has partnered with several large independent physician groups and institutions covering the musculoskeletal and cardiology spaces and now enjoys exclusive access to approximately 1% of both markets in the US, which totals nearly 2.5 million people. Thus, going forward, MiCare Path will continue to push toward helping more people, by providing the best remote healthcare solutions to help prevent serious medical events, increase clinical efficiency and visibility, and establish a more open line of communication between patient and provider. Focusing on the core of specialty care, the MiCare Path platform is providing peace of mind to providers and patients beyond the office visit.
With over 65 years of professional experience in various healthcare markets, MiCare Path was founded by Brian Childress, Scott Laster and Corey Patrick in 2019. Voted Healthcare Start-up of the Year by GHP 2022, MiCare Path's founders have developed a company with an intense focus on cutting-edge digital health solutions for both providers and patients.
Request More Information
Fill out the form below to request more information about
MiCare Path