---
LBS coverage (2020) | Heart failure and atrial fibrillation: Vitamins, minerals, nutrients and more
---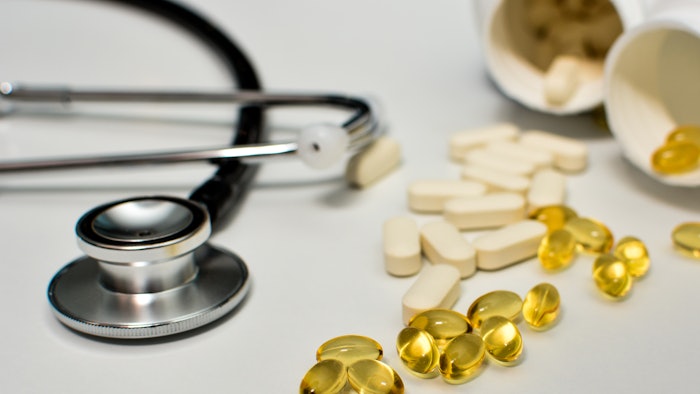 Investigators revealed surprising findings about supplemental iron, omega-3 fatty acids and vitamin D3 during their Late-Breaking Science session "Heart Failure and Atrial Fibrillation: Vitamins, Minerals, Nutrients and More" on Friday. Their findings include:
Omecamtiv mecarbil, a novel cardiac myotrope, may help manage patients with heart failure.
IV iron supplementation may benefit stabilized heart failure patients.
Omega-3 and vitamin D3 supplementation does not  reduce or increase incident atrial fibrillation.
Novel cardiac myotrope may help manage patients with heart failure with reduced ejection fraction
Omecamtiv mecarbil, an investigational cardiac myosin activator, the first of a novel class of myotropes designed to directly target the contractile mechanisms of the heart, achieved the primary composite endpoint of reduction in cardiovascular death or heart failure events in the Omecamtiv Mecarbil in Chronic Heart Failure with Reduced Ejection Fraction: The Global Approach to Lowering Adverse Cardiac Outcomes Through Improving Contractility in Heart Failure (GALACTIC-HF) trial.  
In the phase 3, international, multicenter, randomized, double-blind, placebo-controlled trial, 8,256 patients with chronic heart failure with reduced ejection fraction and current hospitalization for HF, or history of hospitalization or emergency department visit for HF within a year of screening, were randomized to oral placebo or omecamtiv mecarbil (pharmacokinetic-guided dosing: 25, 37.5 or 50 mg twice daily).
Key exclusion criteria included systolic blood pressure <85 mmHg, estimated glomerular filtration rate <20 mL/min/1.73 m2 and recent acute coronary syndrome or CV procedure within the last 3 months. The trial was event-driven and statistically powered for the endpoint of time to first heart failure event or cardiovascular death (target ~1,590 CV deaths), whichever came first.            
Overall, GALACTIC-HF showed the treatment with omecamtiv mecarbil in addition to guideline-based drug and device therapy, demonstrated a statistically significant reduction in cardiovascular death or heart failure events (heart failure hospitalization and other urgent treatment for heart failure) compared to placebo  (HR:092; p=0.025). GALACTIC-HF did not meet the secondary endpoint of reduction in cardiovascular death.              
"GALACTIC-HF is the first trial to test the hypothesis that selectively improving cardiac function with a novel cardiac myosin activator, omecamtiv mecarbil, can improve outcomes in patients with HFrEF," stated John R. Teerlink, MD, professor of medicine at the University of California, San Francisco, and the executive committee chair of GALACTIC-HF.
"GALACTIC-HF has enrolled a wide range of patients with excellent background therapy from both the inpatient and outpatient settings and provides definitive evidence of the efficacy and safety of this novel therapy as well as informing its potential future implementation," he said. Results of GALACTIC-HF were published simultaneously in the New England Journal of Medicine.
IV iron supplementation may help stabilized heart failure patients
Ferric carboxymaltose, given by injection just before hospital discharge in iron-deficient patients with acute heart failure, reduced the risk of total heart failure hospitalization with no apparent effect on the risk of cardiovascular death, according to A Randomized, Double-Blind Placebo Controlled Trial Comparing the Effect of Ferric Carboxymaltose on Hospitalizations and Mortality in Iron-Deficient Subjects  Admitted for Acute Heart Failure, the AFFIRM-AHF trial.            
The 52-week global multicenter study randomized 1,108 patients admitted for acute heart failure with concomitant iron deficiency, to placebo or intravenous ferric carboxymaltose 1:1, given before discharge, at week 6, and again post-discharge at weeks 12 and 24, if iron deficiency persisted. Ferric carboxymaltose was administered by injection in amounts based on patient weight and hemoglobin levels. All patients had an ejection fraction below 50%. The mean dose of supplemental iron given during the study period was 1.3 g.                         
"Because the study continued during the outbreak of the COVID-19 pandemic, we prospectively respecified the analysis, censoring all patients based on when the outbreak started in their respective countries," said Piotr Ponikowski, MD, PhD, head of the department of heart diseases at Wroclaw Medical University in Wroclaw, Poland, and the study's principal investigator.
In the primary analysis, there were 293 primary events in the ferric carboxymaltose arm versus 372 in the placebo group, which yielded a rate ratio of 0.79 with a p value of 0.059. "We just missed clinical significance, but when we excluded follow-up post-COVID 19 patients, the rate ratio was 0.75 with a p value of 0.024," Dr. Ponikowski said. Additionally, there was a 26% reduction in total heart failure hospitalization.   
"Iron deficiency is not only about anemia. It's also a common condition complicating a natural cause of heart failure, present in a majority of patients admitted with acute heart failure. Mechanistically, it's about impaired energetic homeostasis," Dr. Ponikowski said. "We now have clearer evidence that by giving these patients IV iron, we may correct this energetic imbalance and reduce the risk of being readmitted for cardiac decompensation." In the study, ferric carboxymaltose treatment was safe and well tolerated. Results of AFFIRM-AHF were published simultaneously in the Lancet.
Omega-3 fatty acid and vitamin D3 supplementation did not reduce atrial fibrillation events
Supplementing with 840 mg/day of marine omega-3 fatty acids (EPA/DHA 1.2:1) and/or 2,000 IU/day of vitamin D3 did not result in statistically significant differences in the primary endpoint of incident atrial fibrillation compared to placebo, according to The VITAL Rhythm Trial: Omega-3 Fatty Acid and Vitamin D Supplementation in the Primary Prevention of Atrial Fibrillation.            
The placebo-controlled randomized trial was an ancillary study of the large-scale clinical trial, the vitamin D and OmegA-3 TriaL (VITAL). VITAL Rhythm enrolled 25,119 men (≥age 50) and women (≥age 55) without a history of atrial fibrillation, CVD or cancer before randomization. VITAL Rhythm was the first randomized trial to prospectively test the effect of any intervention on the primary prevention of AF. Over the trial follow-up of 5.3 years, 900 incident AF events occurred (3.6% of the population). Results were consistent across most AF risk subgroups, and there was no evidence for effect modification by respective dietary and supplement intake or blood levels of either nutrient.            
"These findings do not support the use of supplemental EPA/DHA or vitamin D3 for the primary prevention of atrial fibrillation and provide assurance regarding lack of a major risk of these commonly used supplements on the development of atrial fibrillation," said Christine M. Albert, MD, chair of the department of cardiology in the Smidt Heart Institute at Cedars-Sinai and the study's principal investigator. "However, fish oil and vitamin D supplements do appear to be generally safe if you are taking them for other reasons."            
Atrial fibrillation is the most common heart rhythm disturbance, which is estimated to affect 33 million people worldwide. It markedly increases the risk of heart failure, stroke, myocardial infarction, dementia and even death. Significant symptoms can impair the quality of a patient's life. Once established, atrial fibrillation is difficult to treat. "More research directed at preventing atrial fibrillation is essential to test other promising agents," Dr. Albert said. "I hope this trial can serve as a roadmap."