---
Welcome to Scientific Sessions 2021
Manesh R. Patel, MD, FAHA, welcomes you to Scientific Sessions 2021.
---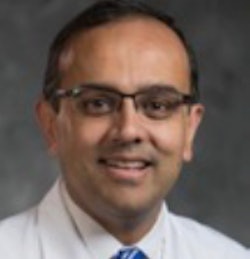 It is my great pleasure to welcome you to the American Heart Association's Scientific Sessions 2021. This year's meeting is centered on renewed connections and passionate discussions on the year's most groundbreaking updates in the fields of cardiovascular clinical, basic and population science.
Regardless of your location, you have the opportunity to participate in group discussions and debates, engage with interactive sessions featuring cutting-edge topics across an array of specialties and meaningfully connect with peers, mentors and friends from around the world.
The scope and quality of the scientific exchange is what makes AHA Scientific Sessions the premier cardiovascular research and instructional meeting in the world.
Watch as the most highly anticipated breakthroughs in patient care are announced during Late-Breaking Science sessions.
Immerse yourself in cutting-edge CV science topics during our Main Event sessions.
Stay on top of the latest trends in health care technology with the 3-day Health Technology & Innovation offerings.
Over 400 sessions including subspecialty and cross-specialty programming, and 4,000 abstracts!
Engage with the world's resuscitation science elite at the 3-day Resuscitation Science Symposium (ReSS).
Connecting with colleagues has never been easier with numerous ways to engage your colleagues.
So, please join in on the conversation happening online by following #AHA21. I can't wait to see you there!
Sincerely yours,
Manesh R. Patel, MD, FAHA
Chair, Committee on Scientific Sessions Program