---
Update on local and global hypertension science
Late-breaking science uncovers findings about hypertension.
---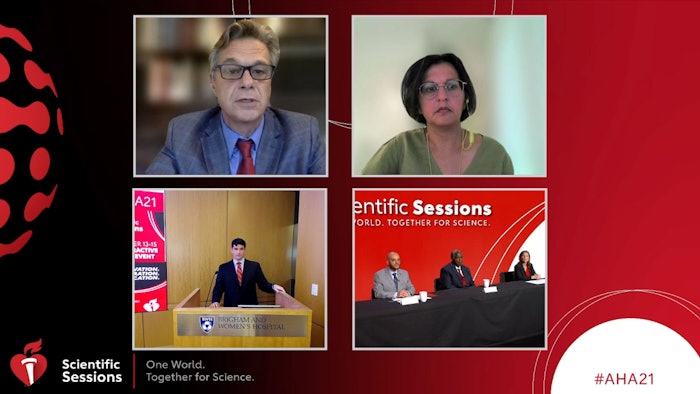 Saturday's Late-Breaking Science session "Hypertension: Local, Global and Pandemic Impacts" found that:
Hypertension is a global problem irrespective of income levels.
Remote care can improve blood pressure and lipid levels with in person visits across a population of more than 10,000 patients.
COVID-19 reduced clinic visits and blood pressure control in patients with hypertension.  
Community lay persons with minimal training effectively control hypertension in rural China.
Hypertension does not respect borders. Once seen as a problem in higher income populations, hypertension has emerged as a global concern. More than one billion people worldwide are estimated to have elevated blood pressure, and only about 20% of them have adequate blood pressure control, noted Anushka Patel, MBBS, PhD, vice principal director and chief scientist at the George Institute for Global Health in Sydney, Australia.
The conventional approach to the treatment of hypertension, starting with a single drug at low dose, increasing the dose, adding an additional agent, and repeating as needed, performs poorly in most settings.
"This approach is a recipe for under-treatment and therapeutic inertia," Dr. Patel said. "We have many different strategies that have been shown to be effective. The challenge is scaling up these strategies."
This Late-Breaking Science session offered three novel population-based approaches to hypertension. 
Remote care delivers major improvements in hypertension, lipid management
In what may be one of the largest experiments in remote hypertension and lipid management, a team from Mass General Brigham has demonstrated dramatic reductions in blood pressure and LDL-cholesterol levels across more than 10,000 patients.
The remote program used a combination of pharmacists and non-licensed health navigators to provide an end-to-end management program for hypertension and hyperlipidemia. They reduced mean blood pressure from 148/82 mmHg at referral to 125/72 mmHg without in-person visits. LDL-cholesterol levels fell from a mean of 140 mg/dL at baseline to 70 mg/dL after completing the program.
"We are operating the program across the Mass General Brigham health system using a combination of physician referrals and at-risk patients identified using our electronic health record," said Alexander Blood, MD, cardiologist at Brigham and Women's Hospital. "We locked the data set on Oct. 1 to assess results on our first 10,803 patients, but the remote management program is ongoing." 
Both hypertension and lipids are managed much like the more familiar coumadin clinics, Dr. Blood said. The program sends patients a digitally connected blood pressure cuff and provides coaching in proper blood pressure measurement. Blood pressures are automatically integrated into the program's platform that manages patient journeys and provides iterative medication titration recommendations.
Pharmacists assess each patient's case and prescribe or adjust medications algorithmically — based on current professional guidelines — then use self-measured BP readings to adjust medications as needed. The lipid program operates similarly with treatment decisions based on a patient's individual risk and LDL-cholesterol goal. Subsequent lipid testing then drives further lipid therapy intensification, if needed. Non-physician providers deliver virtually 100% of care, with patients referred to specialists as needed.
Median age of patients in the program was 65 years old. The study group was 55% female, 29% non-white, 11% of Hispanic background and 8% non-English speaking. Between January 2018 and October 2021, 92% of patients who completed the program met their BP goal and 94% (p<0.001 for both) met their LDL-C goal based on AHA guideline recommendations to reach target optimization. Rates of enrollment and reductions in both blood pressure and LDL-C were similar across racial, ethnic and primary language groups, supporting the hope that remote care can maintain equal access to, and quality of, care.
"Our program unburdens providers from a tremendous amount of work. We integrated more than 400,000 blood pressure readings and 125,000 lab results, and on average made 2.5 medication changes for hypertension and 1.7 medication changes for lipid management," Dr. Blood said. "Remote management increased patient engagement, standardized treatment and let us deliver services to a broad patient population, even in traditionally underserved populations.  We are continuing to grow and expand the program." 
COVID-19 disrupts blood pressure monitoring and control
The first national study using the National Patient-Centered Clinical Research Network (PCORnet) to assess the impact of COVID-19 on blood pressure control in adults with hypertension found the number of patient encounters as well as blood pressure monitoring and blood pressure control fell during the COVID-19 pandemic in 2020 compared to similar periods in 2019.
"COVID-19 has resulted in a mass disruption of usual care," said Alanna M. Chamberlain, PhD, MPH, FAHA, associate professor and manager of the Rochester Epidemiology Project at Mayo Clinic Robert D. and Patricia E. Kern Center for the Science of Health Care Delivery. "This disruption has affected blood pressure control and blood pressure management in health systems across the United States."
Retrospective data from the PCORnet® Blood Pressure Control Laboratory Surveillance System showed that patent encounters fell approximately 20% from 8.3 million in 2019 to 6.6 million in 2020. Blood pressure control dropped from a 2019 average of 60.5% to 53.3% at the end of 2020. BP control fell sharply during the first two quarters of 2020, coinciding with the onset of the COVID-19 pandemic, and continued to fall during the second half of 2020.
Timely follow-up visits for uncontrolled hypertension (BP>140/90 mmHg) fell from 36.7% in 2019 to a low of about 25% during the second quarter in 2020. Timely follow-up visits improved for most health systems in the last two quarters of 2020 to 31.7%.
The PCORnet Blood Pressure Control Registry includes 24 health systems across the United States that cared for 1,770,547 individuals with hypertension in 2019, prior to the pandemic. Hypertension was defined as BP during an ambulatory visit of greater than140/90 mmHg. BP control was defined as the percentage of individuals with diagnosed hypertension whose most recent BP measurement during an ambulatory visit was less than140/90 mmHg. BP follow-up was the percentage of individuals with hypertension who had a follow-up visit within the following four weeks. BP metrics were calculated quarterly and combined into a series of 13 one-year measurement periods from 2017 to 2020.
BP control was variable across health systems in 2019, ranging from 46%-74%, with a weighted average of 60.5%. Nearly all health systems reported drops in BP control during all four quarters of 2020, although the declines seen at individual health systems were highly variable. Some systems showed declines throughout 2020, and some showed different patterns of decline and recovery in BP control.
Declines in follow-up visits during the pandemic period were also highly variable across health systems. Follow-up visit numbers improved for most reporting systems during the last two quarters to a weighted average of 53.3% (range 33%-65%).
"Blood pressure control has not rebounded to pre-pandemic levels," Dr. Chamberlain said. "Continued surveillance is needed to determine whether the decline in blood pressure control during the pandemic will result in future cardiovascular events." 
Village doctors beat usual care for hypertension control in rural China
A novel hypertension control program in rural China that relies on village doctors with basic medical training, reduced mean systolic blood pressure by 26.3 mmHg over 18 months. These village doctors have traditionally provided basic primary healthcare in rural China." In one of the largest community provider based hypertension trial to date, more than half the rural residents with BP at or above140/90 mmHg at baseline achieved their target BP of less than130/80 mmHg compared to 19.9% in the usual care group.
"We need to develop and establish effective, feasible and sustainable programs for hypertension control in China because only about 5.5% of the rural patients with hypertension had their blood pressure control under systolic 140 and diastolic 90 mmHg," said Jiang He, MD, PhD, FAHA, the Joseph S. Copes chair and a professor of epidemiology and the director of the Tulane University Translational Science Institute. "The prevalence of uncontrolled hypertension is high and increasing around the globe in low- and middle-income countries, not just in China."
The China Rural Hypertension Control Project selected 326 villages across three provinces in rural China. Half the villages, 163, were randomly assigned to receive care by intervention village doctors, and 163 assigned to usual care. The program enrolled 33,995 individuals 40 years and older, with uncontrolled hypertension, defined as untreated BP at below 140/90, treated BP at or below 130/80 or untreated BP at or under 130/80 with a history of clinical cardiovascular disease.
Intervention village doctors were given additional training in BP management, protocol-based hypertension treatment based on AHA guidelines and health coaching. They also received support from hypertension specialists and primary care physicians as needed as well as performance-based financial incentives. Study participants were given health coaching on home BP monitoring, lifestyle management and medication adherence. The primary outcome was BP under 130/80 mmHg at 18 months on an intention-to-treat basis.
At baseline, the mean age of participants was 63 years., The mean BP was 156/88 mmHg and the median duration of hypertension was seven years in the study group that was 61% female.
After 18 months, 57% of individuals in the intervention group had achieved goal BP versus 19.9% in the control group, a difference of 37.1% (p<0.001). Most participants in the intervention group, (77.3%) had an ending BP less than140/90 mmHg versus 44.5% in the intervention group, a difference of 32.3% (P<0.001).
"The next stage is to continue blood pressure lowering intervention and follow the participants for clinical cardiovascular outcomes," Dr. He said. "Working with the Chinese Medical Association and the Chinese Medical Doctor Association, we hope to expand this program to a much larger population. We also hope these programs can be adapted to other low- and middle-income countries. We have seen that working with local providers who have not been formally trained as physicians and training them to identify hypertension and use guideline-based protocols to treat it, can be successful and cost-effective."