---
QCOR at Sessions: mHealth strategies could help treat CVD around the world
---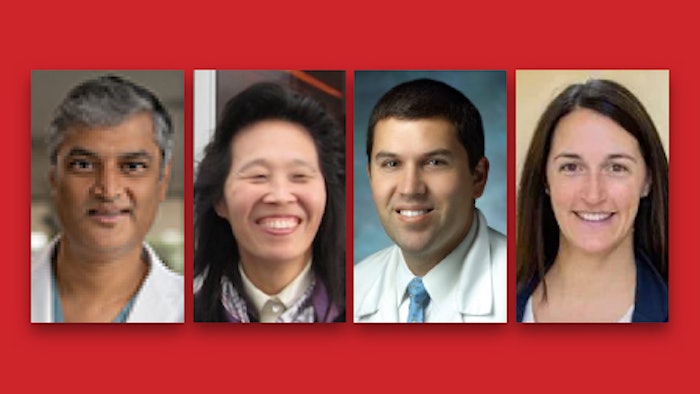 Mobile health, or mHealth, involves the application of sensors, mobile apps, social media and location technology to help both patients and  health care providers with diagnosis, treatment, prevention and management of many health conditions — including cardiovascular disease.
mHealth has the potential to transform patient care, but there are some hurdles to be overcome. These hurdles and possible solutions were explored in Monday's session, "The State of the Art in mHealth for Cardiovascular Disease." 
Although many people have smartphones — 266 million in the U.S. alone — the idea of using them to treat health problems still has a way to go, according to Brahmajee K. Nallamothu, MD, MPH, FAHA, cardiologist and health services researcher at the University of Michigan in Ann Arbor.
"In my opinion, we are at a critical crossroads," he said. "We have moved well past the beginning driven by exciting descriptions of a possible future and now we have to face the hard work and dedication needed to translate these technologies to help outcomes."
Dr. Nallamothu said the medical community needs to act fast because technology is moving even faster.
"We are at a point where we have to overcome the chasm of the technology lifecycle," he said. "This is where technologies often fail to make true disruptive changes. We need to show at the end of the day that outcomes can improve because of the use and application of these technologies."
Rhoda Au, PhD, professor and director of neuropsychology at Boston University, said the focus going forward is on smartphones because they are the most ubiquitous technology in the world.
"Because of its widespread penetration, smartphone-based assessments make it possible to also reach across broad racial and ethnic populations," she said. "Thereby reducing longstanding health disparities. Technology's promise is not simply doing a better version of what we've done before. Rather, technology is about taking us in directions we've never dreamed possible."
But before the dream becomes reality, one of the biggest hurdles to overcome is equity — something the technology itself has the potential to achieve, said Seth Martin, MD, MHS, FAHA, associate professor of medicine in cardiology at Johns Hopkins Hospital in Baltimore, Maryland.
"This means giving every person an opportunity to achieve optimal health regardless of race, education, gender identity, sexual orientation, employment ability or neighborhood," he said. "This also means acknowledging that among the most vulnerable population in our society we need tailored solutions to level the playing field."
Andrea Beaton, MD, FAHA, pediatric cardiologist at Cincinnati Children's Hospital in Cincinnati, Ohio, said cardiovascular disease is among the leading causes of mortality worldwide and the global burden that presents is rising largely due to increases in cases of cardiovascular disease in low- to middle-income countries.
"Unfortunately, the capacity to deal with cardiovascular disease around the world is severely limited," she said.
However, technology and mHealth could change that. Dr. Beaton said mHealth interventions have many options for improving treatment including text reminders for health lifestyle, treatment reminders, automated monitoring with mobile sensors and remote learning for health care workers.
"The overall effect of these, if done well, could be enormous," she said. "With reduced costs to the health system, improved access to services and improved quality and effectiveness of health care."