---
Advances could dramatically alter care of patients with CHD
---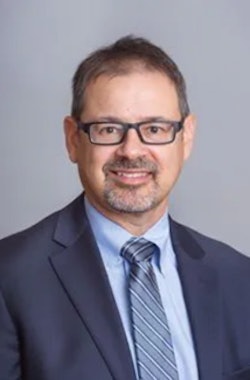 New advances are coming that could change the way physicians care for their patients with congenital heart disease (CHD).
Several of those scientific advances will be highlighted in the OnDemand session titled, "Optimizing CHD Outcomes: The Next Decade of Innovation."
Session moderator James Cnota, MD, a pediatric cardiologist at Cincinnati Children's Hospital, said the OnDemand session will highlight: 
A new trial to determine the best approach with the neonate with ductal dependent circulation — stent versus shunt
Use of mitogen-activated protein kinase kinase enzymes (MEK) inhibitors for treatment of Noonan syndrome
Remote approaches for collection of patient data and information
Artificial intelligence in echocardiography
Philanthropic funding of CHD research
Dr. Cnota said the presentations provide information that will change the care of patients in the future.
"For example," he added. "The COMPASS trial (Comparison of Methods of Pulmonary blood flow Augmentation in neonates: Shunt versus Stent) represents a controversial topic in the field and highlights the challenge of maintaining equipoise as new treatment options evolve. The mitogen-activated protein kinase kinase enzymes (MEK) inhibitor therapy is a great example of translational science as it moves into patient care."
Christopher Petit, MD, chief of the Pediatric Cardiology Division, Department of Pediatrics, Columbia University Vagelos College of Physicians and Surgeons in New York, presents  an overview of the proposed COMPASS study, which explores systemic to pulmonary artery shunts compared with ductal artery stenting. Dr. Petit said systemic to pulmonary artery shunts are associated with significant morbidity, but they remain the standard of care for palliation of neonates with ductal-dependent pulmonary blood flow. Ductal artery stenting has emerged as an alternative to systemic-to-pulmonary shunt (SPS). Dr. Petit said there is a rationale to be made for a randomized trial in this area.
"The existing studies are truly confounded by indication," he said. "We are still unable to assess the failed attempts, how many patients crossed over from one therapy to the other and inherent differences in the cohorts between those patients undergoing a ductal artery stent and those patients undergoing a shunt. We're still left wondering: What is the real-world experience?"
Dr. Petit and his group are planning a randomized trial of ductus arteriosus shunt (DAS) and SPS in neonates with ductal-dependent pulmonary blood flow. The trial has received approval from the FDA, and the goal is to get the first patients enrolled by January.
Cordula Wolf, MD, pediatrician and pediatric cardiologist at the German Heart Center Munich, Technical University of Munich, presents a look at "Changing the Treatment of Noonan Syndrome With MEK Inhibition."
Dr. Wolf said she hopes her presentation helps people "understand what MEK inhibition is, why it matters in the disease known as Noonan Syndrome and what it has to do with the heart "
Animesh Tandon, MD, MS, FAHA, director of cardiovascular innovation at the Cleveland Clinic Children's Hospital, gives attendees a look at the future of remote monitoring in congenital and pediatric heart disease.
One of the best examples of remote monitoring is the CHAMPION study (CardioMEMS Heart Sensor Allows Monitoring of Pressure to Improve Outcomes in NYHA Class III Heart Failure Patients) for the implantable pulmonary artery monitor known as CardioMEMS, he said.
"They showed a 37% reduction in heart-failure-related hospitalization in the treatment group compared to the control group," he said.
Dr. Tandon said the study was successful because they identified the right population, and specifically targeted the events to predict. He said studies like this can lead to a better standard for remote biometric monitoring and lead to the development of a remote monitoring framework that will benefit physicians and patients alike.
"Improving the Diagnostic Reach of Echocardiography With Automated Intelligence" is the focus of Andrea Beaton, MD, pediatric cardiologist at Cincinnati Children's Hospital, in Cincinnati, Ohio.
Dr. Beaton said that improved access to diagnostics — largely cardiography — could address the challenges faced in treating cardiovascular disease, particularly in low- to middle-income countries around the world. But there are challenges to overcome.
"Echo typically requires experts with specialized training and long periods of experience," she said. "Yet all three are hard to come by in most resource-limited regions of the world."
Session co-moderator Alisa Arunamata, MD, associated program director of the pediatric cardiology fellowship at Stanford University School of Medicine, said she hopes those who attend the OnDemand session get a sense of how technological developments will change how they can care for their patients.
"Recent times have seen rapid development of technology — including artificial intelligence, computer science and bioinformatics — that has led to substantial innovation within the field of pediatric cardiology," she said. "This session will also highlight the application of some of this innovation in ways that immediately impact how we can best take care of our pediatric patients affected by congenital heart disease."
Visit Scientific Sessions Conference Coverage for more articles.