---
Q&A: Simon Capewell
Population science packs powerful punch — and is more effective than targeting high-risk individuals — in lowering CVD risk.
---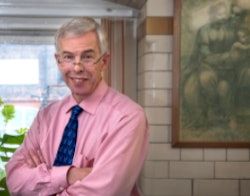 Simon Capewell, DSc, MD, MBBS, shared his enthusiasm for population-wide cardiovascular disease prevention strategies in an interview with Daily News. Dr. Capewell is professor of public health, policy and systems at the Institute of Population Health at the University of Liverpool, and he leads a research program that focuses on the prevention of non-communicable diseases using policy analyses, empirical evidence and quantitative modeling.
He will present "Can Population Science Benefit Preventive Cardiology?" during the Paul Dudley White International Lecture 8-9 a.m. EST, Sunday, Nov. 14.
Q: What is the one-word answer to your title question: Can population science benefit preventive cardiology?
Dr. Capewell: Massively.
Q: How do you describe population science?
Dr. Capewell: Population science is a broad church, spanning a wide range of disciplines, including public health, epidemiology, informatics, social sciences, economics, psychology, health services research, disease prevention, policy and political science.
Q: What CVD risk factors can be addressed with the population approach?
Dr. Capewell: Population science can address the risks of tobacco smoking and unhealthy diet of sugar, salt and animal fats — hence an individual's levels of cholesterol, glucose, blood pressure and cigarettes.
Q: What are some examples of a whole-population approach for preventing CVD?
Dr. Capewell: A penny-an-ounce tax on sugar-sweetened beverages; FDA requiring manufacturers to remove all industrial trans fats from their processed food, using Generally Recognized As Safe, or GRAS, regulations; and smoke-free laws to protect customers in bars, shops and workplaces.
Q: What is the evidence for the effectiveness of population‐wide strategies to reduce the burden of CVD?
Dr. Capewell: Population‐wide CVD prevention strategies can be powerful, rapid, equitable, sustainable and cost-saving. My lecture will summarize the extensive U.S. and international evidence from RCTs, natural experiments, epidemiological and modeling studies.
Q: Why use a whole-population-based approach? Why not just focus on people at high risk for CVD?
Dr. Capewell: The well-evidenced "effectiveness hierarchy" shows that "upstream," structural prevention policies, which create healthy environments for entire communities and countries, are far more powerful than "downstream" interventions that target high-risk people, such as advice leaflets or medications — all these being "agentic," that is, totally reliant on the individual to choose to respond, and continue to do so.
Q: Is the population approach to CVD a better way to address health inequities than the high-risk approach?
Dr. Capewell: Yes. Upstream, population-wide structural prevention is undoubtedly the "best bang for the buck." This is especially true when money and resources are scarce.
Wealthy countries like the United States and the United Kingdom can afford to do both — also funding additional measures to target high-risk individuals. But that would always be the minor contributor, however much money was spent.
Q:  If you had the power to pass legislation through the U.S. Congress, what CVD risk factors and whole-population measures would you focus on?
Dr. Capewell: I would persuade Congress to legislate mandatory (not voluntary) regulations to:
Halve the current per-capita dietary sodium consumption

Halve the consumption of processed foods and, like tobacco, increasingly tax processed foods, meat and sugar-sweetened, to raise revenues.

Use some of those revenues to halve the shop price of healthy foods (vegetables, fruit, nuts, seeds, whole grains, stanols, seafood and olive oil; and thus double the consumption of these unprocessed "real" foods).
Q: Paul Dudley White (1886-1973), the namesake of this lecture, is considered the founder of preventive cardiology. He was a staunch advocate of exercise, diet and weight control in the prevention of heart disease and, as such, he was a vigorous walker and bicycle rider. What do you do to lower your own risk of CVD?
Dr. Capewell:  I salute Paul Dudley White for his remarkable far-sightedness. I, myself, remain very active walking, gardening and playing with my grandchildren. I usually consume a very healthy diet, with almost no junk food or sugar-sweetened beverages.
Q: Do you have any additional thoughts regarding your presentation?
SC: We owe a great debt to the Healthy Alliances facilitated by the American Heart Association and others. Thanks to them, the U.S. has already achieved major policy successes around tobacco control, sugar-sweetened beverage taxation and trans fat elimination.
The next step is to equal the best countries' policies by halving the average U.S. intake of junk food and sugar-sweetened beverages, and doubling the average U.S. intake of healthy foods and beverages.
Visit Scientific Sessions Conference Coverage for more articles.