---
Session explores scope of and solutions for tackling health inequity
---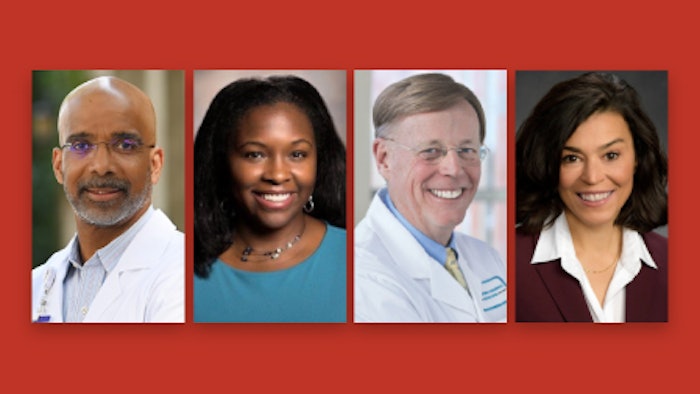 Clyde W. Yancy, MD, MSc, FAHA, set the tone for Sunday's session in a June article in Circulation, "The Journey Toward Health Equity: Are We Nearing an Abyss or Ascending a Peak?" Dr. Yancy, chief of cardiology at Northwestern University, Feinberg School of Medicine in Chicago, will co-moderate the session, which features two speakers and a panel discussion. The session takes place 9:30-10:45 a.m. EST, Sunday, Nov. 14.
Speaker David O. Williams, MD, FAHA, will lead the session with a similarly urgently titled talk on the "the fierce urgency of health equity." Williams, who is senior physician at Brigham and Women's Hospital, and professor of medicine at Harvard Medical School in Boston, will present the current reality of health equity by beginning with some definitions, he said.
"I define health equity by saying that it means everybody has fair and just opportunity to be as healthy as possible. That means removing obstacles to health care, such as poverty, discrimination, things like that," said Dr. Williams. "And it means reducing and eliminating disparities in health and determinants that effectively exclude people from health care."
To characterize the problem, Dr. Williams identified the many and varied populations who are not experiencing health equity, and then pored over these data for objective information for each group. The list includes Black, Hispanic, Native American, Alaskan Natives and rural populations.
He will dig further by describing the historical response to health equity, including efforts by the American Heart Association, American College of Cardiology and the Marmot Review, which examined health equity in England in 2010.
"There are data that show an effect," Dr. Williams said. "If you look at coronary heart disease over time from 1999 to 2017, you'll see a decline that extends to historically under-resourced groups, for example, including people who are members of the Native American, Alaskan Native, Hispanic, Asian Pacific, Black communities as well has those that are white— everybody's incidence went down."
Although that is good news, Dr. Williams said, the progress is limited. "The problem has been recognized for a long time. There has been a reduction in certain indices of mortality that have been seen in all the groups, although differences still exist between the groups so it's an ongoing issue that is not yet resolved," he said.
What does Williams suggest to build on the progress? "Somebody needs to study this as a question," he said. "That's something I learned in cardiology in tackling scientific questions. You can make a longitudinal database so you capture data of a population: You track them, you see what happens over time, you try to identify interventions and you have serial reports about what's going on rather than just isolated looks."
Sonia Angell, MD, MPH, agrees that data and research are part of the solution to achieving health equity. However, "improvements will only come from translating the understanding that comes from the science into real and meaningful changes in our communities at large," she said.
Angell, assistant professor of medicine at the College of Physicians and Surgeons of Columbia University in New York, will address "The Path Forward: Solutions for Achieving Health Equity."
Among the solutions Angell suggests are taking on the structural contributors to poor health. "This includes careful attention to the way they shape the quality of key determinants of health, like housing, employment and food — and importantly, working to eliminate systemic racism and other biases," she said.
Right here, right now, cardiologists can make a difference, she said. "As doctors, we tell people to make heart healthy choices, like to be physically active, eat a diet rich in fruits, vegetables and whole grains, low in sodium, and to avoid sugary drinks and get plenty of sleep. But people can't make healthy choices if they don't have healthy choices, and it's clear that in our country, the opportunity to make healthy choices is not equally shared."
Doctors and cardiologists can change this, she said. "We can be advocates for our patients. Importantly, through our research and our understanding of science and health, we can be clear in communicating the systemic changes needed to create heart health-promoting environments for all."
The session will be co-moderated by Crystal Cené, MD, MPH, FAHA, associate professor of medicine and clinical epidemiology, University of North Carolina School of Medicine, Durham.
Visit Scientific Sessions Conference Coverage for more articles.