---
AHA 2021 dietary guidance to improve CV health emphasizes dietary patterns
---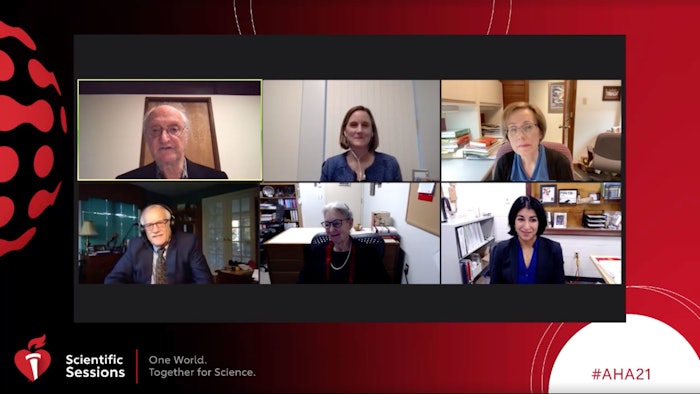 Most people want to follow a heart healthy diet but are deterred by unhealthy food environments, socioeconomic factors, nutrition insecurity, structural racism, neighborhood segregation, widespread dietary misinformation from the Internet, lack of nutrition education in grade schools and medical schools and targeted marketing which can negatively impact individual food choices, eating habits and food preferences. Still, "people can improve their cardiovascular healthy by focusing on dietary patterns rather than individual foods or specific nutrients," said Alice Lichtenstein, DSc, FAHA, senior scientist and director of the cardiovascular nutrition team at the Jean Mayer USDA Human Nutrition Research Cancer on Aging in Boston.
In Saturday's session "The AHA 2021 Dietary Guidance to Improve Cardiovascular Health," Dr. Lichtenstein, who is also the Stanley N. Gershoff Professor of Nutrition Science and Policy at the Friedman School of Nutrition Science and Policy, introduced the 10 features of the guidance, which were published simultaneously in Circulation. They include:
Adjust energy intake and expenditure to achieve and maintain and healthy body weight.
Eat plenty of fruits and vegetables; and choose a wide variety.
Choose foods made mostly with whole grains rather than refined grains.
Choose healthy sources of protein.
Use liquid plant oils rather than tropical oils, animal fats and partially hydrogenated (trans) fats.
Choose minimally processed foods instead of ultra-processed foods.
Minimize intake of beverages and foods with added sugars.
Choose and prepare foods with little or no salt.
If you do not drink alcohol, do not start; if you choose to drink alcohol, limit intake.
Adhere to this guidance regardless of where food is prepared or consumed.
         The guidance provides a platform for improving overall health. "Heart-healthy dietary patterns provide benefits beyond heart health, including reducing the risk of stroke, type 2 diabetes, kidney disease and cognitive dysfunction. The guidance is also consistent with promoting a healthy, sustainable planet," Dr. Lichtenstein said.         
Yet, race, ethnicity, education and income level disparities persist that can make implementing the guidance challenging. "Overall diet quality among high income people, including vegetable and whole grain intake, and the intake of sugar-sweetened beverages has improved. We're not seeing the same magnitude of improvement in lower income populations, which suggests disparities are entrenched," said Maya Vadiveloo, PhD, RD, a member of the writing committee and an assistant professor in the department of nutrition and food sciences at the University of Rhode Island.         
To promote healthy dietary patterns, multisector policy changes are needed to "change the default," said Lawrence Appel, MD, MPH, FAHA, director of the Welch Center for Prevention, Epidemiology and Clinical Research at the Johns Hopkins University in Baltimore. Dr. Appel, who served as the co-chair of the writing committee, recommended public food procurement policies requiring foods and beverages served or sold in public settings, including schools, public hospitals, childcare facilities, correctional facilities and government workplaces to promote healthy diets. "These policies will indirectly influence food manufacturers to reformulate," he said. "But we need your help. Advocate for, or at least be supportive of, policies that improve the health of patients and the broader population."
Both clinicians and patients face barriers to receiving adequate diet guidance. "Diet counseling in clinical practice takes time," said writing group member Anne Thorndike, MD, MPH, FAHA, an investigator with the Tobacco Research and Treatment Center at Massachusetts General Hospital in Boston. Nonetheless, to implement the 2021 AHA dietary guidance in clinical practice, it's important to deliver simple advice consistently.         
"Encourage fruits and vegetables, whole grains, healthy proteins, liquid plant oils, low or non-fat dairy and minimally processed foods and discourage food high in sugars or sodium, refined grains, processed meats and excess alcohol," Dr. Thorndike said. "We should treat diet like we do tobacco and ask about it at every visit."
For more information, visit 2021 Dietary Guidance to Improve Cardiovascular Health: A Scientific Statement From the American Heart Association | Circulation (ahajournals.org).
Visit Scientific Sessions Conference Coverage for more articles.