---
COVID vaccines show low instances of cardiovascular issues
---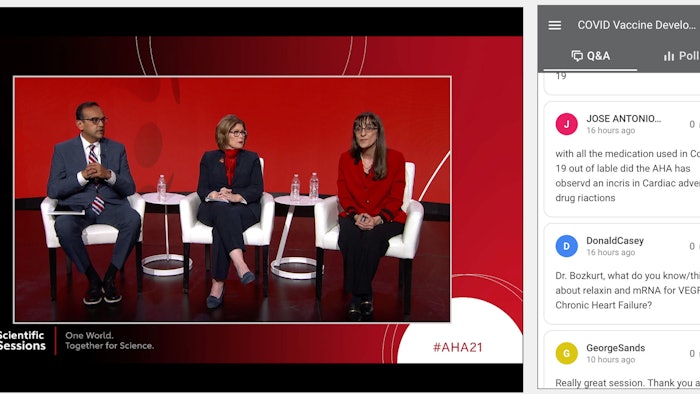 As more people around the world get vaccinated against the COVID-19 virus, evidence continues to show that the vaccines are contributing to very low numbers of cases of myocarditis.
In remarks during "COVID Vaccine Development and CVD Implications: Updates and Fireside Chat," Biykem Bozkurt, MD, PhD, FAHA, professor of medicine-cardiology at Baylor College of Medicine in Houston, Texas, said myocarditis is diagnosed in approximately 10 to 20 people out of every 100,000 individuals vaccinated per year in the general population.
In looking at how the COVID vaccines may have affected the incidence of myocarditis Dr. Bozkurt cited statistics from Israel that showed only 148 cases of myocarditis were reported out of 10.4 million vaccinated individuals. The majority of those were detected after a second dose, and mostly in men aged 16 to 30 years of age.
Low rates of myocarditis following COVID vaccination have also been reported in the U.S., with 23 male military personnel reporting myocarditis following 2.8 million doses of the vaccine.  These data were reported in a recent review article by Dr. Bozkurt published in Circulation and reveal the benefits of the vaccine itself far outweigh any potential risk of myocarditis.
"The risk of hospitalization, ICU stay and death from COVID infection itself far outweigh the risk of myocarditis following COVID vaccination," Dr. Bozkurt said.
Although the risk of myocarditis is very low, Dr. Bozkurt cautioned health care providers to be aware that it is there.
"Clinicians need to be aware of this risk, though it is very low," she said. "If an individual is presenting with chest pains, it may require further evaluation. But keep in mind, most symptoms are mild and resolve in four or five days."
Mikael Dolsten, MD, PhD, chief scientific officer and president of worldwide research, development and medical at Pfizer, talked about the development of the COVID vaccine and how it differed from the traditional approach to vaccine development because of the global emergency.
"As we generated encouraging early clinical data, at the same time we were in parallel investing thousands of scientists and of course the funds to prepare for potential success and put our large manufacturing network into play," he said. "This allowed us in 2021 to deliver up to 3 billion doses. Already 2 billion have been leaving our facilities. This was a really unique end-to-end approach."
In addition to the vaccine, Dr. Dolsten said that Pfizer this year has reported the first inhibitor as a therapeutic for the virus with 90% protective efficacy for hospitalization in COVID patients, and 100% protection for fatal outcomes. Dr. Dolsten said this is indicative of the holistic approach Pfizer has taken toward developing the treatments.
"Starting with the COVID pandemic, we tried to take a holistic, comprehensive approach, and the focus was that to control the pandemic a vaccine will be crucial," he said. "But our experience has been that when you supplement the vaccine with a therapeutic, you get the maximum opportunity for medical management."
Meanwhile, Stéphane Bancel, CEO of Moderna, said his company has been working on mRNA vaccines since it was founded in 2011, first trying to find a way to make mRNA work safely in humans. This, he said, gave Moderna an advantage when it came to developing a COVID vaccine and has helped with developing other vaccines as well.
"We now have 37 mRNA programs in development, and up to 50 additional ones in the labs that teams are working to get to development," he said. "Ninety percent of the drugs with traditional technologies that go into a clinic don't make it to market. We think mRNA is going to change that in a profound way."
Bancel said that because of the pandemic, Moderna had the ability to do everything in parallel as long as it was safe. In a normal environment, scientists would have to wait for phase 1 approval in a trial before moving into phase 2. With COVID, by necessity that all changed.
 "There was no risk to patient safety. It was a financial risk, we thought it was the right thing to do because we were in a pandemic. The thing that was our north star was to never take any risks with clinical trial participants."
Both Bancel and Dr. Dolsten said an annual COVID vaccine was going to be a likely necessity because the virus isn't going away. They also both agreed to a question posed by Dr. Bozkurt about the potential for a collaboration between the companies and the AHA to study the low risk of myocarditis in the vaccines and find out why it's there at all.
"There is a good opportunity to work across organizations and companies to gain more insight," Dr. Dolsten said. "We always should strive to improve benefit-risk even though it's very favorable. We always should strive to do more." 
Visit Scientific Sessions Conference Coverage for more articles.