---
Treatments highlighted for reducing diabetes-related heart failure and chronic kidney disease
---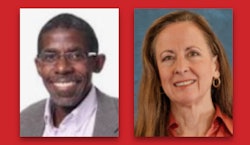 A major driver of cardiovascular mortality, type 2 diabetes greatly increases the risk of heart failure. Moreover, patients with diabetes are at increased risk of chronic kidney disease, which further magnifies cardiovascular risk. Fortunately, new therapeutic agents are available or emerging to reduce cardiovascular risk in patients with diabetes and chronic kidney disease.         
Monday's session: "Confronting the Tide of Heart Failure in Diabetes: From Mechanisms to Management," from 11 a.m.-Noon EST, will highlight potential contributors to cardiovascular complications, particularly heart failure and chronic kidney disease in patients with diabetes, and will feature new therapeutic agents available or in development to reduce cardiovascular risk.
"SGLT2 inhibitors have exhibited a dramatic effect on heart failure, but we still have a long way to go to completely mitigate the risk of heart failure in patients with diabetes," said Evan Dale Abel, MD, FAHA, chair of the department of internal medicine and director of the Fraternal Order of Eagles Diabetes Research Center at the University of Iowa Carver College of Medicine in Iowa City.   
Dr. Abel will discuss potential mechanisms contributing to heart failure in people with diabetes, including changes in mitochondria, cardiac metabolism, oxidative stress, lipotoxicity, glucose toxicity, inflammation and alternations in insulin and adrenergic receptor signaling. He will also explore agents investigated in animal models that could potentially be safely applied to humans.
"We're seeing light on the horizon with SGLT2 inhibitors, but we'll have more insight for newer therapeutic targets that could be developed over the next five to 10 years," Dr. Abel said.
With a focus on chronic kidney disease in diabetes and cardiovascular risk, Katherine R. Tuttle, MD, professor of medicine in the nephrology division and kidney research institute at the University of Washington in Spokane, will talk about how dangerous the intersection is. "Worldwide (according to the 2020 Kidney Disease Improving Global Outcomes clinical practice guidelines) diabetes is responsible for more than 40% of all cases of chronic kidney disease, which greatly amplifies cardiovascular risk. Most of the diabetes-associated excess cardiovascular risk occurs in those with chronic kidney disease," Dr. Tuttle said.           
Angiotensin-converting enzyme inhibitors and angiotensin receptor blockers are the established standard of care for chronic kidney disease in diabetes, yet these agents remain underutilized. "The implementation rate is abysmally low, in the range of 35% to 40%," Dr. Tuttle said. "We've been under-treating it, which is contributing to poor outcomes."                  
Still, a care gap exists for patients with chronic kidney disease and type 2 diabetes. "We're at a remarkable time in which we have highly effective therapies for some of the most common complications of diabetes, particularly heart failure and kidney failure," Dr. Tuttle said. "Dissemination and implementation of new therapies is critical to delivering improved outcomes for high-risk patients with chronic kidney disease and diabetes. This is especially germane as an SGLT2 inhibitor, dapagliflozin, was found to reduce all-cause mortality by 31% on top of standard of care," Dr. Tuttle said. "The magnitude of the benefit is at the same level as beta-blockers post myocardial infarction, which is something we rarely see with any therapy for any condition."