---
Updates in Heart Failure: From Definition to Treatments and Everything In-Between
Join top heart failure experts Drs Butler, Januzzi, and Bailey as they discuss the latest data on the use of SGLT2 inhibitors in patients with heart failure.
---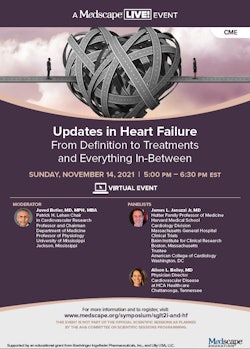 There have been multiple randomized clinical trials demonstrating benefits for patients with heart failure with reduced ejection fraction (HFrEF) and patients with heart failure with preserved ejection fraction (HFpEF) who received sodium-glucose cotransporter-2 (SGLT-2) inhibitors, including patients who did not have diabetes. The effects of these medications on hospitalizations for heart failure were consistent in independent trials and suggest that these agents also improve renal outcomes and reduce all-cause and cardiovascular death. In this live virtual meeting, our experts will help clinicians become familiar with the use of SGLT2 inhibitors, patient counseling, and risk mitigation in patients with heart failure.
Presenters:
Javed Butler, MD, MPH, MBA
Patrick H. Lehan Chair in Cardiovascular Research
Professor and Chairman
Department of Medicine
Professor of Physiology
University of Mississippi
Jackson, Mississippi
James L. Januzzi Jr, MD
Hutter Family Professor of Medicine
Harvard Medical School
Cardiology Division
Massachusetts General Hospital
Clinical Trials
Baim Institute for Clinical Research,   Boston, Massachusetts
Trustee
American College of Cardiology
Washington, DC

Alison L. Bailey, MD
Physician Director
Cardiovascular Disease at HCA Healthcare
Chattanooga, Tennessee

Sunday, November 14, 2021
5:00 PM – 6:30 PM EST
Register here
This event is not part of the official Scientific Sessions as planned by the AHA Committee on Scientific Sessions Programming.
The American Heart Association (AHA) does not endorse any commercial products or programs. The links provided within this site are for convenience only, and are not an endorsement of either the linked-to entity, product or service.  AHA makes no warranties of any kind, express or implied, with regard to its third-party vendor websites.