---
New drugs, indications in cardiovascular disease
Researchers present research regarding aspirin and dementia, early P2Y12 inhibitors, ticagrelor reversal agent and oral factor XIa.
---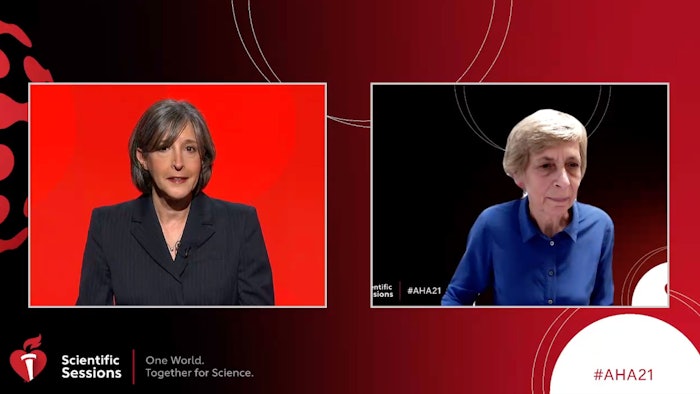 The Late-Breaking Science presented during Monday's "New Drugs and New Drug Indications in Cardiovascular Disease" revealed:
Daily aspirin was shown not to protect against dementia.
No benefit from early P2Y12 inhibitors in noncritically ill patients hospitalized with COVID-19.
Novel ticagrelor reversal agent shows benefit in Phase 3 interim analysis.
Oral factor XIa inhibitor beats enoxaparin in Phase 2 anticoagulation trial
Daily low-dose aspirin has no effect on development of dementia
Daily aspirin did not show a statistically significant effect on the development of dementia in a population of more than 15,000 adults in the United Kingdom with a history of diabetes and no history of coronary vascular disease. The pre-specified secondary analysis of the study of cardiovascular events in diabetes (ASCEND) trial found that while daily low-dose aspirin showed a numerical reduction in the prevalence of dementia after a mean follow-up of 9.2 years, the protective benefit did not reach statistical significance (HR=0.91, 95% CI 0.81-1.02) using a broad definition of dementia.
"This is the largest and the longest trial of aspirin and dementia to date," said Jane Armitage, FRCP, FFPH, OBE, professor of clinical trials and epidemiology and director of training and career development at the Nuffield Department of Population Health, University of Oxford in the United Kingdom.
"We can be reasonably confident to say there's no good evidence that aspirin is causing a problem, that is, that aspirin is increasing the risk of dementia, but we can't exclude what could be an important benefit."
The main ASCEND trial, reported in 2018, found a significant 12% reduction in ischemic cardiovascular events with 100 mg aspirin daily versus placebo in adults with diabetes who were otherwise healthy, but this was largely counterbalanced by a 29% increase in the risk of bleeding. The original trial had a mean treatment period of 7.4 years. Trial participants were given a cognitive assessment at the end of the treatment period and followed for an additional 1.8 years, Dr. Armitage reported.
The primary dementia outcome was a broad measure of reported dementia, cognitive impairment or confusion as ascertained by the participant, caregiver, general practitioner report or hospital admission diagnosis during the follow-up period. There was a similar incidence of dementia in both the aspirin and placebo groups, 548 taking aspirin (7.1%) versus 598 (7.8%) taking placebo (RR=0.91).
Although the trial did not show a statistically significant protective benefit from daily aspirin, a modest reduction in dementia in the 15%-18% range is plausible, Dr. Armitage noted. The primary analysis of ASCEND found a 12% reduction in ischemic vascular events and a 30% increase in bleeding events.
Observational data from within the trial suggest that both ischemic events and major bleeding events are associated with an approximate doubling in the risk of future dementia.
"Even having a transient ischemic attack appears to be associated with an increased risk of dementia," Dr. Armitage said. "Based on this analysis, we cannot say that daily aspirin will reduce the risk of dementia. Trials or meta-analyses with larger numbers of participants over longer follow-up periods with more cases of dementia might give us more definitive results."
P2Y12 inhibitors provide no benefit to noncritical hospitalized COVID-19 patients
An international trial of P2Y12 inhibitors in noncritically ill patients hospitalized with COVID-19 (ACTIV-4A) was halted early for futility. A planned interim analysis of ACTIV-4A found that P2Y12 inhibitors provided no benefit for patients who were moderately ill with COVID-19 at admission. A separate arm of the trial testing P2Y12 inhibitors in critically ill patients is ongoing.
"Clinicians saw a significant amount of clotting in patients hospitalized with COVID-19 early on," said Jeffrey S. Berger, MD, MS,
associate professor of medicine and surgery and director of the Center for the Prevention of Cardiovascular Disease at the New York University School of Medicine. "We published earlier in 2021 showing that therapeutic dose heparin, given early, before a patient becomes critically ill, can improve outcomes. We and others have shown that platelets are highly active in COVID-19. The higher the platelet activity, the higher the risk for adverse outcomes. We hypothesized that P2Y12 inhibitors, primarily ticagrelor because it has pleiotropic effects, would improve outcomes and lessen the need for cardiac or respiratory support."
The open label, adaptive, controlled trial randomly assigned patients hospitalized with COVID-19 to a P2Y12 inhibitor or usual care in combination with recommended therapeutic-dose heparin, for 14 days until discharge, whichever came sooner. The primary outcome was days free of organ support, evaluated on an ordinal scale that combined hospital survival and the number of index hospitalization days free of cardiovascular or respiratory organ support up to day 21. Ticagrelor was the preferred and recommended P2Y12 inhibitor, used by 63% of patients, while 37% of patients used clopidogrel.
The decision to halt the trial in noncritically ill patients was based on data from 293 P2Y12 patients and 269 usual care patients. The median adjusted proportional odds ratio for the effect of P2Y12 inhibitors on organ support-free days was 0.83 favoring the control group, yielding a posterior probability of futility of 96.2%.
"We feel very confident saying that if you are hospitalized with COVD-19 and not critically ill, there is no clinical advantage to an early strategy using P2Y12 inhibitors," Dr. Berger said. "This trial is particularly important because there are still a lot of clinicians using antiplatelet agents. At the same time, ACTIV-4B, a randomized trial of aspirin or other antithrombotic therapy at home prior to hospitalization, was stopped early because there were so few events. In the midst of a pandemic, with people reaching for all types of medications, getting answers about what not to do is just as important as figuring out what one should be doing."
Interim analysis finds benefit of novel ticagrelor reversing agent
A preplanned interim analysis of the Phase 3 REVERSE-IT trial (Effect Of Bentracimab on Platelet Inhibition and Hemostasis in Ticagrelor Patients with Uncontrolled Hemorrhage or Requiring Urgent Surgery) found that bentracimab safely and effectively reverses the antiplatelet activity of ticagrelor in patients undergoing urgent or emergency surgery or who have major bleeding. Results from the full trial are expected in 2022 or 2023.
Bentracimab has been designated a breakthrough therapy by the U.S. Food and Drug Administration and given a PRIME designation by the European Medicines Agency to support data generation and development plans for promising medicines.
These interim results build upon the Phase 1 trial results for bentracimab published in 2019, said Deepak L. Bhatt, MD, MPH, executive director of interventional cardiovascular programs at Brigham and Women's Hospital and professor of medicine at  Harvard Medical School. Interim data are based on 150 patients of a planned enrollment of approximately 200 patients at centers in North America, Europe and Asia-Pacific. All patients in the open-label, prospective single-arm trial have a reported use of ticagrelor within the prior three days and need urgent surgery or an invasive procedure, or present with uncontrolled major bleeding. Interim results are based on 142 patients who needed emergency surgery and eight patients with major, uncontrolled bleeding.
The primary outcome is extent of reversal based on P2Y12 reactivity units (PRU) as assessed by the VerifyNow™ platelet function assay and vasodilator-stimulated phosphoprotein within four hours after infusion and hemostasis.
"We found highly significant reversal of ticagrelor with both of these assays," Dr. Bhatt said. "We saw a consistent benefit across multiple different prespecified subgroups, including treatment for surgery or bleeding, male/female, age, different racial and ethnic groups, different levels of kidney function and others. Importantly, we demonstrated effective hemostasis in over 90% of patients, again with results consistent across multiple subgroups. We are seeing what appears to be an immediate, sustained, very consistent reversal of ticagrelor's antiplatelet activity."
Bentracimab has a dual mechanism of action, binding to both ticagrelor and to its major active metabolite. Preclinical data showed the binding affinity is approximately 100-fold greater than the affinity binding ticagrelor to its P2Y12 receptor. Bentracimab has no known affinity for other innate or pharmacologic targets. And while ticagrelor is eliminated primarily through the gastrointestinal tract, the bentracimab-ticagrelor complex is eliminated primarily by the kidneys.
"There is no effective platelet reversing agent available," Dr. Bhatt said. "There is currently nothing we can offer patients on ticagrelor who urgently need surgery or have massive bleeding. A safe, effective reversal agent is something that every emergency room, intensive care unit and operating room would want to have on hand."
Oral factor XIa inhibitor reduces venous thromboembolism after knee arthroplasty
A novel oral factor XIa inhibitor, milvexian, was more effective than subcutaneous enoxaparin in preventing venous thromboembolism after elective knee arthroplasty in the Phase 2 AXIOMATIC-TKR trial (Milvexian for Prevention of Venous Thromboembolism after Elective Knee Arthroplasty). Rates of venous thromboembolism with total daily milvexian doses of 100 mg or more were significantly lower than that with enoxaparin. Results of the trial were published simultaneously in the New England Journal of Medicine.
Milvexian also showed an excellent safety profile, said Jeffrey Weitz, MD, professor of medicine and biochemistry and biomedical sciences at McMaster University and executive director of the Thrombosis and Atherosclerosis Research Institute in Hamilton, Ontario, Canada. The rate of clinically relevant bleeding, the composite of major plus clinically relevant nonmajor bleeding, was 1% with milvexian and 2% with enoxaparin. Importantly, there was no increase in clinically relevant bleeding over a 16-fold range of milvexian doses from 25 mg to 400 mg. The rate of any bleeding, the composite of major, clinically relevant nonmajor and minor bleeding, was 4% with both milvexian and enoxaparin.
"Fear of bleeding often leads to the underuse of anticoagulants for eligible patients with atrial fibrillation and other conditions," Dr. Weitz noted. "In addition, fear of bleeding also leads to the inappropriate use of low-dose regimens of direct oral anticoagulants as physicians try to minimize the risk of bleeding. Real-world studies suggest that inappropriate under-dosing compromises efficacy but has little impact on safety. These problems should go away if we have safer anticoagulants."
The dose-ranging AXIOMATIC-TKR trial randomized 1,242 patients to receive enoxaparin or one of seven regimens of oral milvexian, 25 mg, 50 mg, 100 mg or 200 mg twice daily or 25 mg, 50 mg and 200 mg once-daily, for 10-14 days. The assignment to enoxaparin or milvexian was open label due to the different routes of administration, but the milvexian dose and outcome assessment were blinded.
The primary efficacy outcome was venous thromboembolism as detected by mandatory venography of the operated leg, confirmed symptomatic events, or death. The principal safety outcome was any bleeding, a composite of major, clinically relevant nonmajor and minor bleeding events.
With milvexian, venous thromboembolism occurred in 21% of patients receiving 25 mg twice daily, in 11% receiving 50 mg twice daily, in 9% receiving 100 mg twice daily, in 8% receiving 200 mg twice daily, in 25% receiving 25 mg once daily, in 24% receiving 50 mg once daily, and in 7% receiving 200 mg once daily compared with 21% in patients receiving enoxaparin.
"Factor XI plays an important role in thrombosis, but is mostly dispensable for hemostasis," Dr. Weitz said. "Therefore, factor XIa inhibitors like milvexian have the potential to be safer than currently available anticoagulants that inhibit factor Xa or thrombin."