---
Trials' results highlight the potential for fish oil to fight COVID-19 and MK-0616 to lower cholesterol
---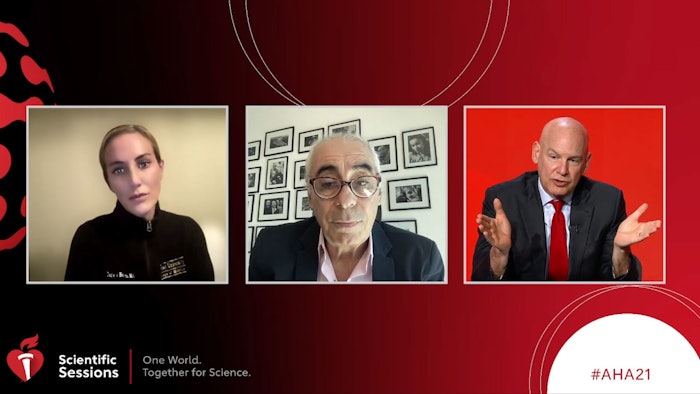 Investigators revealed findings on fish oil and COVID-19 and the cholesterol-lowering potential of MK-0616, the first oral PCSK9 inhibitor, during "Fish Oil and Cholesterol: Recipes for CVD Prevention?" Late-Breaking Science Session on Monday. They found:
Icosapent ethyl did not statistically significantly reduce the rate of COVID-related hospitalization or death in COVID-19 patients, compared to placebo.
MK-0616, the first oral PCSK9 inhibitor, reduced LDL-C in subjects with hypercholesterolemia.
Icosapent ethyl did not significantly reduce the risk of COVID-19 hospitalization or death
Icosapent ethyl, a purified preparation of the omega-3 fatty acid eicosapentaenoic acid, did not reduce COVID-19 related hospitalization, (indication for hospitalization or hospitalization) or death in patients diagnosed with COVID-19, according to Icosapent Ethyl Versus Placebo in Outpatients With COVID-19 (PREPARE-IT 2).
The web-based trial randomized 2,016 non-hospitalized patients ≥ age 40 with a diagnosis of COVID-19 by positive reverse transcription polymerase chain reaction or rapid test, within seven days of symptom onset and without clear indication for hospitalization or contraindications to icosapent ethyl, to a loading dose of 8 grams; four capsules every 12 hours for the first three days, followed by 4 grams every 12 hours until day 28, or matching placebo dose. The primary outcome of death, hospitalization or indication for hospitalization due to COVID-19 was 13.7% in the placebo group and 11.2% in the active group (HR=0.84; 95% CI 0.65 – 1.08; p = 0.17). A secondary endpoint, actual hospitalizations or death, occurred in 6.8% of the placebo group and 5.4% in the active group (HR=0.78; 95% CI 0.55 – 1.12; p = 0.18).
"The lower rate of the primary endpoint with icosapent ethyl versus placebo was not statistically significant," said Rafael Diaz, MD, electoral director of Estudios Clínicos Latinoamérica in Rosario, Argentina, the study's principal co-investigator. "Larger, randomized trials powered for approximately 15% relative risk reduction with icosapent ethyl are needed to establish whether icosapent ethyl may have a role in the management of COVID positive patients."  
MK-0616 reduced LDL-C in patients with hypercholesterolemia
MK-0616, a cyclic peptide and the first oral PCSK9 inhibitor, has the potential to be a powerful cholesterol lowering agent for hypercholesterolemia, according to the Clinical Safety, Pharmacokinetics and LDL-Cholesterol Lowering Efficacy of MK-0616, an Oral PCSK9 Inhibitor trial.
In a single ascending dose study, 60 healthy male volunteers were randomized 3:1 to receive single doses of MK-0616 (10-300 mg) or placebo. In a multiple dose study, 40 healthy male and female volunteers with hypercholesterolemia, baseline LDL-C 60-160 mg/dL while on statin treatment for at least three months, were randomized 3:1 to receive MK-0616 or placebo for 14 days.
After 14 days of treatment, participants receiving multiple MK-0616 doses exhibited approximately 65% LDL-C reduction from baseline, similar to that reported for anti-PCSK9 monoclonal antibodies. Placebo-treated participants exhibited <5% LDL-C reduction from baseline. MK-0616 single doses reduced free PCSK9 by greater than 90%. MK-0616 was well tolerated at doses up to 300 mg with no deaths, serious adverse events or clinically meaningful trends in laboratory safety tests, vital signs or electrocardiogram.
MK-0616 represents the first oral PCSK9 inhibitor with clinical data supporting its potential to be a powerful cholesterol lowering agents for treating hypercholesterolemia and coronary heart disease, said Douglas Johns, MD, clinical director at Merck in Kenilworth, New Jersey, the study's principal investigator.
Larger clinical trials evaluating the efficacy and safety of MK-0616 are required.