---
Established lecture to present new research developments
Atrial fibrillation experts examine critical needs and potential therapeutic possibilities for the prevalent condition
---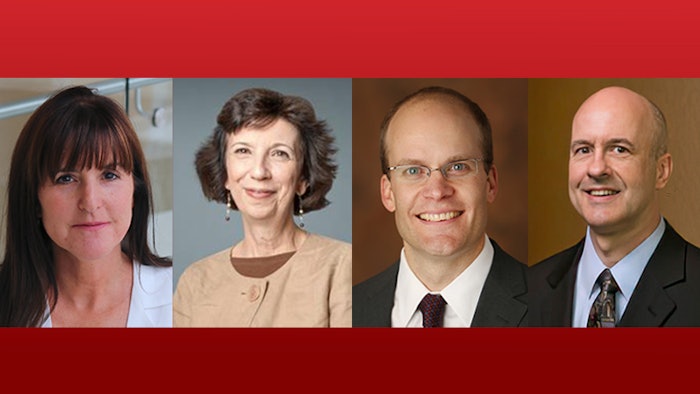 Each year at Scientific Sessions, the Henning Lecture features a topic with exciting progress on the horizon as well as accompanying experts.
Robert J. Henning, MD, FAHA, director of the Center for Cardiovascular Research in Tampa, Florida, created and supported the endowed lectureship.
The 2023 meeting will feature atrial fibrillation, which is the most common sustained cardiac arrhythmia. Based on epidemiological research completed worldwide, the prevalence of AFib is increasing, at least in part due to an aging population. For patients who have AFib, the primary cause of death is often related to complications or comorbidities of the condition and not the direct effects of the arrhythmia or a stroke.
Co-moderators Jane E. Freedman, MD, and Ann Marie Schmidt, MD, said although anticoagulation therapy continues to reduce stroke in atrial fibrillation, there remains a critical need to identify predisposing risk factors and new therapeutic opportunities in the near future.
Dr. Freedman is director of the Division of Cardiovascular Medicine and physician-in-chief at Vanderbilt Heart and Vascular Institute in Nashville, Tennessee.
Dr. Schmidt is the Dr. Iven Young professor of endocrinology in the Department of Medicine and professor in the Department of Biochemistry and Molecular Pharmacology and Department of Pathology at NYU Grossman School of Medicine in New York City.
The majority of Monday's lecture will be two focused presentations.
First, M. Benjamin Shoemaker, MD, MSCI, will review his approach for genetic evaluation of atrial fibrillation. Dr. Shoemaker is associate professor in the Division of Cardiovascular Medicine/Cardiac Electrophysiology at Vanderbilt Center for Arrhythmia Research and Therapeutics (VanCART) in Nashville.
"Genetic testing for younger patients with atrial fibrillation (currently termed early-onset atrial fibrillation) is being considered to identify the subset having pathogenic variants in cardiomyopathy and arrhythmia genes that put them at risk for developing heart failure, conduction disease and ventricular arrhythmias," Dr. Shoemaker said. "This would be a change in current clinical practice because atrial fibrillation is a common disease that has previously not prompted genetic evaluation. However, the recognition that some patients, predominantly those with inherited cardiomyopathy syndromes, may present initially with atrial fibrillation is compelling."
This is largely a new investigative area that has potential for exciting discoveries to help prevent and manage atrial fibrillation, he said.
"More consideration will need to be given to the diagnostic evaluation of younger patients with atrial fibrillation rather than just focusing on symptomatic management," Dr. Shoemaker said. "When a younger patient presents with atrial fibrillation, we'll need to ask 'why'."
In the second presentation, J. Kevin Donahue, MD, will share his research on the role of gene therapy in animal models with atrial fibrillation and examine the evidence supporting AFib mechanisms based on this data. He will also discuss a new gene therapy clinical trial, funded by the National Institutes of Health (NIH), to prevent post-operative atrial fibrillation.
"Gene therapy has become an established way to explore disease mechanism with the added benefit of developing novel therapies," said Dr. Donahue, the David T. and Barbara J. Milliken professor of cardiology, a professor of medicine and director of electrophysiology research at UMass Chan Medical School in Worcester, Massachusetts.
Finally, a panel discussion with leaders in atrial fibrillation research, particularly those leading the American Heart Association's Strategically Focused Research Network on atrial fibrillation, will discuss other recent advancements and therapeutic opportunities for patients affected by atrial fibrillation.