---
Novel mechanisms for lipid-lowering therapy
Editing the PCSK9 gene, first-in-human trial of lepodisiran, new PCSK9 antibody and statins performance in people with HIV highlight four trials.
---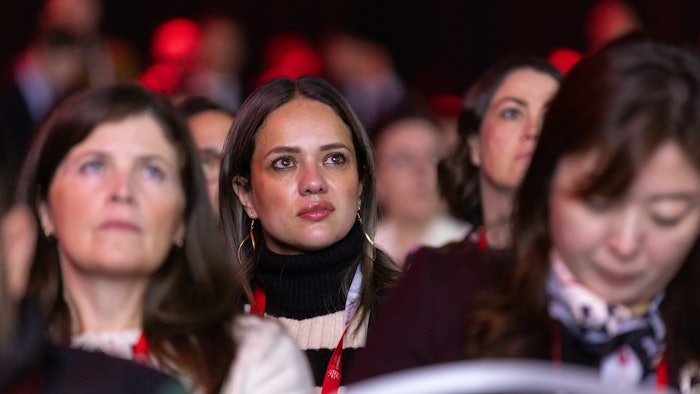 Sunday's Late-Breaking Science session, Future of Lipid-Lowering Therapy —Novel Mechanisms and Approaches, found that:
First clinical trial to edit PCSK9 gene cuts LDL-C over 50%.
First-in-human trial of lepodisiran cuts circulating lipoprotein(a) over 90%.
New PCSK9 antibody offers infrequent dosing for non-familial hypercholesterolemia
Statins reduce noncalcified coronary artery plaque, inflammatory markers, MACE in people with HIV.
First clinical trial of PCSK9 gene-editing agent reduces LDL cholesterol up to 55% 
A single injection of a novel DNA editing agent, VERVE-101, inactivated PCSK9 gene activity in the liver and reduced serum LDL cholesterol up to 55% in individuals with heterozygous familial hypercholesterolemia (HeFH) and pre-existing atherosclerotic cardiovascular disease (ASCVD). Preclinical data and interim results of the phase 1b heart-1 trial suggest a single injection may provide lifelong LDL-C lowering. 
"HeFH affects approximately 3 million people in the United States alone," said Andrew Bellinger, MD, PhD, chief scientific officer at Verve Therapeutics. "HeFH is characterized by sky-high LDL-C from birth leading to heart attack and/or death at early ages. This inherited condition requires lifelong LDL-C lowering. Currently, patients are being asked to take a daily pill or intermittent injections over decades to lower LDL-C. Less than 3% of HeFH patients globally are at LDL-C goal under this chronic care model. Our goal is to transform chronic cardiovascular care to single-course therapy with durable benefit."
VERVE-101 uses lipid nanoparticle-mediated delivery to target hepatocytes and edit a single adenine base to guanine to inactivate the PCSK9 gene and reduce blood levels of PCSK9 protein, thereby lowering blood LDL-C levels. 
The heart-1 trial enrolled 10 participants with HeFH and pre-existing coronary artery disease, most of whom had required previous coronary revascularization. The mean age of participants was 54 years, and the mean LDL-C was 193 mg/dL. 
Participants received a single infusion of VERVE-101, ranging from 0.1 mg/kg to 0.6 mg/kg. The single arm dose escalation study is continuing at the two highest doses: 0.45 mg/kg and 0.6 mg/kg. 
The mean LDL-C reduction seen from the 0.45 mg/kg dose was over 40%, the LDL-C reduction at 0.6 mg/kg was 55%. Reductions at lower doses were not clinically significant. At the highest dose, the single participant has been followed for 180 days, with a durable effect on LDL-C reduction. 
VERVE-101 also led to significant reductions in serum PCSK9 levels, ranging from 47% to 84% in the three participants at the 0.45 mg/kg and 0.6 mg/kg doses. Dr. Bellinger noted that the PCSK9 reductions are consistent with observed LDL-C reductions. 
Most adverse events were mild, he said. The independent Data Safety and Monitoring Board agreed that all serious adverse events observed were consistent with the high-risk ASCVD patient population enrolled and recommended continued dosing. 
"This medication may deeply lower LDL-C for decades after a single treatment," Dr. Bellinger said. "The heart-1 study is actively enrolling at multiple sites for the 0.45 and 0.6 mg/kg cohorts. Once the ascending dose phase is complete, Verve plans to enroll an expansion cohort in 2024 and move to a phase 2 randomized trial." 
First in-human trial of novel siRNA shows reduced lipoprotein(a) over 90% for 48 weeks
A first-in-human trial of lepodisiran, a novel short-interfering RNA (siRNA), reduced serum levels of lipoprotein(a) [Lp(a)] by as much as 96% within two weeks and maintained levels up to 94% below baseline for 48 weeks. Lipoprotein(a) [Lp(a)] is a genetically determined atherosclerotic and aortic stenosis risk factor affecting an estimated 64 million people in the United States and 1.4 billion worldwide. There is currently no approved pharmacological treatment.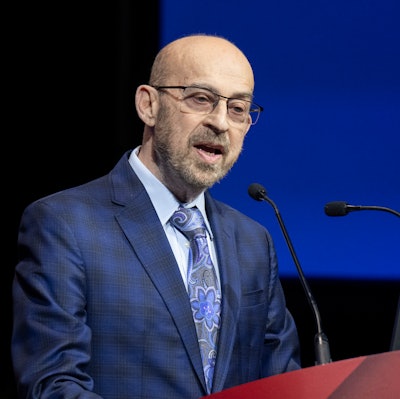 "About 20% of the population has elevated Lp(a) levels associated with increased risk of atherosclerotic cardiovascular disease and aortic stenosis," said Steven Nissen, MD, MACC, chief academic officer of the Heart, Vascular and Thoracic Institute at the Cleveland Clinic. "Nucleic acid-based therapeutic approaches offer an effective approach to reducing Lp(a) levels. We studied an siRNA that blocks the messenger RNA necessary to synthesize a key component of Lp(a) in the liver, thereby markedly lowering levels." 
Lp(a) is a lipoprotein particle that consists of an ApoB-containing LDL particle and a covalently bound apolipoprotein(a) [apo(a)] that is encoded by the LPA gene. Lepodisiran is an siRNA that targets LPA mRNA and is conjugated to N-Acetylgalactosamine (GalNAc), a sugar with high-affinity to asialoglycoprotein receptors expressed almost exclusively in hepatocytes. Once internalized in hepatocytes, lepodisiran blocks synthesis of apo(a) that is a necessary component of Lp(a) particles. 
The phase 1 single ascending dose trial compared doses of 4, 12, 32, 96, 304 or 608 mg of lepodisiran given by subcutaneous injection and placebo. The primary outcome was safety and tolerability. Secondary outcomes included lepodisiran pharmacokinetics and change in Lp(a) serum concentrations from baseline to 48 weeks.  
A total of 48 healthy participants enrolled in the U.S. and Singapore with a mean age of 47 and 38% were female. Lepodisiran plasma concentrations peaked about eight hours after injection and fell to essentially undetectable levels within 48 hours. Maximum Lp(a) plasma concentrations were reduced -49% from baseline levels for the 4 mg dose and up to -96% for the 608 mg dose versus -5% for placebo.
"As far as we can tell, there is no beneficial physiologic function for Lp(a)," Dr. Nissen said. "We didn't see any safety issues and the only tolerability issue was mild injection site reactions. Lp(a) is an atherogenic lipoprotein particle, so if levels are high, Lp(a) can nearly double the risk of ASCVD and aortic stenosis and can lead to disease in younger age groups. A phase 2 trial is currently underway, and phase 3 is being planned." 
The trial was published simultaneously online in the Journal of the American Medical Association. 
Recaticimab + statin a potential option for non-familial hypercholesterolemia with less frequent dosing 
Adding recaticimab, a novel monoclonal antibody against PCSK9 to stable statin therapy in individuals with non-familial hypercholesterolemia (non-FH) could be a promising alternative to anti-PCSK9 agents currently in clinical use. The phase 3 Recaticimab Add-On Therapy in Patients with Non-Familial Hypercholesterolemia and Mixed Hyperlipidemia showed up to a 55%reduction in serum LDL-C for recaticimab plus moderate or high dose statin compared to statin plus placebo for at least 48 weeks. Changes in other lipid values also favored the recaticimab group. 
Currently available anti-PCSK9 monoclonal antibodies can effectively reduce LDL-C levels, but require frequent dosing, said Xin Du, MD, Beijing Anzhen Hospital, at Capital Medical University. Recaticimab was designed to provide similar safety and efficacy with a dosing interval up to 12 weeks.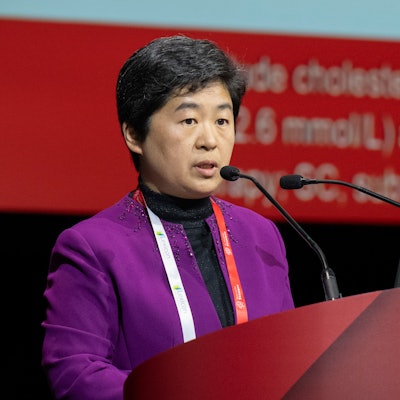 REMAIN-2 randomized 692 patients with LDL-C ≥2.6 mmol/L (or ≥1.86 mmol/L in patients with established atherosclerotic cardiovascular disease) to one of recaticimab 150 mg Q4W, 300 mg Q8W, 450 mg Q12W or placebo for 48 weeks. All patients were on moderate or high dose statin with or without ezetimibe/ fenofibrate and had fasting triglycerides ≤5.6 mol/L at baseline. 
The primary outcome was change in serum LDL-C at week 24. 
Add-on recaticimab showed greater reductions in LDL-C versus placebo, -62.2% for 150 mg Q4W, -59.2% for 300 mg Q8W, and -51.4% for Q12W (p<0.0001 for all) at week 24. LDL-C reductions were similar at 48 weeks. Up to 94.5% of patients were at LDL-C goal at week 24.
Treatment related adverse events were similar in the recaticimab and placebo groups, 28.5% % and 26.6% respectively. Common adverse events in the recaticimab group included upper respiratory tract infection, hyperuricemia, urinary tract infection, increased blood CPK, COVID-19 infection and increased ALT/AST. 
"Recaticimab demonstrated long-term efficacy and safety with an infrequent dosing interval," Dr. Du said. "After 24 weeks of treatment, recaticimab can reduce LDL-C up to 62% compared to placebo with a comparable safety profile to placebo." 
Statins reduce noncalcified coronary artery plaque, inflammatory markers, MACE in people with HIV 
The Randomized Trial to Prevent Vascular Events in HIV (REPRIEVE) showed that pitavastatin reduced major cardiovascular events (MACE) in people living with HIV (PWH) by 35% over a median follow-up of 5.1 years. An embedded mechanistic substudy suggested that reduction in noncalcified coronary artery plaque and inflammatory processes may be responsible for the greater than expected cardiovascular benefit of statin therapy for PWH. 
"People with HIV have about 1.5 to 2-fold higher risk of cardiovascular events than people without HIV, even after adjusting for other risk factors," said Michael T. Lu, MD, MPH, co-director of the Massachusetts General Hospital Cardiovascular Imaging Research Center and associate professor of radiology at Harvard Medical School. "With improved HIV treatment, cancer and cardiovascular disease are more often the causes of death for people with HIV, so understanding that elevated cardiovascular risk and reducing it are key."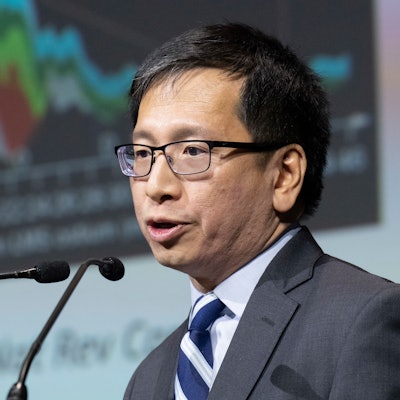 REPRIEVE found that statin therapy could reduce MACE in PWH who would not receive statins under current AHA/ACC guidelines. The embedded substudy included 804 PWH without known CVD and low to moderate CVD risk, 402 taking pitavastatin and 402 taking placebo. The mean age was 51, 17% were born female, 36% Black, and the median 10-year CVD risk was 4.6%. 
Participants had a coronary CT angiogram and inflammatory biomarker assays at entry and after two years of pitavastatin or placebo. The primary outcomes were change in noncalcified coronary plaque volume and progression of noncalcified plaque. 
Pitavastatin led to a relative reduction in noncalcified coronary plaque volume of -4.3mm3 versus placebo (p=0.044), Dr. Lu reported, a 7% greater reduction than placebo. Progression of noncalcified plaque was 33% less likely for those taking pitavastatin versus placebo (p=0.003). Those taking pitavastatin showed a mean reduction in LDL cholesterol of -28.5 mg/dL versus -0.8 for placebo. Pitavastatin was associated with relative reductions in both oxLDL (-29% versus -13%) and LpPLA2 (-7% versus +14%, p<0.001 for both) versus placebo at 24 months. 
"REPRIEVE demonstrated that pitavastatin can prevent MACE in low to moderate risk people with HIV," Dr. Lu said. "Reduction in noncalcified plaque and the lower risk of noncalcified plaque progression are a potential mechanism for the 35% reduction in MACE in the main trial. And we saw inflammatory biomarkers decrease in the statin arm. We hope REPRIEVE will help inform guidelines and help us reduce heart attack and stroke in people with HIV."