---
Late-breaking science: Achieving equity in prevention
Health care worker-led trial improves hypertension control, automated pharmacy referral for statin prescribing, SBP levels improving CVD outcomes and reducing hypertension in low-income population.
---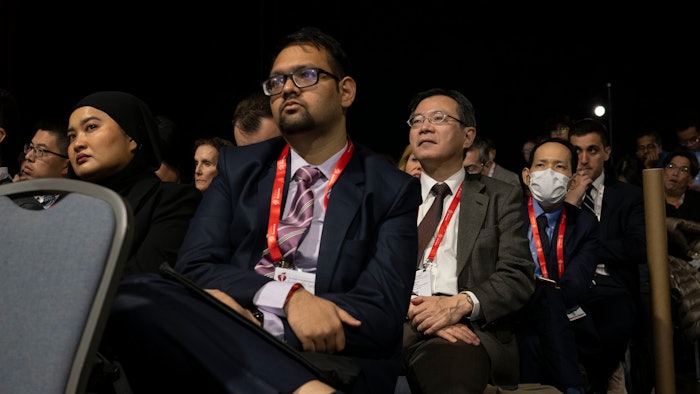 Monday's first Late-Breaking Science session, From Local to Global: Achieving Equity in Prevention, found that: 
Health care worker-led trial improves hypertension control in Nigeria.
Automated pharmacy referral doubles statin prescribing.
SBP <120 mmHg improves cardiovascular outcomes, mortality.
Multifaceted strategy effectively reduces hypertension in low-income population.
Health care worker led trial improves hypertension control in Nigeria
Nigeria has a significant burden of hypertension. Up to 30%-35% of adults have elevated blood pressure with control rates below 10%, said Dike Ojji, MBBS, PhD, associate professor of preventive cardiology, chair of the Department of Internal Medicine and lead investigator of the University of Abuja and University of Abuja Teaching Hospital Cardiovascular Research Unit. 
"Hypertension drives cardiovascular disease in Nigeria with the high burden of heart failure, stroke, chronic kidney disease being mainly complications of uncontrolled hypertension," Dr. Ojji said. "Worse still, these complications occur mainly in young and middle-aged persons, which are the prime years of life and most productive years. This is in contrast with Western Europe and the U.S. where these hypertension-related diseases occur more in older ages like the seventh and eighth decades of life."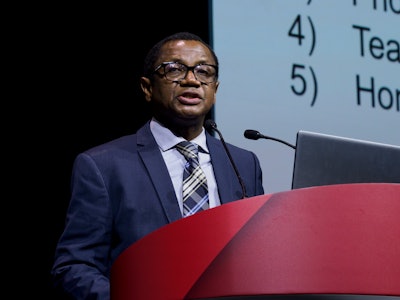 Nigeria, like many lower- and middle-income countries (LMICs), has a dearth of both specialist and primary care physicians with a very high population-to-physician ratio, Dr. Ojji noted. To overcome this barrier, non-physician health care workers are asked to carry out some of the tasks of physicians under supervision.   
Researchers adapted the HEARTS model, pioneered by Kaiser Permanente Northern California and the World Health Organization, across 60 public health centers in the Federal Capital Territory of Nigeria. A multilevel strategy bundle combined team-based care led by specially trained community health extension workers included a national treatment protocol emphasizing fixed-dose combination therapy, guaranteed access to essential medications and technology, health coaching and home blood pressure monitoring. This established a system for hypertension management in public primary care settings. The program launched in the Federal Capital Territory of Nigeria in 2020 with the aim of scaling up to the entire country. 
More than 20,378 patients with a mean age of 49 years, 68% female and mean body mass index of 28kg/m2 have been enrolled in the program. Patient-level data were collected for individuals with hypertension, blood pressure ≥140/90 mmHg.
Preliminary results show hypertension treatment rates improved from 76% at baseline to 97% at the end of the study period, while hypertension control improved from about 23% to 56%. Prescriptions for fixed-dose combination treatments increased from 43% to 90%.
Dr. Ojji noted the study team has created and maintained a supply chain of anti-hypertensive medications at a much reduced price compared to in-community pharmacies. Affordable medication is crucial for the success of the program because there is little or no health insurance coverage for patients at this level.  
"We have shown that training community health extension workers and using them to treat hypertension can make a tremendous difference at the management of hypertension at both population and individual levels," he said.
Automated pharmacy referral doubles statin prescribing
Two simultaneous randomized pragmatic trials found that automatically referring appropriate patients from primary care to a central pharmacy facility can double the percentage of statin prescriptions for patients with or at high risk for atherosclerotic cardiovascular disease (ASCVD) compared to usual care. The SUPER LIPID program more than tripled the percentage of appropriate dose statins prescribed compared to usual care in 11 primary care clinics.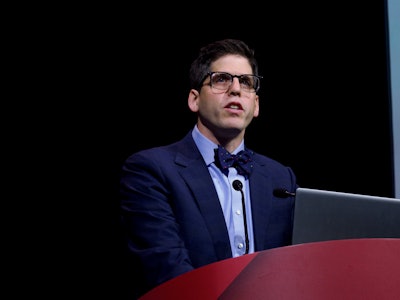 "For patients with or at high risk for ASCVD, statins can reduce major adverse cardiovascular events by 33-50%," said Alexander C. Faranoff, MD, MHS, assistant professor of cardiology at the University of Pennsylvania. "More than half of U.S. adults with an appropriate indication are not prescribed statins at guideline-recommended intensity. The vast majority of clinicians indicate they would prescribe statins for patients if indicated in hypothetical scenarios, but it doesn't happen. Lack of prescribing is not a lack of knowledge, but of time. We hypothesized that pharmacists could help increase statin prescribing to appropriate patients."  
Researchers designed two simultaneous pharmacy-based referral strategies. One was an interruptive, pop-up electronic health record notification to primary care professionals to consider initiating statin therapy. The other strategy used automated orders for referral to a central pharmacy facility for consideration of statin initiation. Both strategies were compared to usual care. Both trials lasted 9 months.  
Upon receiving a referral under either strategy, pharmacists reviewed the patient's chart to confirm that the patient was an appropriate candidate for statin treatment. Pharmacists called the patients and discussed statin initiation. If the patient agreed, the pharmacist prescribed a statin and ordered follow-up labs as appropriate.
Trials were conducted at 11 primary care and internal medicine clinics near Lancaster, Pennsylvania.
 The visit-based pop-up notification improved statin prescribing from 14.9% to 16.5% of appropriate patients (OR=1.43, CI=1.02-2.00). Prescribing of statins at the appropriate dose increased slightly, from 8% at baseline to 9% (OR=1.47, CI=0.85-1.47). 
The non-visit based automated pharmacy referral increased statin prescribing from 15.2% at baseline to 31.6% (OR=2.22, CI=1.47-3.37) and appropriate statin prescribing from 7.7% to 24.8% (OR=6.79, CI=4.00-11.53). 
"There was no direct comparison between visit-based and non-visit-based strategies, but the same inclusion criteria, pharmacy protocols and endpoints facilitate indirect comparison," Dr. Faranoff said. "We found that a centralized model can be an effective adjunct to visit-based clinical interactions in increasing statin prescribing for high risk patients."
Intensive blood pressure lowering <120 reduces risk of MACE, death
 One of the largest blood pressure trials targeting standard office systolic blood pressure <120 mmHg among individuals with high cardiovascular risk found that intensive blood pressure lowering reduces the risk of major adverse cardiovascular events (MACE) by 12% and of death by 21% compared to standard care. Intensive blood pressure control was also associated with increased risk of decreased renal function, hypotension or syncope, but the incidences of decreased renal function, hypotension or syncope were lower than previous studies, said Jing Li, MD, PhD, from the National Center for Cardiovascular Diseases in Beijing, China.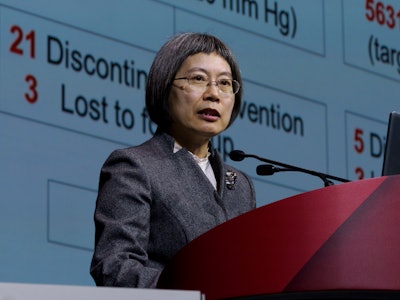 "Observational studies document a progressive increase in risk as blood pressure rises above 115/75 mmHg," Dr. Li said. "So, it is reasonable to suspect that SBP <120 is the optimal blood pressure-lowering target. However, this target has not been reliably proven by randomized controlled trial, particularly in Asian populations and in patients with diabetes or a history of stroke."
The open label Effects of Intensive Blood Pressure Lowering Treatment in Reducing Risk of Cardiovascular Events (ESPRIT) trial randomized 11,255 patients at 116 sites across China to either intensive treatment (SBP target of <120 mmHg) or to standard treatment (SBP target <140 mmHg). Patients were a mean of 65 years old at baseline and 41.3% female. A total of 28.9% had coronary heart disease, 26.9% prior stroke and 38.7% diabetes.
The primary outcome was MACE, a composite of myocardial infarction, revascularization, hospitalization/emergency room visit for heart failure, stroke or cardiovascular death. Patients were followed for a median of 3.4 years.
MACE was recorded in 547 patients in the intensive group (9.7%) and 624 in the standard care group (11.1%), a hazard ratio of 0.88 (p=0.03). A total of 160 patients in the intensive group died (2.8%) versus 203 in the standard group (3.6%), a hazard ratio of 0.79. The intensive treatment group also had a higher risk of decreased renal function, hypotension or syncope compared to the standard treatment group. The SPRINT trial, which also compared intensive to standard BP control, showed similar increased risks.
Targeting SBP <120 will prevent 14 major cardiovascular events and 8 deaths per 1,000 patient, Dr. Li said. The same intensive blood pressure control target will result in three more patients requiring hospitalization or an emergency department visit for syncope. 
"Among a wide range of participants with high cardiovascular risk, intensive BP treatment led to a lower risk of MACE and death compared to standard treatment," Dr. Li said. "Our findings are consistent with those from SPRINT and similar trials and can be generalized to those who are at least 50 years of age with baseline SPB of 130-180 mmHg, at high cardiovascular risk and normal or mildly reduced renal function." 
Multifaceted strategy can improve blood pressure control in low-income patients with hypertension 
A multifaceted strategy that targets health care system, health care professionals and patients can significantly improve blood pressure control in a low-income population with uncontrolled hypertension. The IMPACTS trial with 1,272 individuals diagnosed with hypertension at 36 Federally Qualified Health Center (FQHCs) clinics in Louisiana and Mississippi found that implementing a multifaceted strategy resulted in a systolic blood pressure decline of 16 mmHg over 18 months versus a 9.1 mmHg drop for usual care.
"This study was conducted in a low-income population: 73% of our patients had an annual family income less than $25,000 and 76% were unemployed," said Jiang He, MD, PhD, Joseph S. Copes Chair and Professor of Epidemiology and director of the Tulane University Translational Science Institute. "We focused on training health care professionals, mostly nurse practitioners, in the SPRINT (Systolic Blood Pressure Intervention Trial) treatment algorithm for blood pressure control. We also trained community health workers and medical assistants in health coaching. They worked closely with patients on lifestyle modification, home blood pressure monitoring and medication adherence. The patients got regular feedback on what they were doing well and how they could do better," Dr. He said.
IMPACTS randomly assigned 36 FQHC clinics to either usual care or the multifaceted intervention strategy. In the intervention clinics, a team-based strategy was implemented: Health care professionals, health coaches and patients worked together to achieve a blood pressure control goal. A routine blood pressure audit and feedback were conducted with blood pressure control addressed at both health care professional visits and health coaching visits. 
At baseline, patients were 59 years, 56.7% female, 63.3% African American, 42.6% had hypertension for more than 10 years and taking a median of 2 antihypertensive medications. Mean blood pressure was 147.6/84.7 mmHg.
Mean decline in systolic blood pressure was the primary effectiveness outcome. A fidelity summary score — a composition of treatment intensification, medication adherence, home blood pressure measurement and health education — was the primary implementation outcome.
The intervention group had a 7 mmHg greater decline in systolic blood pressure (p<0.001) versus the control group and a 3.4 fidelity summary score versus 2.8, a difference of 0.6 (p<0.001).
"This is a straightforward, effective and scalable strategy that could be widely used to improve hypertension control in the U.S. and other countries," said Dr. He. "Uncontrolled hypertension and related cardiovascular diseases disproportionately affect low-income populations. IMPACTS shows very clearly that the multifaceted intervention at health systems, professionals and patients can make a clinically and public health significant difference."