---
Getting to the Heart of Stroke™
Deepening the collaboration between neurology and cardiology.
---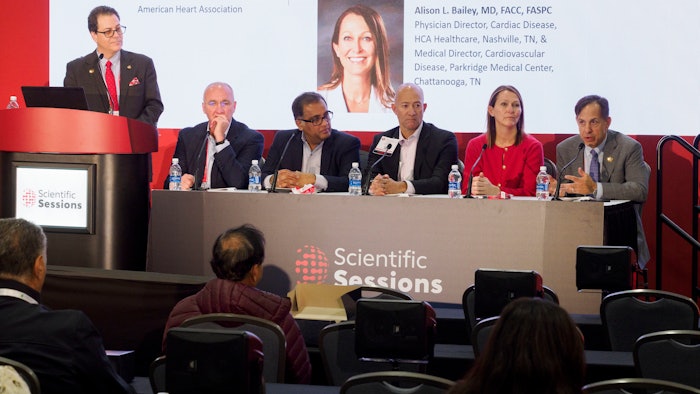 Details of the American Heart Association's Getting to the Heart of Stroke™ were revealed during #AHA23 in Philadelphia. Developed in conjunction with and supported by HCA Healthcare and the HCA Healthcare Foundation, Getting to the Heart of Stroke is a multifaceted initiative that aims to deepen collaboration between neurology, cardiology and communities to improve heart health and beat stroke. 
Getting to the Heart of Stroke™ aims to:
Optimize identification of stroke cause by strengthening neurology and cardiology care collaboration while improving health equity, diversity and inclusion disparities
Develop medical education activities that optimize identification of stroke cause, reduce secondary strokes and improve access to care across all populations
Empower consumers to know and better manage their risk factors
Address health disparities though community health interventions and education
The AHA 2021 Secondary Stroke Prevention Guidelines mention interventions that include a multidisciplinary team-based approach to care may be beneficial for risk factor control and secondary prevention after ischemic stroke and TIA. The guidelines also mention regular hospital and outpatient-based programs for adherence and risk factor monitoring provide the opportunity to identify areas of need and to optimize strategies to improve care quality, improve risk factor control and ultimately reduce the risk of recurrent stroke.
Globally, about one in four adults over the age of 25 will have a stroke in their lifetime. Each year, approximately 800,000 people in the U.S. experience a stroke, according to the American Heart Association's 2023 Heart Disease and Stroke Statistical Update.  
About one in three ischemic strokes in the U.S. is a cryptogenic stroke. Some studies suggest that the incidence of cryptogenic stroke is higher in African-Americans (two times more likely) and Hispanics (46% more likely). 
Management of vascular risk factors remains extremely important in secondary stroke prevention, including (but not limited to) diabetes, smoking cessation, lipids and especially hypertension.