---
Managing the Heart Failure Patient with Reduced Ejection Fraction: New Perspectives and Emerging Evidence
Experts discuss the need to personalize treatment of heart failure with reduced ejection fraction (HFrEF), explain evidence with therapy to improve contractility and outcomes, and describe best practices for treating worsening HF.
---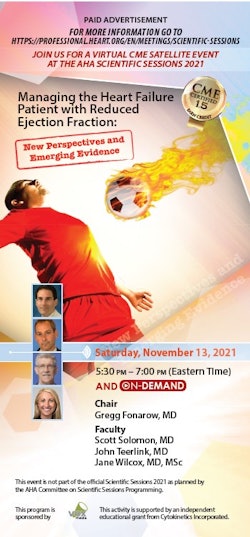 A central factor in the pathogenesis of heart failure (HF) with reduced ejection fraction (HFrEF) is the initial decrease in systolic function.  Pharmacological agents that improve myocardial performance can be categorized based on 3 myocardial mechanisms: calcitropes, which alter intracellular calcium concentrations; myotropes, which affect the molecular motor and scaffolding; and mitotropes, which influence energetics.  Omecamtiv mecarbil, an investigational therapy which improves contraction by a novel mechanism of action, has demonstrated a reduction in the risk of a composite of a first heart failure event or cardiovascular death, with an excellent safety and tolerability profile. 
New therapies are becoming available for the treatment of HFrEF, providing the clinician with more opportunities for an individualized approach to pharmacotherapy.  Patients with worsening HF are particularly challenging; guideline-directed medical therapy (GDMT) often cannot be optimized in these patients due to a variety of factors (such as multiple organ system involvement, lower glomerular filtration rate, higher risk of hyperkalemia, lower systolic blood pressure, and higher risk of medication side effects/intolerance).  There is an unmet need for new therapies to improve ventricular performance and clinical outcomes in this difficult-to-treat patient population. In this program, HF experts will provide insights into mechanisms for improving myocardial contractility and clinical evidence and emphasize the need for a more personalized treatment of HFrEF.  A case discussion will illustrate current best practices for managing patients with worsening HF, and identify a potential role for emerging therapies.
Saturday, November 13, 2021
5:30 pm to 7:00 pm Eastern Standard Time and OnDemand
Presenters:
Gregg Fonarow, MD (Chair)
Interim Chief, UCLA Division of Cardiology
Eliot Corday Chair in Cardiovascular Medicine and Science
Professor of Medicine
David Geffen School of Medicine at UCLA, Los Angeles, California
Scott Solomon, MD
The Edward D. Frohlich Distinguished Chair
Professor of Medicine
Harvard Medical School, Boston, Massachusetts
John Teerlink, MD
Professor of Medicine
University of California, San Francisco School of Medicine
Director of Heart Failure
San Francisco Veterans Affairs Medical Center, San Francisco, California
Jane Wilcox, MD, MSc
Associate Professor of Medicine
Northwestern University Feinberg School of Medicine; Chicago, Illinois
This activity is supported by an independent educational grant from Cytokinetics Incorporated.
This event is not part of the official Scientific Sessions as planned by the AHA Committee on Scientific Sessions Programming.
The American Heart Association (AHA) does not endorse any commercial products or programs. The links provided within this site are for convenience only, and are not an endorsement of either the linked-to entity, product or service.  AHA makes no warranties of any kind, express or implied, with regard to its third-party vendor websites.