---
Today's Opening Session and Main Events
Leading-edge presentations from the late-breaking science report on semaglutide to cardiac arrest on the athletic field highlight Saturday's science.
---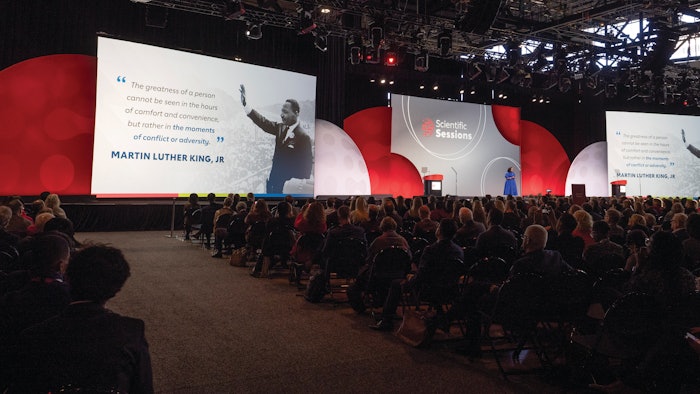 Saturday, Nov. 11 | 8-9:15 a.m.
Main Event 1
Welcome
Joseph C. Wu, MD, PhD, FAHA
Chair Opening Remarks
Amit Khera, MSc, FACC, FAHA, FASPC
Awards Presentation
Joseph C. Wu, MD, PhD, FAHA
Distinguished Scientist Recognition
Patrick T. Ellinor, MD, PhD, FAHA
Carlos M. Ferrario, MD, FAHA
Judith S. Hochman, MD, FAHA
Deepak Srivastava, MD, FAHA
Jeffrey I. Weitz, MD, FAHA
Cornelia M. Weyand, MD, PhD, FAHA
Joseph A. Vita Award
Pradeep Natarajan, MD, MMSc
Nanette K. Wenger Award
Zainab Mahmoud, MD, MSc
Late-Breaking Science Session
LBS.01 | Obesity—Novel Therapeutics and Implications for Population Health
Saturday's Main Events
Annual Dr. Nanette K. Wenger Research Goes Red® Award for Best Scientific Article on Cardiovascular Disease and Stroke in Women
9:45-11 a.m. | 114/Nutter Theater
Zainab Mahmoud, MD, MSc
Racial Disparities in Specific Cardiovascular Outcomes
Valve-tastic! What's the Latest and Greatest in Lifetime Management, Imaging, Science and Technology in Valvular Heart Disease
9:45-11 a.m. | Main Event II
This session will give a high-level overview for cutting-edge developments in valvular heart disease examining lifetime management of aortic valve disease, multimodality management of mitral valve disease, new imaging insights, what's hot in basic and translational science, and what's next in technology and clinical trials.
Eliminating Health Inequity in Cardiovascular Disease
1:30-2:45 p.m. | Main Event II
There have been long-standing and persistent racial and ethnic disparities in cardiovascular disease and stroke mortality. Globally, the largest decrease in life expectancy during the COVID-19 pandemic was observed in the U.S., with Blacks and Hispanics having the greatest decrease. Since the 1980s, there has also been widening disparities in cardiovascular disease mortality, stroke mortality and maternal mortality in rural counties versus urban counties. This main event session will focus on the medical community's role in moving health equity and social justice forward, research innovations and data-driven interventions to eliminate health disparities, diversifying the health care workforce, improving both urban and rural health and funding priorities.
Distinguished Scientist Lecture Session
3:15-4:30 p.m. | 114/Nutter Theater 
Elizabeth M. McNally, MD, PhD, FAHA | Cardiovascular Genetics From Diagnosis to Therapy 
Cardiac Arrest on the Athletic Field: A Team Approach
3:15-4:30 p.m. | Main Event II 
This session will focus on cardiac arrest on the athletic field, addressing various aspects such as common and uncommon causes, emergency preparedness, athletic screening and return to play following such an event. The session will also explore the differentiation between athlete heart and cardiomyopathy as well as the role of myocardial inflammation on SCD during athletic participation. The highlight of the session will include athletes who survived SCD on the field to provide their perspectives on life after death and experiences with attempting to return to sports.