---
Changing the course of medicine
Scientists dedicated to the research and results of the polypill share exciting progress and prospects
---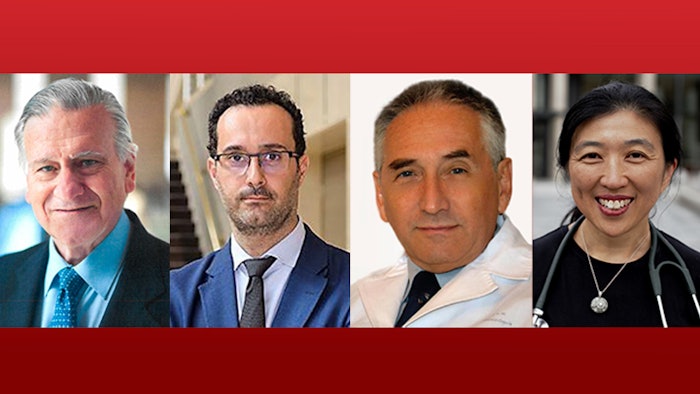 The development of the polypill has had life-changing effects on patients with cardiovascular disease. Though the development process proved challenging, the remarkable results have been worth it — with more to come.
Experts will address these efforts and outlooks in-depth during the session, Advances of the "Polypill" in Cardiovascular Disease: From Concept to WHO Essential Medication.
Professor Sir Nicholas Wald and Professor Malcolm Law initially proposed the novel concept of the polypill two decades ago, with 2023 marking its 20th anniversary. The unconventional idea of a fixed dose combination medication that could be administered to entire populations and reduce cardiac events was met with some early hesitation and uncertainty. It also provoked curiosity and enthusiasm.
Creation and validation
The Spanish National Center for Cardiovascular Research (CNIC) and its general director, Valentin Fuster, MD, PhD, helped create the polypill and led the recent large-scale SECURE trial. Dr. Fuster, who is also physician-in-chief at Mount Sinai Hospital and president of Mount Sinai Heart in New York City, will chair the session. Additional speakers include José María Castellano, MD, PhD, Daniel José Piñeiro, MD, and Clara Chow, MBBS, PhD.
"The main purpose of the polypill was to make the initiation and continuation of evidence-based prevention treatments easier for patients at high risk of cardiovascular disease," said Dr. Chow, professor of medicine and academic director of the Westmead Applied Research Centre and academic co-director of Charles Perkins Centre Westmead in Sydney.
Currently, the polypill is given to people who have already had a heart attack or stroke episode and need intervention to prevent recurring cardiac events. At the time of concept, drug adherence for cardiovascular disease was less than 50%, and a single combination pill sounded like the simple, magical answer. Of course, it was far from simple to devise.
"We had to develop 50 polypills before we could get to one," Dr. Fuster said.
The polypill combines three essential drugs: aspirin, statin and ace inhibitor. Once scientists reached the correct synthesis, they began to study its efficacy. Over four years, the SECURE trial followed 2,500 patients in seven countries who'd had a recent cardiovascular event. Half of these were given the polypill, and the control half were given the medications separately.
In the end, the polypill proved effective not only in lowering the risk of secondary adverse events by 24%, but also in reducing cardiovascular mortality by 33% — largely due to increased adherence.
"The SECURE study findings suggest that the polypill could become an integral element of strategies to prevent recurrent cardiovascular events in patients who have had a heart attack," Dr. Fuster said. "By simplifying treatment and improving adherence, this approach has the potential to reduce the risk of recurrent cardiovascular disease and death on a global scale."
Progressive prevention
The fixed dose polypill's positive outcomes on risk and adherence proved vital in managing cardiovascular disease. It also significantly lowers the medication cost for patients, Dr. Fuster said.
"For those that meet the population's priority health care needs, it can save lives, decrease suffering and improve quality of life," he said. "It's already in 40 countries and evolving rapidly."
In July 2023, the World Health Organization (WHO) announced a landmark decision to add fixed dose combination drugs for the prevention of cardiovascular disease to its Model List of Essential Medicines (EML). Dr. Fuster said this act signifies the polypill's extensive efficacy and will aid in the global production and distribution of it in mass quantities.
"The importance of the (WHO Essential Medicine) listing is recognizing the importance and need for this treatment and addressing the huge gap in implementation of cardiovascular disease prevention treatments around the world," Dr. Chow said.
Dr. Fuster said his next challenge is to examine future possibilities for the polypill and discover the next big breakthrough.
"We already know that the polypill is significant with secondary prevention of heart attacks," he said. "Can we move it to primary prevention? Could we test people who have never had a cardiovascular event but are at very high risk, then use the polypill to control risk factors in advance?"
He also hopes to apply the concept of the polypill to other cardiovascular conditions with low adherence, such as heart failure that requires patients to take four separate medications.