---
Sudden impact
Turning the spotlight on cardiac arrest among young athletes
---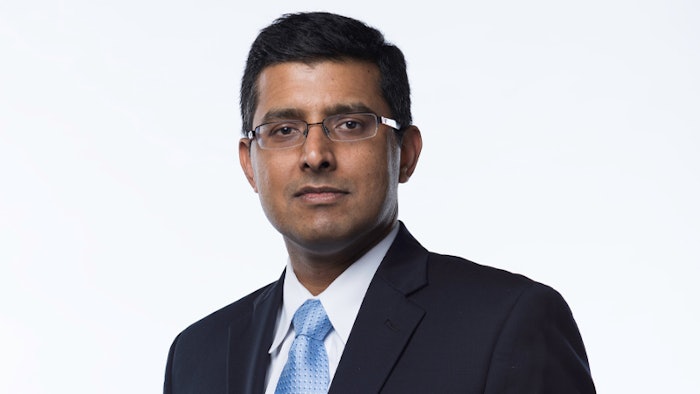 Heart-stopping moments in athletics are usually spurred by incredible performances — but some moments occur as cardiovascular events for athletes.
Sudden cardiac arrest (SCA) is the leading cause of death in young athletes, said Rakesh Gopinathannair, MD, MA, FAHA, a cardiac electrophysiologist in Overland Park, Kansas.
Dr. Gopinathannair, cardiac EP lab director at the Kansas City Heart Rhythm Institute, EP medical director at Research Medical Center in Kansas City and professor of medicine at the University of Missouri-Columbia, is co-chair of Saturday afternoon's session, Cardiac Arrest on the Athletic Field: A Team Approach.
Accurate incidence of SCA varies — based on different studies — but ranges from one in 50,000 (college athletes) to one in 80,000 (high school athletes). SCA in competitive athletes is 2.5 to 3.6 times higher than non-athletes in the same age bracket. Nearly 75% of SCA in athletes occur in football, basketball and soccer players, and the culprit includes a mix of common and uncommon reasons, Dr. Gopinathannair said.
"Studies report that 36% of SCA in athletes was a result of hypertrophic cardiomyopathy (HCM)," Dr. Gopinathannair said. "Other major causes include autopsy‐negative sudden unexplained death, arrhythmogenic right ventricular cardiomyopathy (ARVC), congenital coronary artery anomalies, Long QT syndrome (LQTS), Wolff−Parkinson−White syndrome, Marfan syndrome and myocarditis. The percentage of predisposing conditions can vary by geography."
Despite knowing the causes of SCA in sports — and what we don't know about the health of individual athletes — Dr. Gopinathannair said the debate over pre-participation screening centers on whether it should be done at all and to what extent. Answers to both questions vary across the globe.
The method for detecting these conditions is also debated. For example, a significant concern with ECG screening is the high percentage of false positive tests resulting in additional testing and unnecessary sports restriction. However, revised international criteria for ECG diagnosis have reduced the false positive rates, with one study showing only a 3% false positive rate.
"There are significant barriers for population-wide, pre-participation screening, and the presence of an emergency action plan is extremely important for saving lives of an athlete having SCA during sporting activity," Dr. Gopinathannair said. "The effectiveness of CPR and AED use in treating SCA is well established.
"Close to 50% of SCA during athletics was caused by either pulseless ventricular tachycardia (VT) or ventricular fibrillation (VF), which can be corrected with prompt defibrillation, with approximately 75% surviving when defibrillation was performed within three minutes of the arrest. This compares to 47% when defibrillation was initiated greater than three minutes following the arrest. Despite this, overall CPR/AED utilization remains low among general population, with only 6% of bystanders utilizing an AED. Therefore, more work needs to be done to raise awareness regarding SCA and to increase access to AEDs in sporting venues."
The session also will include a discussion about the difference between "athlete's heart" and cardiomyopathy as well as the role of myocardial inflammation on SCD during athletic participation. Intensive endurance training can cause a distinct pattern of functional and structural changes of the cardiovascular system, including heart muscle thickening and ECG changes, Dr. Gopinathannair said. This results in the so-called "athlete's heart."
"There is some overlap between athlete's heart and mild forms of HCM, the most common genetic disorder of the cardiovascular system," Dr. Gopinathannair said. "There is great interest in distinguishing between these conditions. Echocardiography or cardiac MRI is usually the method of choice. The athlete's heart shows mild increase in wall thickness of the left ventricle and a moderately dilated left ventricle."
By contrast, HCM is commonly characterized by asymmetric left ventricular thickening and a reduced LV-diameter. So it is important to differentiate these conditions to correctly identify athletes who are at risk for SCA and to avoid unnecessary sporting restrictions on those who are not predisposed to SCA, Dr. Gopinathannair said.
"Myocarditis, or inflammation of the heart muscle, can result in life-threatening ventricular arrhythmias, and is one of the causes of SCA in athletes," he said. "This has come to the forefront during the COVID pandemic. However, there are significant challenges in accurate diagnosis of myocarditis as a cause for SCA."
One of the highlights of the session will include athletes who survived SCD sharing their perspectives on life after death and experiences with attempting to return to sports.
In his example, Dr. Gopinathannair treated an 18-year-old male athlete who would experience near passing out episodes when running up a hill. On two occasions, he nearly passed out with more aggressive exercise. The athlete's baseline ECG and echo were normal. A treadmill test recorded multiple premature ventricular beats (PVCs) at around three minutes followed by polymorphic (bidirectional) ventricular tachycardia that reproduced severe dizziness.
"These were consistent with catecholaminergic polymorphic ventricular tachycardia (CPVT)," Dr. Gopinathannair said. "Given the life-threatening nature of the condition, unfortunately he had to be restricted from athletics and was started on a beta-blocker and eventually on flecainide. He had breakthrough episodes and eventually underwent left cardiac sympathetic denervation and has done well since then."