---
Weight-loss drug reduced secondary CV risk in people with overweight or obesity without diabetes
---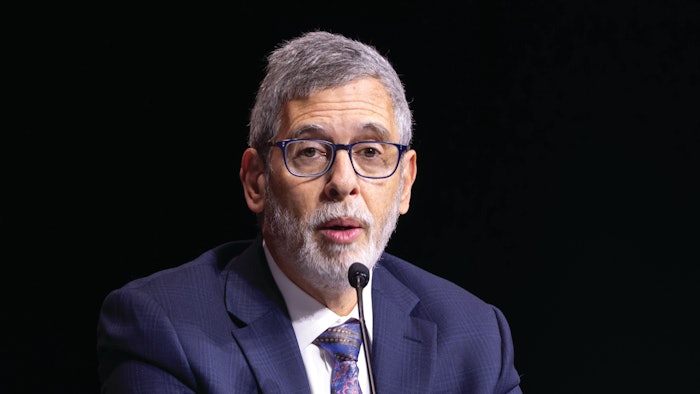 Semaglutide, a long-acting agonist of the glucagon-like peptide-1 receptor, significantly reduced cardiovascular events in people with overweight or obese with pre-existing cardiovascular disease without diabetes, according to Semaglutide and Cardiovascular Outcomes in Patients With Overweight or Obesity Who Do Not Have Diabetes: The SELECT trial. 
Researchers revealed the trial's results during the Opening Session of Scientific Sessions 2023 on Saturday. 
"This is the first drug specifically aimed at the management of overweight and obesity that has been shown to reduce cardiovascular events," said A. Michael Lincoff, MD, vice chair for research of the Robert and Suzanne Tomsich Department of Cardiovascular Medicine and an interventional cardiologist in the Sydell and Arnold Miller Family Heart, Vascular & Thoracic Institute at the Cleveland Clinic and the study's principal investigator.
The multicenter, randomized, double-blind, placebo-controlled event-driven superiority trial enrolled 17,604 adults 45 years or older with pre-existing cardiovascular disease, such as myocardial infarction, stroke or symptomatic peripheral artery disease, and a body mass index of ≥27 who did not have diabetes.
Approximately 66% of patients had pre-diabetes (A1C 5.7%-6.4%).
In addition to evidence-based standard of care lipid management based on guidelines for lipid management, hypertension control and lifestyle management, patients were randomly assigned to once weekly subcutaneous semaglutide 2.4 mg or matching placebo, with a mean follow-up of 40 months.
The primary cardiovascular efficacy composite endpoint was death from cardiovascular causes, non-fatal myocardial infarction or non-fatal stroke in a time-to-first-event analysis.
Overall, semaglutide benefited patients compared with placebo. The primary composite endpoint was reduced by 20% in patients with overweight or obesity with pre-existing cardiovascular disease in the semaglutide group compared with placebo (HR 0.80); P (two sided)<0.001 for superiority. Patients in the semaglitude group lost 9.4% of their body weight compared with 0.9% for those on placebo. 
The safety profile was also favorable: 16.6% of patients in the semaglutide group stopped the drug due to adverse events, compared with 8.2% in the placebo group (P<0.001).
"Semaglitude was well tolerated," Dr. Lincoff said. "The majority of adverse events were gastrointestinal, including diarrhea, nausea and GI upset, which is a known effect of the drug."
A substantial cardiovascular risk is associated with overweight and obesity independent of diabetes, Dr. Lincoff said.
"In patients with pre-existing cardiovascular disease and overweight or obesity, but without diabetes, weekly subcutaneous semaglutide superimposed upon standard of care will help improve cardiovascular outcomes," he said. The study will be published in the New England Journal of Medicine following the presentation.