---
Your backstage pass to Scientific Sessions 2023
Distinguished Scientists, Joseph A. Vita and Nanette K. Wenger Research Goes Red Awards headline Saturday's Opening Session.
---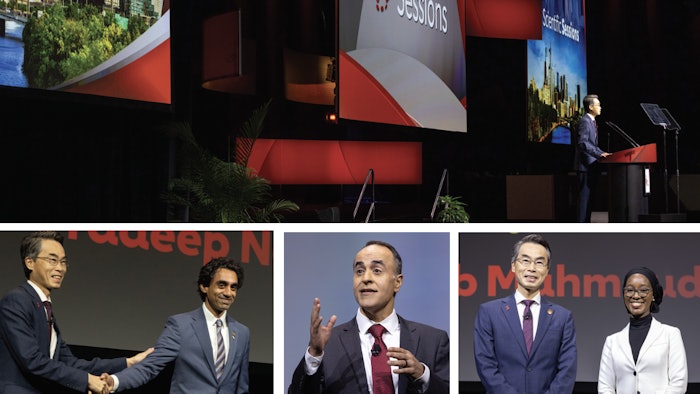 Philadelphia: Where History Meets Cardiovascular Innovation was the theme of yesterday's Opening Session, where thousands of AHA attendees from 90 countries gathered to kick off this year's Scientific Sessions that features more than 700 educational sessions and more than 4,000 abstracts.
"I hope you take advantage of the many opportunities to learn and connect with your colleagues here at Scientific Sessions," said Joseph C. Wu, MD, PhD, FAHA, AHA president. "Part of what makes this event special is the time spent catching up with old friends and also making new ones."
Dr. Wu led off the Opening Session by recognizing what makes the American Heart Association community special: its members, who make critical contributions to the scientific community each year. 
First, Dr. Wu congratulated the Distinguished Science Award recipients (profiled in yesterday's Daily News on pages 14-15), before announcing the winners of the Joseph A. Vita Award and the Nanette K. Wenger Award. 
The award named for Dr. Joseph A. Vita, who was the first editor-in-chief of the AHA's open access journal, JAHA: Journal of the American Heart Association, is especially meaningful to Dr. Wu, he said, because he was its inaugural recipient in 2018. 
Each year, the award recognizes the contributions of a mid-career investigator whose work, published in the AHA journals during the last five years, has had great impact in cardiovascular biology or cardiovascular health. 
This year, the honor went to Pradeep Natarajan, MD, MMSc, who is a world leader in large-scale genetic analysis of coronary artery disease and preventive cardiology. His notable scientific contributions include the interpretation of whole genome sequences for coronary artery disease risk, such as through polygenic risk scoring, as well as discovering new genes responsible for coronary artery disease. His work has informed clinical practice and drug development programs, Dr. Wu said. 
The Dr. Nanette K. Wenger Research Goes Red® Award recognizes the best article about cardiovascular disease and stroke in women published each year in an AHA journal. The award, which empowers women to contribute to health research, was presented to Zainab Mahmoud, MD, MSc, for her article, "Racial Disparities in Specific Cardiovascular Outcomes," which showed the profound and widening racial disparities in maternal mobility and mortality in the U.S. in Black women compared to white women. 
Following the awards recognitions, Amit Khera, MSc, FACC, FAHA, welcomed attendees to Scientific Sessions and offered his tips for making the most of the next few days. 
"On behalf of the (CSSP) Committee, we want to ensure that each of you has an amazing experience over the next three days," Dr. Khera said. "We want this to be a really enriching experience, and dare I say, even a little fun … This is my 22nd Scientific Sessions, and I know from experience that you can spend the first two days learning the lay of the land. By the time you get comfortable, it's time to go home. We certainly don't want that to happen to you, so I want to offer you some tips on how to navigate this meeting. And rather than tell you, we're going to show you." 
In a short video, Dr. Khera took everyone behind the scenes to cover the highlights as well as the hidden gems of the meeting, from the Heart Hub, Membership Lounge and Simulation Zone in the Science & Technology Hall to the Poster Hall featuring 4,000 posters, to the Main Events hall, synonymous with late-breakers. The video included cameos from a few AHA VIPS, such as Bob Harrington, MD, FAHA, AHA past president who said nothing beats the excitement of being at Scientific Sessions. 
"In 2019, we used the phrase 'you want to be in the room where it happens,' and that applies so well to late-breaking clinical trials," Dr. Harrington said. "We want to be in the room. There's an energy. There's excitement. You can turn to the person next to you and have a conversation about what you just heard and what you just saw. Sure, you can watch on your computer screen at home, but it's not the same. You want to be in the room where it happens."