---
#AHA23 Industry Programs and Symposia
Industry events provide a unique opportunity for companies in the field of cardiology to share their latest advances in cardiovascular practices, services and technologies. Here is rundown of Learning Studios, Case Theaters and Symposia.
---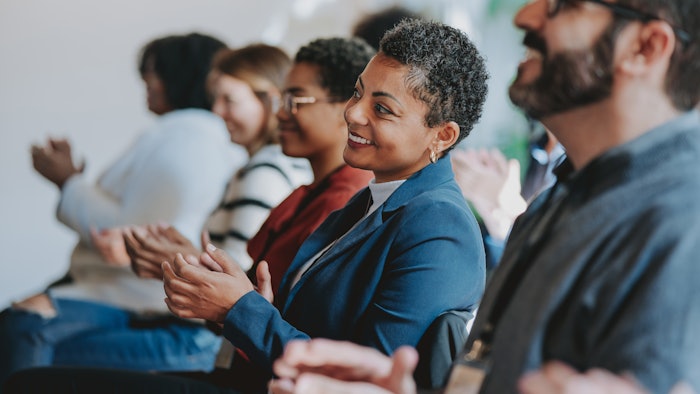 Industry Programs
Click on tables to enlarge.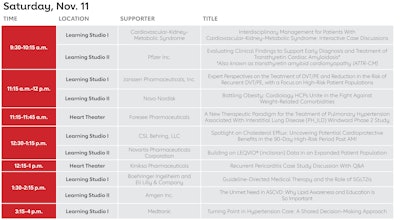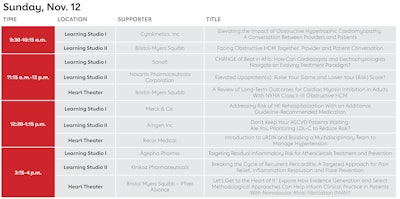 Industry Symposia
These symposia events are not part of the official Scientific Sessions 2023 as planned by the AHA Committee on Scientific Sessions Program.
Friday, Nov. 10
Children's Hospital of Philadelphia (Invite Only)
7:30-9 p.m.
Loews Hotel | Millennium Hall
Welcome to Philadelphia! The Children's Hospital of Philadelphia is thrilled to welcome you to the AHA in Philadelphia. The evening will be about creating an opportunity for connecting, exchanging, networking and socializing. We are pleased to host and provide a platform targeted for our unique and special pediatric and congenital heart community.
---
Saturday, Nov. 11
Rapidly Evolving Paradigms in Paroxysmal Supraventricular Tachycardia: Applying Current Data to Practice
6-7:30 a.m.
The Westin Philadelphia | Georgian Ballroom
Paroxysmal supraventricular tachycardia (PSVT) – an old problem or a new opportunity? PSVT is a common cardiac arrhythmia characterized by spontaneous episodes of ventricular contractions exceeding rates of 100 beats per minute. Due to the sporadic nature of this disease and fluctuation in frequency and severity of symptoms, PSVT can be difficult to diagnose, and it significantly affects patient quality of life. This life-altering disease affects one in 300 patients, however, prevalence as well as economic burden are increasing exponentially. In this symposium, experts will discuss hot topics on PSVT, including clinical burden of disease, guideline recommendations, and current as well as emerging treatment strategies for PSVT.
Sponsor: Medscape Education    
Supporter: Milestone Pharmaceuticals    
Register online at www.medscape.org/symposium/psvt-2023
---
SGLT2 Inhibitors and the Multidisciplinary Care Approach to Cardio-Renal-Metabolic Comorbidities in Patients With Heart Failure and Chronic Kidney Disease
6-7:30 a.m.
Philadelphia Marriott Downtown | Salon G
This innovative satellite symposium is designed to increase clinician knowledge of the application of SGLT2 inhibitors to the management of heart failure and chronic kidney disease as well as improve their ability to effectively communicate with all members of the multidisciplinary care team. Using a combination of didactic case-based lecture and engaging whiteboard animations tailored to a primary audience of cardiologist and a secondary audience of primary care physicians, nephrologists, endocrinologists, hospitalists, physician assistants, nurse practitioners, pharmacists and certified diabetes educators, this program aims to advance interdisciplinary collaboration among clinicians who manage patients with cardio-renal-metabolic comorbidities to optimize patient care. 
Sponsor: This activity is supported by an independent medical educational grant from Boehringer Ingelheim Pharmaceuticals, Inc. and Eli Lilly and Company.    
Register online at www.MLG-CD.com
---
Can You Crack the Case of Left Ventricular Hypertrophy? Test Your Skills Diagnosing and Treating Hypertrophic Cardiomyopathy
6-7:30 p.m.
The Westin Philadelphia | Georgian Ballroom
Hypertrophic cardiomyopathy (HCM) is the most common genetic cardiovascular disease; however only one in seven patients are diagnosed. Under-recognition of HCM and varied clinical presentation can cause diagnosis delays and misdiagnoses, thereby putting patients at greater risk of cardiovascular events. HCM is no longer a mystery. Evolving guideline recommendations have unlocked the potential for more timely diagnosis and advanced knowledge about pathogenesis has ushered in new and emerging therapeutic strategies with the opportunity to improve clinical outcomes for patients with HCM. In this symposium, expert faculty investigate a patient case from clinical presentation and diagnosis, to the latest advances in treatment of HCM. Can you help them crack the case?
Sponsor: Medscape Education    
Supporter: Bristol-Myers Squibb   
Register online at www.medscape.org/symposium/hcm-2023
---
Jefferson Heart Institute Alumni and Friends Reception at American Heart Association Scientific Sessions
6-7:30 p.m.
Philadelphia Marriot Downtown | Franklin Hall 4
Rene J. Alvarez, MD, FACC, FAHA, FACP, and Jefferson Office of Alumni Relations invite alumni, faculty and friends to a complimentary reception.
Sponsor: Thomas Jefferson University 
Supporter: Jefferson Heart Institute     
Register at Jefferson.edu/AlumniEvents or call 215-955-7750
---
New Frontiers in Anticoagulation: Factor XI/XIa Inhibitors
6-7:30 p.m.
Philadelphia Marriott Downtown | Salon H, 5th floor
Sponsor: Bayer 
Supporter: Total CME, LLC
Register online at https://www.MedEdOTG.com/FactorXIa
Anticoagulation has transformed the management of multiple potentially catastrophic disease states. Currently available anticoagulation agents work on the common pathway of the coagulation cascade, inhibiting both thrombosis as well as hemostasis and increasing the risk for serious bleeding. Factor XIa inhibitors may completely change this anticoagulation landscape. Factor XIa affects the intrinsic thrombosis pathway, preserving the extrinsic and common pathways. Phase 2 data on multiple factor XIa inhibitors support a favorable safety profile for implementation, with reduced risk of bleeding being a consistent theme, for VTE prophylaxis, secondary stroke prevention in atrial fibrillation (AF), post-myocardial infarction (MI), and post-non-embolic stroke. This live, CE-certified symposium will explore novel factor XIa inhibitors currently under investigation and outline anticoagulation's exciting future.
---
Penn Medicine's Cocktails at the Canopy
6-7:30 p.m. 
Canopy by Hilton Philadelphia Center City
Sponsor: Penn Medicine
Register online at PennMedicine.org/CanopyRSVP
Join Penn Medicine and your colleagues for a lively, conversation-filled gathering featuring cocktails and delicious bites.
---
ABC's Dr. Walter M. Booker, Sr. Memorial Symposium: Transcending the "New" Challenges Facing Our Communities
7:30-9 p.m.
Philadelphia Marriott Downtown | Salon H
Sponsor: Association of Black Cardiologists
Register online at abcardio.org
HC professionals and community activists discussing their diverse expertise, experiences and knowledge garnered during the COVID-19 pandemic to inform us on "novel", innovative and more effective approaches, on the disproportionate burden of CVD in minority communities.
---
Navigating Cardiorenal Health: From Swift Diagnosis to Personalized Treatment Pathways
7:30-9 p.m.
DoubleTree by Hilton Philadelphia – Center City | Ormandy Ballroom
Cardiovascular disease, chronic kidney disease (CKD) and diabetes create a perilous web of health challenges. Studies reveal rising mortality and cardiovascular events as CKD worsens, making early detection paramount to both prevent CKD development and slow its progression. Despite guidelines advocating specific therapies proven to enhance both cardiometabolic and renal outcomes, there is a marked underutilization of these therapies among patients grappling with heart failure (HF) and CKD. As the treatment landscape for HF extends into other medical domains, it is now more crucial than ever to adopt a patient-centered, multidisciplinary care approach.
Join this live symposium for an interactive session centered on optimizing outcomes for patients with cardiometabolic and renal diseases. A multispecialist panel of experts in cardiology and nephrology (faculty members Dr. Javed Butler and Dr. George Bakris) will explore the intricate relationship between CKD and HF, and offer unique perspectives on early identification of CKD along with the optimal integration of emerging therapies tailored to patient-specific characteristics. Engage in collaborative discussions with the expert panel as they discuss real-world cases and practical strategies, ensuring comprehensive care through a teamwork-driven approach. 
Sponsor: PRIME Education, LLC supported by an independent medical educational grant from Boehringer Ingelheim Pharmaceuticals, Inc. and Eli Lilly and Company.  
Register at https://primeinc.org/live/navigating-cardiorenal-health-swift-diagnosis-personalized-treatment-pathways
---
Treating ATTR-CM With a Novel Therapeutic Approach: Understanding the ATTRibutes to Success
7:30-9 p.m.
Four Points by Sheraton Philadelphia City Center, Jefferson Room (10th floor)
Join our experts as they discuss the evolving understanding of amyloid transthyretin (ATTR) amyloidosis with cardiomyopathy (ATTR-CM) and the latest clinical evidence for this now-treatable condition. 
Sponsor: Medtelligence
Supporter: BridgeBio Inc  
Register at www.ReachMD.com/ATTR-CM
---
Sunday, Nov. 12
Addressing Unmet Needs in Anticoagulation for Thrombosis: Next-Generation Strategies for Improving Care
Registration and Dinner: 6 p.m.   
Symposia: 7-7:30 p.m. 
Philadelphia Marriott Downtown | Grand Ballroom, Salon G, Level 5
Thrombosis is a prevalent and potentially life-threatening condition that is associated with high rates of morbidity and mortality worldwide. Current anticoagulant therapies, such as vitamin K antagonists (VKAs) and direct oral anticoagulants, are effective in preventing and treating thrombotic events, but concerns about bleeding risk can limit their use and potential patient benefits, particularly in settings of secondary stroke prevention (SSP), atrial fibrillation and acute coronary syndrome (ACS). To address these limitations, emerging anticoagulation therapies are offering safer and more effective options that can modulate the pathological process of thrombosis without increasing the risk of bleeding events.
This PeerView MasterClass and Case Forum aims to provide health care professionals with a comprehensive understanding of the latest clinical evidence supporting established and emerging anticoagulants, including VKAs, direct thrombin inhibitors, factor Xa inhibitors and factor XIa inhibitors. Experts in the field will share their insights on the distinct mechanisms of action and practical application of these agents in the prevention of thrombosis across diverse settings, such as SSP, atrial fibrillation and ACS. The experts will also provide practical strategies for evaluating current standards of care in challenging clinical scenarios and the potential role of emerging anticoagulants in providing effective and safe treatment options.
Sponsor: PVI, PeerView Institute for Medical Education    
Supporter: Bristol Myers Squibb      
Register online at PeerView.com/Thrombosis23-Live
---
Translating Clinical Trials to Clinical Practice: Improving HF Outcomes With Intravenous Iron
Registration and Dinner: 6:30 p.m.   
Symposia: 7-8:30 p.m. 
Philadelphia Marriott Downtown  | Grand Ballroom, Salon H-J, Level 5 
Iron deficiency is a comorbid condition frequently seen in patients with heart failure (HF). Iron has an important role in the transport of oxygen, and is also essential for skeletal and cardiac muscle, which depends on iron for oxygen storage and cellular energy production. Therefore, iron deficiency, even without anemia, can have significant adverse consequences. In patients with HF, iron deficiency is associated with a poorer quality of life and exercise capacity, and a higher risk of hospitalizations and mortality, even without anemia. Despite its negative clinical consequences, iron deficiency remains under-recognized.  However, it is easily diagnosed and managed; HF guidelines provide specific recommendations for its diagnosis and treatment. The results of recently published data with intravenous (IV) iron supplementation have added to the growing body of evidence demonstrating beneficial effects of IV iron therapy in patients who have iron deficiency and HF. In this program, experts in iron deficiency in HF will explain the pathophysiology of iron deficiency in HF, specifically the role of hepcidin in hyperinflammatory states (such as HF) and subsequent implications on iron supplementation approaches. The prognosis of comorbid iron deficiency and HF will be described, and appropriate, timely patient screening and diagnostic testing of serum ferritin and transferrin saturation (TSAT) will be emphasized based on expert-generated algorithms. A multidisciplinary panel will appraise the evidence for IV iron therapies for iron deficiency in HF and translate the information into "real-world" clinical practice.
Sponsor: Voxmedia 
Supporter: American Regent     
Register online at https://www.symposiareg.com/22305
---
When, Where and How to Incorporate Renal Denervation Into Your Hypertensive Practice
6-7:30 p.m. 
The Westin Philadelphia | Georgian Ballroom
Join us for a symposium on renal denervation designed to encourage the exchange of ideas between leaders in the field and attendees.Renal denervation has been under investigation for a decade for blood pressure control, primarily in the hands of interventional cardiologists. Now that commercial availability may be a reality, referring physicians need to understand the procedure and identify uncontrolled/resistant patients likely to benefit as well as where and how to refer to a qualified center.
Sponsor: Medscape Education   
Supporter: Medtronic   
Register online at www.medscape.org/symposium/uncontrolled-hypertension-2023