---
Science, medicine must be a 'relentless force' in fighting misinformation
The recent past can provide a light toward the future of public health and science education.
---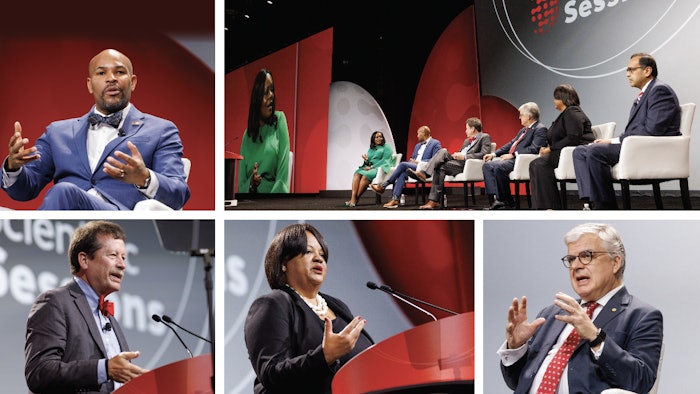 The past several years have seen major disasters around the world, not the least of which is the COVID-19 pandemic. But we have also witnessed a strong scientific response to those disasters. Unfortunately, getting that science out into the public domain has been an uphill battle against a rising tide of misinformation.
Michelle A. Albert, MD, MPH, FAHA, president of the American Heart Association, kicked off Saturday's Opening Session by saying that battle is at the core of the mission of the association itself.
"The mission of the American Heart Association is to be a relentless force for a world of longer, healthier lives and that's what we're here to do these next several days," she said.
She was joined on stage by two former U.S. Surgeons General, the commissioner of the Food and Drug Administration and the president of the World Heart Federation for a lively discussion on how the response of science and medicine to crises around the world can inform the path to public education about health issues.
Regina Benjamin, MD, MBA, served as Surgeon General from 2009-2013. She said disasters such as hurricanes are getting worse, and compounding health problems.
 "Hurricanes, Gulf oil spills, ice storms and power grid failures. These disasters are compounding and multiplying the effects and causes of stress," she said. "With each subsequent disaster, you don't go back to your baseline level of stress. Each time, we start at a higher level. We need to build resilient communities and resilient individuals, because it's not just about disasters, it's about how we live between those disasters."
Jerome Adams, MD, MPH, a former Indiana State Health Commissioner who served as Surgeon General from 2017-2021, said we can learn a lot from our national response to the COVID-19 pandemic. 
"While we can't let COVID consume us, I do feel like COVID and the legacy of COVID will prove to be one of, if not our biggest, risk factor for cardiovascular negative outcomes moving forward," he said. "The same people who are at high risk for cardiovascular disease, for stroke, for kidney disease, are the ones who are under-boosted in this country right now. Shame on us if every time we see a patient we aren't asking them if they are vaccinated, if they're boosted, if they're up to date on their boosters because that may be the one thing that you all could do for your clinics."
From a global perspective, Dr. Fausto Pinto, MD, PhD, FESC, FACC, FSCAI, FASE, president of the World Heart Federation, said training and needs assessment are the keys to getting the best people in place to respond.
"I feel that we all have that responsibility," he said. "And it's by working together and also applying the solutions according to the needs. And that's one of the important things is to do needs assessment, because of course there are some universal needs but there are some specific needs that may be more relevant in certain parts of the world — even within the same country or within the same region. And that's why it's so important that we have some sort of professional way to do proper training of the next generation."
But all of that won't mean much if we can't combat the growing specter of misinformation, said Robert Califf, MD, U.S. commissioner the FDA.
"Misinformation is the leading cause of death right now in the U.S.," he said. "There is no way to prove that, but I really do believe that it is."
COVID-19 vaccinations are a perfect example, he said.
"Almost no one should be dying from COVID now because if you're up to date on your vaccination and if you're high risk and you happen to get infected and you take an anti-viral, almost no one is dying from that," he said. "Of the 250 to 300 people a day dying in the U.S., almost 100% of them were not up to date on their vaccinations or did not get treated with an anti-viral."