---
Early ablation bests medication in treatment naïve AFib patients
---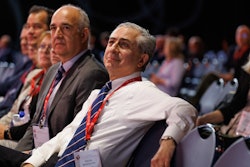 The Late-Breaking Science session "Treating Atrial and Supraventricular Arrhythmias" on Monday reported that: 
Early ablation can prevent progression of paroxysmal atrial fibrillation (AFib) in treatment-naïve patients.
Epicardial injections of botulinum toxin may reduce AFib after CABG but not following other cardiac surgery.
Shared decision-making using a novel tool may improve anticoagulation adherence to reduce stroke risk in AFib.
The first head-to-head comparison of ablation versus antiarrhythmic drug therapy in treatment-naïve patients diagnosed with paroxysmal atrial fibrillation found significant advantages for ablation. The PROGRESSIVE-AF study demonstrated that patients who received balloon catheter ablation as the initial treatment for paroxysmal AFib had a significantly lower risk of progressing to persistent AFib over 3 years of follow-up. Specifically, 1.9% of those randomized to ablation experienced an episode of persistent AFib versus 7.4% of patients randomized to initial antiarrhythmic drug therapy (HR=0.25, p=0.02). Ablation patients spent less time in AFib, 0.00% versus 0.24% (p<0.0001), reported improved quality of life, and had a significantly lower risk of hospitalization at three years (RR=0.31, p=0.003). Adverse events were similar in the two arms.
"It's well known than AFib is a chronic and progressive disease, with a substantial proportion of patients progressing from paroxysmal to persistent AFib," said Jason G. Andrade, MD, associate professor of medicine at the University of British Columbia and director of electrophysiology at Vancouver General Hospital in Vancouver, Canada. "The bigger question was whether any intervention could change this natural history of the disease. We now know that early invasive intervention in treatment-naïve patients can change the disease trajectory, preventing a significant amount from paroxysmal to persistent AFib."
The multicenter PROGRESSIVE-AF trial randomized 303 patients with symptomatic paroxysmal treatment-naïve AFib to initial rhythm-control therapy with catheter cryoballoon ablation or antiarrhythmic drug therapy. The primary outcome was time-to-first episode of persistent atrial tachyarrhythmia as documented by an implantable cardiac monitor. Secondary outcomes included AFib burden, quality life and health care utilization. Patients were followed for a median of 3.1 years.
"Historically, the management of atrial fibrillation has largely been focused on improving symptoms and quality of life," Dr. Andrade said. "For the first time, we can definitively say that, in addition to enabling patients to live a fuller life, catheter ablation is a disease-modifying procedure."
PROGRESSIVE-AF was published simultaneously in The New England Journal of Medicine.
Self-administered etripamil can stop spontaneous paroxysmal supraventricular tachycardia
What may be the largest-ever trial of self-administered etripamil confirmed that patients can safely and effectively terminate episodes of spontaneous paroxysmal supraventricular tachycardia (PSVT) outside health care settings. In the multinational phase 3 RAPID study, one or two self-administered doses of intranasal etripamil taken at patient's discretion based on their symptoms converted PSVT to normal sinus rhythm (NSR) within 30 minutes more than twice as often as placebo, 64.3% versus 31.2% (HR=2.62, p<0.001). 
"These results demonstrate a potential management strategy for patients to self-treat episodes of PSVT in a medically unsupervised setting using symptom-based dosing," said James Ip, MD, associate professor of clinical medicine and clinical pediatrics at Weill Cornell Medical College, Ornell University. "The majority of adverse events were mild, local and transient, and we saw no new safety signals or adverse events with a second as-needed dose of etripamil."
Etripamil is an investigations L-type calcium channel blocker formulated as a nasal spray. The agent has a rapid onset of action, Tmax ≤ 7 minutes, and is inactivated within minutes by blood esterases. Dr. Ip noted that prior studies have shown etripamil is effectively at rapidly terminating AV nodal-dependent PSVT.
RAPID randomized 439 patients with PSVT to etripamil (234 patients) or placebo (204 patients) in separate safety and efficacy populations following repeated test doses in clinic while in sinus rhythm to assess tolerability and safety. Patients received either a placebo inhaler or an etripamil inhaler delivering 70 mg per dose. When patients recognized a PSVT event, they were instructed to apply a cardiac monitor and attempt a Valsalva maneuver. If PSVT persisted, they used the inhaler. If symptoms persisted 10 minutes, they administered a second dose.
The primary endpoint was adjudicated PSVT as assessed by ECG converted to sinus rhythm within 30 minutes. Secondary endpoints included health system utilization and emergency department visits. All PSVT events were adjudicated by blinded analysis. The study was concluded at 180 confirmed PSVT events.
The mean age of patients was 54 years, 71% were female, 92% were white, and the median duration of PSVT was 2 years. Most patients, 65.1% were on a beta blocker of calcium channel blocker, 33.3% were on a beta blocker only, 23.1% calcium channel blocker only, and 8.6% on both.
The median time to conversion of PSVT to NSR was reduced from 53.5 minutes on placebo to 17.2 minutes on etripamil, Dr. Ip reported. 
 "The benefits of etripamil were consistent over multiple subgroups by age, PSVT type, symptom duration and other measures," he said. "We saw significant reductions in patients seeking medical intervention in the etripamil arm, 15% versus 25% (p=0.013) and in ED visits, 14% versus 22% (p=0.035). Ongoing analysis of an open-label period of RAPID and the NODE-303 trial will provide more insights into the safety and efficacy of etripamil for recurrent episodes of PSVT."
Botulinum toxin may reduce AFib following coronary artery bypass graft surgery
A randomized controlled trial found that epicardial injections of botulinum toxin type A may reduce the incidence of atrial fibrillation (AFib) following coronary artery bypass graft surgery (CABG) but not following other cardiac surgery. The NOVA trial comparing two doses of botulinum toxin A versus placebo after of cardiac surgery showed a nonsignificant reduction in AFib for botulinum toxin A. But a prespecified subgroup analysis found that the lower dose of toxin significantly reduced AFib in patients who were ≥65 and in CABG-only patients.
"Post-operative AFib is associated with increased morbidity and that botulinum toxin A is very effective on cholinergic nerve terminals, including those in the heart," said Jonathan P. Piccini, Sr., MD, MHSc, associate professor of cardiology and of population health sciences at Duke University School of Medicine. "A small trial in patients with known intermittent AFib had suggested benefit for botulinum toxin A in patients following cardiac surgery with treatment benefits that appeared to last more than a year post-surgery. That initial trial and a follow-up trial here at Duke prompted the phase II NOVA trial."
A total of 323 patients scheduled for cardiac surgery were randomized to epicardial fat pad injection of a placebo sham (106), 125 IU of a novel botulinum toxin A formulation dubbed AG-151607 (108), or 250 IU AG-151607 (109) following cardiac surgery. The mean age of patients was about 67 years, 17% were female, about 64% had CABG only, about 24% had valve-only surgery, and about 12% had CABG + valve surgery. The primary endpoint was any occurrence of continuous AFib ≥30 seconds during the first 30 days after surgery.
For the proportion of participants with at least one continuous AF episode during the first 30 days (mITT Population) the primary endpoint in the 125U versus placebo group was RR = 0.80, p=0.16, and RR = 1.04, p=0.78 in the 250 IU versus placebo group.
Subgroup analysis of CABG-only patients found the primary endpoint at 30 days was significantly reduced in the 125 AU group for patients ≥65 (RR=0.64, p=0.02) and numerically reduced for (RR=0.71, p=0.16) versus placebo.
"If you are giving botulinum toxin A to people undergoing cardiac surgery, safety is one of the primary questions," Dr. Piccini said. "We saw no evidence of any differences in adverse events or rehospitalizations between those receiving placebo versus botulinum toxin. Future trials should test the hypothesis that a dose of 125 IU in patients undergoing bypass surgery may be an effective and safe way to reduce postoperative atrial fibrillation."
Shared decision-making can enhance patient-physician concordance on anticoagulation to reduce stroke risk in AFib
A novel shared decision-making tool (SDMT) can reduce decisional conflict in patients with AFib at increased risk of stroke. A newly developed SDMT that relies more on animation and narration than on written language can reduce decisional conflict between AFib patients and their clinicians compared with usual care (p=0.007).
A strong body of evidence supports the use of anticoagulants to reduce stroke risk in individuals with AFib, noted Paul J. Wang, MD, John R. and Giak L. Singleton director and professor of cardiovascular medicine and director of the Cardiac Arrhythmia Service at Stanford University in Stanford, California. Lack of patient involvement in the decision-making process in routine AFib care is a key barrier to anticoagulation adherence.
"This tool helps patients feel more comfortable with decision-making, which may lead to greater satisfaction with the process and better clinical outcomes," Dr. Wang said.
Researchers created a web-based animated tool to help patients better understand AFib, their increased risk for stroke and the important reduction to stroke risk from anticoagulation. Engaging Patients to Help Achieve Increased Patient Choice and Engagement for AFib Stroke Prevention (ENHANCE-AF) randomized 1,001 patients with AFib to SMDT (495 patients) or usual care (506 patients) at five U.S. centers with a diverse population. Patients in the treatment arm used the web-based tool to learn about AFib, their increased risk for stroke and both the risks and benefits of anticoagulation therapy. 
After successfully completing an online assessment of their learning comprehension, patients completed a worksheet designed to help them discuss their treatment decision with their clinician. Their clinicians had access to a similar web-based application that included an interactive risk calculator showing changes in stroke risk based on specific patient choices.
The primary outcome was the Decisional Conflict Scale (DCS), a 16-item scale that evaluates the decisional conflict that participants experience regarding the decision about anticoagulation. 
Patients in the SMDT arm had a mean DCS score of 16.4 versus 9.4 for usual care (p=0.007). The trial was not powered to assess differences in adherence to anticoagulation.
"We are embarking on disseminating this evidence," Dr. Wang said. "The SMDT tool is available free for anyone to use. We hope other groups will see this as an effective approach to developing future tools. Decision-making tools can help any time there is a therapeutic or management choice like this."
ENHANCE-AF was published simultaneously in the Journal of the American Heart Association.