---
Medtech is getting smarter — and so is patient care
Four new innovations seek to redefine how cardiovascular care is done.
---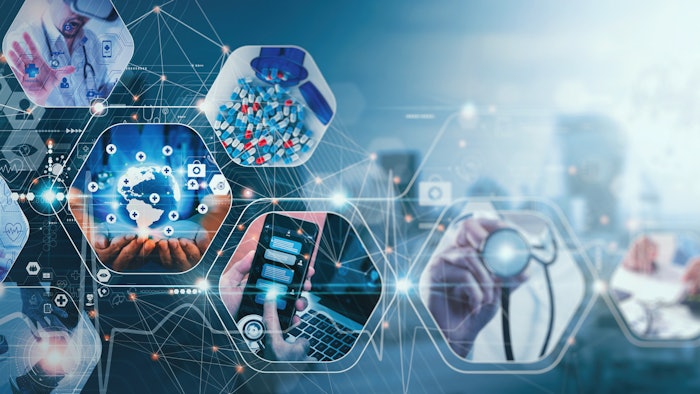 Cardiovascular care technology is getting smaller, faster, safer — and will lead to better patient outcomes.
In the Health Innovation Pavillion Sunday morning, four presenters shared new technology approaches in "Predicting the Future for Medtech," an AHA/TCT partnership presentation.
James Min, MD, FACC, FESC, MSCCT, founder and CEO of Cleerly, Inc., said the New York-based company is seeking to create a more personalized analysis and treatment of heart disease by using advanced cardiac imaging to take a more preventative approach to heart health.
Cleerly's imaging technology measures low-density plaques to provide a whole-heart evaluation of atherosclerosis to identify at-risk people who may not show symptoms before a heart attack.
"We'd like to try to usher the field of cardiology away from population-based estimates into precision heart care to pinpoint an individual who's at risk, and then to translate and educate these people in a way that you can just look at a screen and know who's sick and who's not," he said.
Phillippe Genereux, MD, interventional cardiologist and director of the Structural Heart Program at the Gagnon Cardiovascular Institute at Morristown Medical Center in Morristown, New Jersey, presented a new pump from Puzzle Medical Devices that won the TCT Innovation Competition earlier this year.
The ModulHeart device provides hemodynamic support through three endovascular pumps inserted in a series and assembled in parallel into a self-expandable anchor implanted in the descending aorta. Dr. Genereux said the pump offers increased stability and increased blood flow by using three pumps as opposed to one in most traditional devices. 
Riyaz Bashir, MD, FACC, professor of medicine at Temple University Hospital in Philadelphia, Pennsylvania, said his BASHIR endovascular catheter can control infusion of fluids, including thrombolytics, for patients with intermediate to high risk of acute pulmonary embolism. 
Dr. Bashir said a study using the device on 109 high-risk patients in 18 U.S. sites found a reduction in the RV/LV ratio by 33.3% at 48 hours, a reduction in the PA obstruction index by 35.9% at 48 hours, and fewer than 1% major bleeding or device-related adverse events.
Yoram Richter, PhD, CEO of Medinol and CSO of Microtech, presented Microtech's implantable microsensors that on their own or attached to existing devices can turn them into smart devices that become real-time physiologic monitors. Smaller than the point of a pen, the devices don't need to be powered because they use a micro drum that's stimulated with ultrasound waves, which causes it to vibrate and power the device.
"What we have is a sub-millimeter, passive, robust and stable sensor platform that is used either by itself just as a sensor or to enhance existing devices," he said. "It can be interrogated in the hospital or quite easily by the patients in their own homes."