---
First-in-class aminopeptidase-A inhibitor fails to reduce treatment-resistant hypertension
---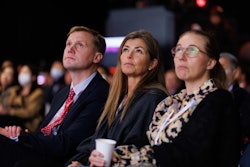 Late-Breaking Science "Resistant HTN: A Pressure Cooker" found that: 
Firibastat does not affect blood pressure in difficult-to-treat or resistant hypertension.
Targeting a novel endothelin pathway can treat resistant hypertension.
Safety monitors halted a Phase 2 trial of baxdrostat, a selective aldosterone inhibitor, for significant benefit in reducing resistant hypertension.
Renal denervation can improve resistant hypertension for patients on stable antihypertensive medication.
 An international phase III trial of firibastat, a first-in-class inhibitor of aminopeptidase-A (APA) in the brain, failed to demonstrate significant reduction in in patients with difficult-to-treat and resistant hypertension. Results of the Firibastat in treatment-RESistant Hypertension (FRESH) trial were consistent across all subgroups analyzed and all secondary endpoints, according to George Bakris, MD, professor of medicine and director of the Comprehensive Hypertension Center at the University of Chicago Pritzker School of Medicine.
"We saw no effect on the primary endpoint, reduction of unattended office systolic blood," Dr. Bakris said. "Firibastat does not really do much to systolic blood pressure."
Reducing APA in the brain prevents the conversion of angiotensin II into angiotensin III, down-regulating vasopressin release and sympathetic nerve activity while increasing baroreflex, Dr. Bakris said. The effect is to increase diuresis, lower vascular resistance and control heart rate to reduce blood pressure. FRESH was designed to assess the efficacy and safety of firibastat versus placebo atop baseline therapy to reduce blood pressure in patients with resistant or difficult-to-treat hypertension.
The trial randomized 514 patients at 75 sites in 11 countries with unattended office systolic blood pressure (SBP) of 140 – 180 mmHg despite treatment with at least two classes of antihypertensive agents (difficult-to-treat) or at least three classes, including a diuretic (resistant). Patients were randomized to firibastat 500 mg twice daily (255 patients) or placebo (259 patients) for 12 weeks and followed for an additional four weeks. The primary endpoint was change in unattended office SBP from baseline to week 12. 
Median age was 63, 58.4% were male, 81.2% were Caucasian and 13.6% Black patients, 73% had resistant HTN with a mean SBP of 146.15 mmHg. 
At the end of week 12, SBP in the firibastat arm had fallen by 7.82 mmHg compared to -7.85 mmHg for the placebo arm, a difference of 0.03 mmHG (p=0.98). Secondary endpoints, including 24 hour ambulatory blood pressure (ABPM), daytime ABPM, and nighttime ABPM, similarly failed to show significant differences between active and placebo groups. 
"There were no serious adverse events," Dr. Bakris reported. "However, this drug is known to have allergic skin reactions, and we saw them in 5.1% of the firibastat arm but just one patient in the placebo group. Firibastat failed to show efficacy in this trial."
PRECISION supports targeting the endothelin pathway to treat resistant hypertension
Roughly 10%-20% of all individuals with treated hypertension remain uncontrolled despite three or more antihypertensive agents, including a diuretic. A novel approach, targeting the endothelin pathway, can significantly reduce blood pressure in patients with treatment-resistant hypertension (rHTN) up to 48 weeks with no unexpected safety signals.
"Patients with resistant hypertension represent a vulnerable and high-risk population," said Markus Schlaich, MD, FAHA, FESC, ISHF, Dobney Chair in Clinical Research and Winthrop Professor of Medicine at the University of Western Australia Dobney Hypertension Centre in Perth, Australia. "Endothelin is a potent vasoconstrictor and an important player in hypertension but it is not targeted therapeutically by currently available antihypertensive drugs. The PRECISION trial tested aprocitentan, a dual endothelin receptor antagonist targeting this unopposed pathway."
Participants with uncontrolled systolic blood pressure (SBP) ≥140 mmHg despite three or more antihypertensive agents were switched from their current antihypertensive regimen to a triple fixed-dose combination of amlodipine, valsartan and hydrochlorothiazide for four weeks, then moved to a blinded placebo run-in for four weeks. Those with continuing hypertension were randomized to placebo or one of two doses of aprocitentan, 12.5 mg or 25 mg, daily for four weeks. Subsequently, all patients were moved to aprocitentan 25 mg for 32 weeks, followed by a 12-week double-blind withdrawal period of aprocitentan 25 mg or placebo.
The trial population included 730 individuals with rHTN across 22 countries. At baseline, 69.2% were obese, 54.1% had diabetes, 22.2% had stage 3-4 chronic kidney disease and 19.6% had congestive heart failure. At screening, 63.0% of randomized patients were on ≥4 antihypertensive agents.
After four weeks of treatment, there was a clinically and statistically significant decline in in office SBP from baseline for both the 12.5 mg and 25 mg dose of aprocitentan versus placebo, p=0.0042 and p=0.0046 respectively. Findings were confirmed by 24-hour ambulatory SBP measurements. SBP reductions remained consistent during 32 weeks of single-blind use of aprocitentan 25 mg. A 12-week double blind withdrawal phase of aprocitentan 25 mg versus placebo showed a significant increase in SBP for the placebo arm but not the aprocitentan arm, p<0.0001 for consistent SBP lower effect over 48 weeks.  
The most frequent adverse event was mild-moderate fluid retention in the aprocitentan 25 mg arm leading seven patients to discontinue treatment. 
 "This study tells us that we now have an alternative that can be used safely and effectively to improve blood pressure control in patients with resistant hypertension," Dr. Schlaich said. "This drug class can cause some fluid retention and peripheral edema that can usually be managed with additional diuretic therapy. And aprocitentan can be combined with essentially any other antihypertensive medication, which is a great advantage."
PRECISION was published simultaneously in The Lancet.
Aldosterone inhibitor trial stopped early for significant benefit
An independent data review committee halted the phase 2 trial of baxdrostat, a highly selective aldosterone synthase inhibitor, early due to overwhelming benefit in treatment-resistant hypertension (rHTN). The BrigHtn Trial showed a 20.3 mmHg absolute reduction of systolic blood pressure (SBP) and a placebo-adjusted reduction of 11 mmHg (p<0.0001) at a 2 mg daily dose. Baxdrostat is the first aldosterone synthase inhibitor to show significant blood pressure lowering without affecting serum cortisol levels.
"For at least 20 years, chemists have struggled to create a drug that will selectively block aldosterone without also blocking cortisol," said Mason W. Freeman, MD, executive vice president of clinical development at CinCor Pharma in Waltham, Massachusetts. "Baxdrostat is the first aldosterone synthase inhibitor to reach large-scale clinical trials for the treatment of hypertension."
A total of 275 patients with rHTN despite demonstrated adherence to ≥3 antihypertensive medications, including a diuretic, were randomized to placebo or one of three baxdrostat doses, 0.5 mg, 1 mg or 2 mg daily, for 12 weeks. The primary endpoint was the change in office systolic blood pressure (SBP) from baseline. The secondary endpoint was change in diastolic blood pressure with pharmacokinetics and pharmacodynamics as exploratory endpoints. Safety assessment included adverse events, laboratory evaluations, electrocardiography and physical exams.
The mean baseline SBP ranged from 147.3-148.9 mmHg across all cohorts.
Baxdrostat showed a dose-dependent response in SBP ranging from -20.3 mmHg absolute/-11 mmHg placebo-corrected at 2 mg (p=0.0001) to -17.5 absolute/-8.1 placebo-corrected at 1 mg (p=0.003) and -12.1 absolute/-2.7 placebo-corrected at 0.5 mg (p>0.05). Diastolic BP ranged from -14.3 absolute/-5.2 placebo-corrected (p=0.004) at 2 mg to -11.8 absolute/-2.7 placebo-corrected (p>0.05) at 1 mg and -8.6 absolute/0.5 placebo-corrected (p>0.05) at 0.5 mg.
Baxdrostat reduced serum and urine aldosterone levels by >50% with a reciprocal increase in plasma renin activity up to threefold without reducing serum cortisol levels, Dr. Freeman reported. Treatment-emergent adverse events were mostly mild. Two patients had potentially drug-related elevated potassium levels above 6.0 mEq/l, which corrected rapidly. Both patients completed the trial on baxdrostat with normal potassium.
Dr. Freeman said a second phase 2 trial of baxdrostat in patients with uncontrolled hypertension despite use of up to 2 antihypertensive agents should be completed later in 2022. That second study will be followed by an open label extension to evaluated safety and tolerability out to 52 weeks.
BrigHtn was published simultaneously in The New England Journal of Medicine.
Renal denervation improves hypertension control in patients on antihypertensive medications
The latest trial of renal denervation (RDN) to control hypertension showed mixed results in a preplanned six-month analysis. Renal denervation in patients with uncontrolled hypertension despite guideline-based antihypertensive medication, the SPYRAL HTN-ON MED trial, showed a reduction of systolic blood pressure (BP) of 9.9 mmHg for office BP and 6.5 mmHg forand 24-hour ambulatory blood pressure monitoring (ABPM). The office BP reduction was clinically and statistically significant compared to sham RDN while the 24-hour ABPM was numerically improved for RDN versus sham. 
SPYRAL HTN-ON MED is an expansion of a pilot study of RDN versus sham in patients with uncontrolled hypertension prescribed up to three common antihypertensive medications, a thiazide diuretic, calcium channel blocker, ACE/ARB, or beta blocker. A total of 206 patients were randomized to RDN and 131 to sham. The primary efficacy and safety endpoints were change in 24-hour systolic APBM at six months and major adverse events at one month, respectively. Adverse events included all-cause mortality, end stage renal disease, significant embolic events, renal artery perforation or dissection requiring intervention, renal artery stenosis, vascular complications or hospitalization for hypertensive crisis. Secondary efficacy endpoints included change in office and 24-hour ABPM systolic and diastolic BP and win ratio analysis with ABPM and antihypertensive medication use. 
Significant differences in patterns of baseline ABPM were observed between patients enrolled before and during the COVID pandemic, although baseline office systolic BP was similar between groups, noted co-principal investigator David E. Kandzari, MD, FACC, FSCAI, chief of Piedmont Heart Institute and Cardiovascular Services, chief scientific officer of Piedmont Healthcare, and director of Interventional Cardiology, Piedmont Heart Institute. In addition, serum drug testing revealed sharply imbalanced antihypertensive medication use that strongly favored BP reduction in the sham cohort.
"In the expansion population of the study, 22% of patients in the sham arm experienced an increase in medication dosage and/or number of medications prior to primary endpoint assessment compared with 2% in the renal denervation arm, a 10-fold difference," Dr. Kandzari said. "The difference was even more exaggerated in the Black ethnicity cohort, which represented about 18% of the study population, with 55% of the sham patients experiencing an increase in medication dose and/or number." 
The mean age of patients at baseline was 55, about 80% were male, with office BP of 163/101 mmHg and 24-hour ABPM of 149/96 mmHg. Patients in both groups were on a mean of 1.9 antihypertensive medications with a medication burden of about 3 based on medication number, class and dosage. 
There was no difference in safety outcomes at six months, Dr. Kandzari reported. At six months, the sham group had a higher number of medications, 2.1 vs. 1.9 (p=0.01) and a higher medication burden, 3.5 versus 2.9 (p=0.04). Despite protocol mandate for no change in medications and encouragement of adherence to medications, there was a clear separation of antihypertensive medication use at three months. 
There was numerical improvement in 24-hour systolic ABPM, -6.5 mmHg for RDN patients versus -4.5 for sham (p=0.12) and 24-hour diastolic ABPM of -4.4 vs -3.4 (p-0.37) but the improvement did not reach statistical significance. Office systolic BP was -9.9 versus -5.1 (p=0.001) and office diastolic BP was -5.2 versus -3.35 (p=0.04).