---
Trial results report on benefits of radial artery for CABG, use of prophylactic methylprednisolone and ECMO for patients in cardiogenic shock
---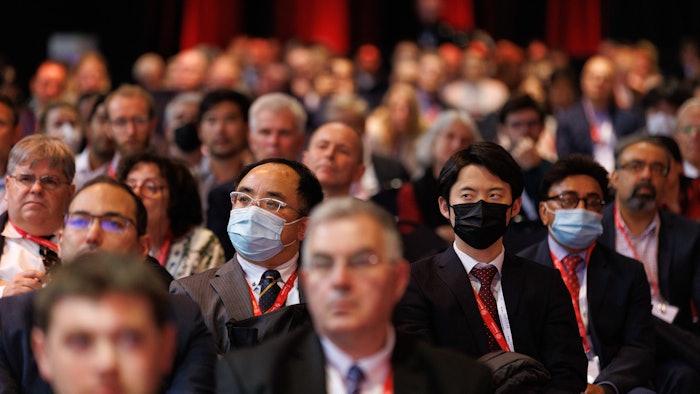 Investigators in four trials revealed findings during their Late-Breaking Science session, "High Impact Trials in Intervention and Surgery" on Sunday to potentially impact the treatment of pediatric patients requiring cardiac surgery and adult patients with cardiogenic shock, STEMI and coronary artery disease. They found:
The radial artery for coronary artery bypass graft (CABG) demonstrated superior 15-year major adverse cardiovascular events (MACE) results.
In the primary analysis, methylprednisolone did not impact mortality, morbidity or length of stay in infants undergoing cardiac surgery, but for secondary endpoints, there was a small improvement.
Extracorporeal membrane oxygenation (ECMO) did not benefit patients in cardiogenic shock compared to conservative therapy.
Traditional Chinese medicine compound improves clinical outcomes in Chinese patients with STEMI.
Consider using the radial artery for CABG surgery due to superior long-term clinical outcomes
Roughly 200,000 coronary artery bypass graft (CABG) operations are performed annually in the U.S. The most common operation uses the left internal thoracic artery (LITA) to the left anterior descending (LAD) artery followed by saphenous vein (SV) for the other grafts, occasionally with the additional use of the right internal thoracic artery (RITA). Why not consider the radial artery (RA) for the next most important target vessel after the LITA to the LAD?          
The RA proved to be a superior conduit for CABG surgery, according to The Radial Artery Patency and Clinical Outcomes, the RAPCO Trial. The single-center unblinded trial included two parallel, interfacing, randomized clinical trials to compare the RA as the second graft, with other conduits for CABG surgery, namely the RITA taken from behind the sternum and the SV taken from the leg. The study randomized 394 younger patients, mostly without diabetes, in the RAPCO-RITA limb of the study and separately randomized 225 older patients, more with diabetes, in the RAPCO-SV study, with enrollment over 10 years between 1995 and 2005.        
All patients had reached a minimum of 15 years post-surgery by 2020. Only two patients were lost to follow-up. In an analysis of the 15-year follow-up, CABG with RA demonstrated a significant positive difference in MACE, defined as the combined clinical endpoint of all-cause mortality, myocardial infarction and coronary revascularization, compared to CABG using either the RITA or SV. 
Data show that <10% of cardiac surgeons in the U.S. and Europe routinely use the RA for coronary artery bypass grafting.
"We had previously demonstrated better graft patency at 10 years for the radial artery. Now RAPCO demonstrates the long-term clinical benefits of the radial artery over both the right internal thoracic artery and the saphenous vein for coronary artery bypass grafting surgery," said the study's lead researcher, Dr. David Hare, MD, senior cardiologist at the Brian F. Buxton Cardiac Surgery Department at the Austin Hospital in Melbourne, Australia.
There was a 26% reduction in long-term MACE compared to the RITA and 29% reduction in MACE compared to the SV. Dr. Hare noted that the differences seem to be largely driven by all-cause mortality.
"This is the first single randomized controlled trial to demonstrate better clinical outcomes using radial arterial grafting compared with both RITA and SV," Dr. Hare noted. "All isolated CABG operations should consider using a radial artery graft unless there are specific contraindications. Instrumental radial arteries cannot be assumed to be satisfactory CABG conduits."
Methylprednisolone did not benefit infants requiring cardiac surgery
Perioperative methylprednisolone didn't confer a significant benefit in infants undergoing cardiac surgery with regard to the trial's primary endpoint, which was a ranked composite, including death, heart transplant and any of 12 major post-operative complications, according to Steroids to Reduce Systemic Inflammation After Infant Heart Surgery: The STRESS Trial. 
Participants not meeting any mortality or morbidity endpoint were ranked based on post-operative length of stay. However, in a secondary analysis, methylprednisolone reduced the likelihood of the primary endpoint when analyzed without risk adjustment.
The randomized, controlled trial was conducted at 24 U.S. sites and led by investigators at Duke University, Vanderbilt University, the University of Florida and Johns Hopkins University. The trial evaluated the safety and efficacy of perioperative methylprednisolone in 1,200 infants (<1 year) undergoing heart surgery with cardiopulmonary bypass. Patients were recruited from The Society of Thoracic Surgeons Congenital Heart Registry and randomized 1:1 to methylprednisolone or placebo.           
"Methylprednisolone also increased prevalence of hyperglycemia requiring insulin therapy in the steroid group, which is a known side effect of steroids," said Kevin Hill, MD, the study's principal investigator and a pediatric cardiologist at Duke Children's Hospital & Health Center, in Durham, North Carolina.
In a subgroup analysis, there was relatively greater evidence of benefit for infants undergoing lower complexity operations (STAT 1, 2, 3), those with longer CPB times and those without prematurity.
Still, the trial's unique pragmatic "trial within a registry" design was a success.
"Not only was this the largest trial ever completed in children undergoing heart surgery, but according to our preliminary analysis, the trial was only one-third the cost of a traditional clinical trial, at $3 million," Dr. Hill said. "That's one of the greatest successes of the STRESS Trial: demonstrating the efficiencies and cost savings of this approach of a pragmatic trial built into an existing patient registry."
Dr. Hill noted that future studies should evaluate mechanisms for risk-stratification to elucidate whether a more targeted approach might offer benefit in select sub-populations. The study will be published in the New England Journal of Medicine following the presentation. 
ECMO did not improve outcomes in cardiogenic shock compared to early conservative therapy
Current guidelines recommend considering mechanical circulatory support in patients with cardiogenic shock. Still, immediate implementation of extracorporeal membrane oxygenation (ECMO) in patients with rapidly deteriorating or severe cardigenic shock did not improve clinical outcomes, compared with an early conservative strategy that permitted downstream use of ECMO in case of worsening hemodynamic status, according to Extracorporeal Membrane Oxygenation in the Therapy of Cardiogenic Shock: Primary Results From the Multicenter, Randomized ECMO-CS Trial.         
The multicenter, randomized, investigator-initiated, academic, clinical trial enrolled 117 patients with rapidly deteriorating or severe cardiogenic shock from September 2014 to January 2022. Eligible patients were randomized to early conservative therapy or immediate ECMO in addition to standard care. The primary endpoint was a composite of death from any cause, resuscitated circulatory arrest and implementation of another mechanical circulatory support, including ECMO in the conservative arm, at 30 days. A composite primary endpoint occurred in 37 (63.8%) and 42 (71.2%) patients in the ECMO and conservative therapy groups, respectively (P=0.21). 
Fewer patients in the ECMO group required other mechanical circulatory support, compared with the conservative group (17.2% versus 42.4%, P=0.003); 23 individuals in the conservative group (39%) required later ECMO support. All-cause mortality at 30 days was comparable between the groups (50.0% versus 47.5%).
"Even in patients with severe or rapidly deteriorating cardiogenic shock (SCAI stage D-E), early hemodynamic stabilization using isotropes and vasopressors with implementation of MCS only in case of further hemodynamic worsening is a therapeutic strategy comparable to the immediate insertion of ECMO," Dr. Ostadal said. The study will be published in Circulation following the presentation. 
Chinese herbal medicine improves outcomes in patients with STEMI
Tongxinluo (TXL), a traditional Chinese medicine compound that has been approved for angina and stroke in China since 1996 with its protective effects on the endothelium, significantly improved both 30-day and 1-year outcomes in Chinese patients with acute ST-segment elevation myocardial infarction (STEMI), according to The Impact of Chinese Herbal Medicine, Tongxinluo in Patients With Acute Myocardial Infarction—Results From the CTS-AMI Trial.
The multicenter, double-blind, placebo-controlled trial randomized 3,755 patients 1:1 within 24 hours of presentation to either TXL, with a loading dose of 2.08 grams (eight capsules) on day one, followed by 1.04 grams (four capsules) three times daily for 12 months, or the same placebo doses, in addition to STEMI guideline-recommended treatment for both groups.
The primary endpoint was a 30-day MACCE, a composite of cardiac death, re-myocardial infarction, emergent coronary revascularization, and stroke. Secondary endpoints included 1-year MACCE, all-cause mortality, re-hospitalization due to heart failure and in-stent thrombosis.          
The primary 30-day MACCE endpoint occurred in 64 (3.39%) of patients in the TXL group versus 99 (5.24%) of patients in the control group (P=0.006). The TXL group had lower 1-year MAACE compared to the placebo group, resulting in a decreased risk for 1-year cardiac death, myocardial infarction and stroke. The 30-day cardiac death and malignant arrhythmias were also reduced significantly in the TXL group, with 56 (2.97%) in the TXL group compared to 80 (4.24%) in the placebo group (P=0.040).         
"TXL did not result in severe side effects, such as major bleeding," said Yuejin Yang, MD, PhD, professor of cardiology at Fuwai Hospital of CAMS & PUMC, National Center for CV Disease in Bejing, China. "These findings support the use of TXL as an adjunct therapy in treating STEMI, at least in China and other developing countries."