---
Eldrin F. Lewis receives the 2022 Clinical Research Prize
Dr. Lewis is focused on preventing heart failure and aims to shape the way the quality of patients' lives is assessed during both clinical trials and at the point of care.
---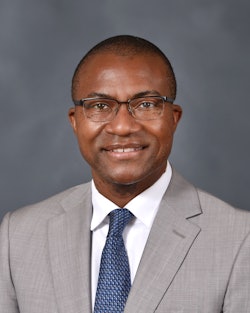 Eldrin F. Lewis, MD, MPH, FAHA, of Stanford University School of Medicine, is the recipient of the 2022 Clinical Research Prize.
Dr. Lewis's career as a researcher and clinical physician is focused on preventing heart failure, managing advanced stages of cardiovascular disease and finding a balance between prolonging life and preserving quality of life. He aims to shape the way the quality of patients' lives is assessed during clinical trials and at the point-of-care, and his goal is for that information to be used when making treatment plans. In his mind, through preventing the advancement of cardiovascular disease, clinicians will be ultimately preserving quality of life for patients. Strategies to improve patients' well-being include depression, anxiety, exercise capacity, ability to perform activities of daily living, as well as physical symptoms.
His current grant-funded work is focused on developing stem cell interventions for advanced stage heart failure; exploring the relationship between sleep apnea and heart failure progression; evaluating the effects of sodium intake on outcomes related to heart failure; reducing readmissions for patients with heart failure; and increasing patient understanding of ventricular assist devices prior to implantation. He has plans to refine electronic measures that will capture patient quality of life that can then be incorporated into patient treatment plans, utilize smartphone apps to aid in modifying patient behavior and capture health data to assess cardiovascular risks more accurately. He also plans to increase the effectiveness of peer support by expanding the links between clinical guidelines and patient care.
"I am honored to be the recipient of the association's 2022 Clinical Research Prize," said Dr. Lewis. "Thinking of the scientists who have won this award in the past — including Drs. Marc Pfeffer, Bob Harrington, Harlan Krumholz and others, just to name a few — I am humbled by the giant footsteps I am following. I appreciate the association for recognizing my work evaluating quality of life in patients with cardiovascular disease and in conducting clinical trials. The patient voice remains an important factor in influencing the scientific advances needed to improve outcomes, and team science enables rapid translation of promising targets into standards of care. My family, friends, mentors and faith continue to motivate me to strive to be the best version of myself, to help those who I serve and hopefully to impact people who I will never meet." 
Dr. Lewis is the Simon H. Stertzer, MD, Professor of Medicine at Stanford University School of Medicine. He is chief of the division of cardiovascular medicine and board-certified in advanced heart failure and transplant cardiology, and cardiovascular disease.
Dr. Lewis earned a bachelor's degree in Pre-Medicine from Penn State University and a Doctor of Medicine from the Perelman School of Medicine at the University of Pennsylvania. He also earned a Master of Public Health in Clinical Effectiveness from Harvard School of Public Health. He completed his post-doctoral training including his internship, residency and two clinical fellowships — one in cardiovascular medicine and one in advanced heart failure and transplant — at Brigham and Women's Hospital in Boston.
Dr. Lewis is recognized globally for his expertise in heart failure, heart transplant and increasing quality of life for patients with heart failure. He has authored nearly 200 peer-reviewed research articles published in the New England Journal of Medicine, Circulation, the Journal of the American College of Cardiology, JAMA Cardiology, JAMA Internal Medicine and more.
Awards recognizing his accomplishments include the Joel Gordon Miller Award for community service and leadership from the University of Pennsylvania School of Medicine, one of the first recipients of the Minority Faculty Development Award, and numerous research grants including one from the Robert Wood Johnson Foundation to study the role of quality-of-life assessments in clinical decision-making for patients with heart failure. He serves on the FDA Task Force for the Standardization of Definitions for Endpoint Events in Cardiovascular Trials.
He has served in numerous volunteer roles for the AHA and is currently the chair of the Scientific Publishing Committee, which leads the association's 14 peer-reviewed scientific journals and the Research Committee. He was previously an associate editor for the Circulation: Heart Failure journal, and was a member of the AHA's Founders Affiliate Board of Directors and chair of the Council on Clinical Cardiology. Dr. Lewis has also co-authored clinical practice guidelines and scientific statement on behalf of the Association.