---
Kirsten Bibbins-Domingo named winner of the 2022 Population Research Prize
Dr. Bibbins-Domingo's research focuses on racial disparities as they related to CVD prevention, incidence and outcomes.
---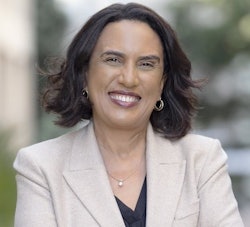 The American Heart Association is presenting its 2022 Population Research Prize to Kirsten Bibbins-Domingo, MD, PhD, MAS, of the University of California, San Francisco. The Population Research Prize recognizes an individual who is making outstanding contributions to the advancement of cardiovascular science and who currently leads an exceptional laboratory focused on cardiovascular population research.
"Diversity has been a longstanding and central theme to all of Dr. Bibbins-Domingo's work," said Association President Michelle A. Albert, MD, MPH, FAHA. "Her work as a researcher examines the impacts race, ethnicity and other social determinants of health play in the development of hypertension and other forms of heart disease. She is an internationally recognized leader in epidemiology and patient outcome research with expertise in longitudinal modeling. Dr. Bibbins-Domingo is also a deeply committed mentor of under-represented persons in medicine, having led numerous NIH-funded programs in particular aimed at increasing the faculty pipeline in medicine. Congratulations, Dr. Bibbins-Domingo!"
Dr. Bibbins-Domingo's research focuses on racial disparities as they relate to cardiovascular disease (CVD) prevention, incidence and outcomes. She has a special interest in identifying risk factors for CVD in people younger than 50 and developing strategies to prevent, diagnose and manage CVD, while also addressing disparities related to race, ethnicity and income. Her current research is exploring long-term effects of early and poorly treated high blood pressure, kidney disease, life factors and limited access to preventative health care. Her work evaluates public health strategies to prevent the development of risk factors of CVD and assesses interventions designed to manage high blood pressure and heart failure.
"I am grateful to the association for this recognition of my work and for continuing to prioritize population health research as a part of its broad portfolio," said Dr. Bibbins-Domingo. "The best advice I received early in my career was to focus less on the sheer volume of publications and focus more on asking and answering a few critical research questions that might influence thinking on important clinical or population health challenges. I've been fortunate to work with dedicated mentors and brilliant mentees, and to have always worked on multidisciplinary teams that share this approach."
Dr. Bibbins-Domingo is the Lee Goldman, MD, Endowed Professor of Medicine and Professor of Epidemiology and Biostatistics at the University of California, San Francisco School of Medicine (UCSF). She was previously the vice dean for population health and health equity in the UCSF School of Medicine, codirector of the Clinical and Translational Sciences Institute and chair of the COVID-19 Community Health Initiative. She is a clinical preceptor in the division of general medicine at San Francisco General Hospital, and she co-founded the UCSF Center for Vulnerable Populations at Zuckerberg San Francisco General Hospital that generates actionable research to increase health equity and reduce health disparities in at-risk populations in the San Francisco Bay Area and nationally. She is currently the 17th editor-in-chief of the Journal of the American Medical Association (JAMA) and the JAMA Network.
Dr. Bibbins-Domingo earned a bachelor's degree from Princeton University, where she studied molecular biology and at the Princeton School of Public and International Affairs. She studied chemistry at the University of Ibadan in Nigeria before joining UCSF, where she earned a doctoral degree in biochemistry, a Doctor of Medicine and a master's in clinical research. At UCSF, she also completed an internship, residency and fellowship in internal medicine.
Dr. Bibbins-Domingo has published more than 200 original peer-reviewed research articles. She was previously recognized by the Association with the 2017 Ancel Keys Memorial Lecture Award.
Dr. Bibbins-Domingo was a member of the U.S. Preventive Services Task Force from 2010-2017 and led the Task Force as the vice-chair and chair from 2014-2017. She is an inducted member of the American Society for Clinical Investigation, the Association of American Physicians, the National Academy of Medicine and the American Academy of Arts and Sciences.