---
Harriette Van Spall and Erica Gunderson honored with the Dr. Nanette K. Wenger Research Goes Red® Award
Dr. Van Spall and Dr. Gunderson received top scores from a peer review panel of experts and tied for first place.
---
The American Heart Association will present the Dr. Nanette K. Wenger Research Goes Red® Award for Best Scientific Publication on Cardiovascular Disease and Stroke in Women to Harriette G.C. Van Spall, MD, MPH, and Erica P. Gunderson, PhD, MS, MPH, RD.
The Dr. Nanette K. Wenger Research Goes Red® Award for Best Scientific Publication on Cardiovascular Disease and Stroke in Women is named in honor of Dr. Nanette K. Wenger, MD, FAHA, and her pioneering career in women's cardiovascular disease medicine. Dr. Wenger is an emeritus professor of medicine in the division of cardiology at Emory University School of Medicine, consultant to the Emory Heart and Vascular Center, founding consultant to the Emory Women's Heart Center and director of the Cardiac Clinics and Ambulatory Electrocardiographic Laboratory at Grady Memorial Hospital in Atlanta.
The Dr. Nanette K. Wenger Research Goes Red® Award for Best Scientific Publication on Cardiovascular Disease and Stroke in Women is given annually in recognition of the best research article or articles focused on cardiovascular disease and stroke in women published during the previous year in any of the Association's 14 peer-reviewed, scientific journals. The association's Research Goes Red® initiative aims to empower women to contribute to health research.
This year's winners received top scores from a peer review panel of experts and tied for first place. Their articles were selected from more than 85 manuscripts submitted to the AHA between June 1, 2021, and May 29, 2022.
"Congratulations to Drs. Harriette Van Spall and Erica Gunderson as the recipients of the 2022 Dr. Nanette K. Wenger Research Goes Red Award," said Association President Michelle A. Albert, MD, MPH, FAHA. "Cardiovascular research that specifically explores the risk factors and lifestyle impacts that are unique to women is critical to help improve prevention and early detection methods and to drive better outcomes for women with cardiac diagnoses. Improving women's health is crucial to our long-term societal health. We must continue to invest in and support research that affects more than 50% of the U.S. population."
Dr. Van Spall was selected for her publication, "Sex-Specific Clinical Outcomes of the PACT-HF Randomized Trial," which was published in the November 2021 issue of Circulation: Heart Failure, a peer-reviewed journal of the Association. The article focuses on the sex differences in the estimated treatment effect of a patient-centered transitional care intervention on a composite of clinical endpoints during the six months following a hospital admission for heart failure. The research results identified that women who received transitional care services had improved outcomes, driven by significantly fewer emergency visits after a heart failure admission compared to the outcomes among men.
"I am proud of the innovation and passion that went into this cluster-randomized trial, the pilot phase of which had me return to research leadership within two days of the C-section birth of my son," said Dr. Van Spall. "The PACT-HF trial was ahead of its time in engaging patients and health care decision-makers as research partners, using digital health technology for trial recruitment and data collection, and minimizing follow-up burden on patients through the use of linked, administrative databases," said Dr. Van Spall. "These features, along with pragmatic eligibility criteria, ensured a trial population representative of disease distribution, notably including 50% women. The sex-treatment interaction in this exploratory analysis suggests women hospitalized for heart failure may benefit from structured transitional care services more than men do. The reasons are unclear, however, they may be related to sex or gender differences in support, and differences in health care typically received by patients after hospital discharge."
Dr. Van Spall is the director of E-health and Virtual Care and associate professor of medicine (cardiology) at McMaster University in Hamilton, Ontario, Canada. Additionally, Dr. Van Spall is a scientist at the Population Health Research Institute and the Research Institute of St. Joseph's Healthcare in Hamilton, Canada. She earned a Bachelor of Science in biochemistry and a Doctor of Medicine from the University of Toronto, as well as a Master of Public Health from Harvard University.
Dr. Van Spall has received many awards throughout her career. In addition to the Dr. Nanette K. Wenger Research Goes Red Award, she was honored with the 2022 Mid-Career Lecturer Award in Cardiovascular Sciences by the Canadian Institutes of Health Research, the 2022 Clive Kearon Mid-Career Award, and the 2020 Women As One Award. She has held more than $5 million in grants as principal investigator; has authored more than 160 journal articles, one book and nine book chapters; and given more than 150 invited presentations. Dr. Van Spall is a member of several international guideline and research committees (one of which she co-chairs), an editorial board member for several journals including JACC: Heart Failure, where she serves as section editor; JACC: Advances; Circulation Cardiovascular Quality and Outcomes; and European Heart Journal Quality of Care and Clinical Outcomes, among others. She is the mother of two school-aged children.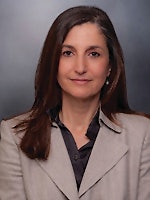 Dr. Gunderson is being recognized for her research article, "Early Pregnancy Blood Pressure Patterns Identify Risk of Hypertensive Disorders of Pregnancy Among Racial and Ethnic Groups," which was published in the March issue of Hypertension. Her research explores the potential correlation between blood pressure trends before 20 weeks gestation in women who historically have been deemed lower risk for developing hypertensive disorders during pregnancy, yet they developed gestational hypertension or pre-eclampsia later in pregnancy. The article also explores how those relationships appear to differ among racial and ethnic groups. The research aims to provide additional tools to influence the frequency of blood pressure monitoring to improve risk mitigation strategies.
"This research aimed to find a better way to identify the individuals who may appear healthy and have normal blood pressure levels, yet they actually have a higher risk for preeclampsia," said Dr. Gunderson. "Previously, there were no studies focused on low-risk women, and no studies that utilized multiple, routine, prenatal blood pressure measurements to identify patterns that may be related to increased risk of hypertensive disorders in pregnancy. I was determined to use the routinely available, repeated blood pressure measurements from outpatient prenatal care visits plus standard clinical and social risk factors to identify systolic blood pressure patterns related to hypertensive disorders. This analysis achieved this goal. Importantly, we also identified differences in risks among women from diverse racial and ethnic subgroups, with the highest risk found among Black women, followed by Hispanic and Asian groups, compared to white women.
"Preeclampsia is the leading cause of maternal death in otherwise healthy, pregnant women, and worldwide it claims the lives of more than 70,000 women annually. Our study is novel in two ways: we developed blood pressure trajectory groups in the first half of gestation, and we specifically focused on the majority of women who are designated low risk for pre-eclampsia based on our current methods for assessing risk. I am very honored for this research to have been selected for this prestigious award," Dr. Gunderson said.
Dr. Gunderson is a senior research scientist at Kaiser Permanente Northern California Division of Research and a professor in the department of health systems science at the Kaiser Permanente Bernard J. Tyson School of Medicine. She earned a bachelor's degree from Stanford University and earned a master's degree in nutritional sciences, a master's in public health nutrition and a doctorate in epidemiology from the University of California, Berkeley School of Public Health. Additionally, Dr. Gunderson is a registered dietitian.
She was recognized by the AHA in 2003 with a Trudy Bush Fellowship for Cardiovascular Disease Research in Women's Health. Dr. Gunderson has published more than 120 papers in peer-reviewed publications, and she has served as a peer reviewer for several publications including the Association's flagship, peer-reviewed journal Circulation.
Dr. Gunderson's research focuses on the impacts pregnancy and lactation may have on women's future cardiometabolic health and their risks for developing type 2 diabetes and/or cardiovascular disease.
"Congratulations to Drs. Van Spall and Gunderson for this work that will help us continue our quest to improve cardiovascular care for women. I applaud Dr. Van Spall's research into the impact of structured transitional care for women with heart failure. And, I also congratulate Dr. Gunderson for her research to identify trends that may help us identify gestational hypertension for women who are typically deemed low risk. These two research articles, focused on women in different stages of life, helps fill the data gap for cardiovascular disease in women, which has been my life's work," said Dr. Wenger.